Wisconsin Judge Rules that Republican Governor Scott Walker Has to Stop Stalling and Schedule Special Elections
Photo by Win McNamee/Getty
Politics
News
Scott Walker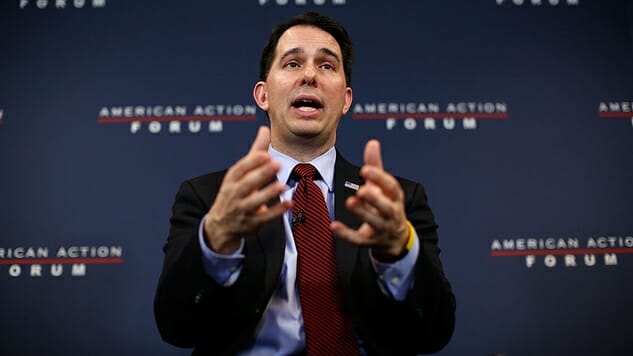 Republicans are getting eviscerated in special elections across the country since the election of Donald Trump. Even when they win races, they typically lose a tremendous amount of ground when compared to the votes they gained in these districts less than two years ago. One Kentucky state district swung 86 points in favor of Democrats. So there's plenty of logical reasons for GOP Governor Scott Walker to delay elections, other than, yannow, that whole constitution thingy. Believe it or not, our legislatures are not designed to go very long with unfilled seats since they're supposed to represent the people, but the person responsible for calling special elections to fill seats vacated for various reasons—Scott Walker—has refused to schedule elections he knows he's likely to lose. Until now. Per Talking Points Memo:
A Wisconsin judge Thursday ordered Gov. Scott Walker to call special elections to fill a pair of legislative seats vacated by fellow Republicans, handing a victory to Democrats who have pushed for the elections to be held.
A national Democratic group led by former U.S. Attorney General Eric Holder filed the lawsuit on behalf of voters who argued they were disenfranchised by Walker's decision not to call elections to fill the vacancies that occurred on Dec. 29.
Wow: Wisconsin GOP Gov. Scott Walker got taken to task by a judge he had appointed. Good reminder that calls for "strict constructionism" & cries of "activist judges" are really just incoherent post-hoc rationalizations for ruling in favor of Republicans https://t.co/973UOnTJMmpic.twitter.com/VjbP0XN0GQ

— Stephen Wolf (@PoliticsWolf) March 22, 2018
Walker asserted that he was under no legal requirement to call an election, and that this was simply a partisan witch hunt by the former Obama official.
Wisconsin law states that elections must be called if they occur before the second Tuesday in May during an election year. Walker contended that only applies to openings which occur at the beginning of the year, and since these seats were vacated just before the new year, he was not required to act. The court clearly believed otherwise, as Dane County Circuit Judge Josann Reynolds ordered Walker to call for special elections by March 29th. This is another victory for democracy against a party who wholly opposes it.
Jacob Weindling is a staff writer for Paste politics. Follow him on Twitter at @Jakeweindling.