TV News Just Found a Way to Get Worse: Sean Spicer May Get a TV or Book Deal
Photo by Pool/Getty
Politics
News
Sean Spicer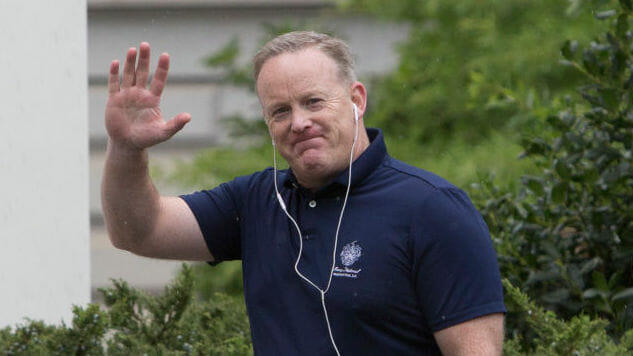 Sean Spicer, the former press secretary for the Donald Trump administration, resigned from the post in July of this year. We had hoped he would just fade away, never to return, but apparently TV news' never-ending appetite for dumb bullshit wants him back.
Spicer says he has been "humbled by the amount of interest," according to THR. However, no specific networks are named, and CNN has already nixed a potential deal.
Spicer spent half a year as perhaps the most incompetent press secretary of any presidential administration in the history of the United States. He became known for being not particularly coherent in his job of trying to make what Donald Trump said make sense. He also frequently railed against fake news, despite the fact that he seemed to be helping to spread false information himself. But Spicer is most famous for saying that Adolf Hitler never used chemical weapons, which is a horrifically stupid thing to say.
But none of that will stop Spicer from getting speaking engagements, book deals and TV guest spots. Because he's such an authoritative expert, you see. On politics.