The Stock Market Is Extremely Volatile, and It's Mostly Because of Trump
Photo by Drew Angerer/Getty
Politics
News
Stock Market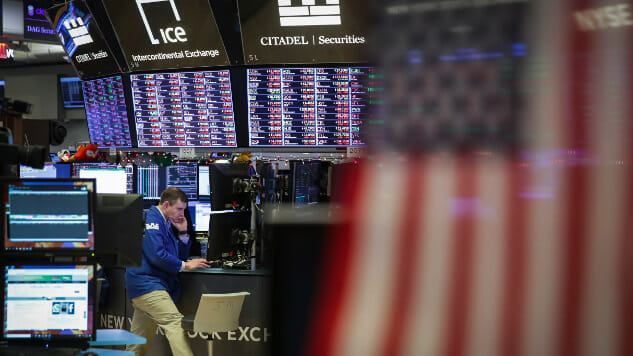 The Dow Jones opened over 400 points down after a historic 1,000-point surge on Wednesday, the largest single-day point gain, as CNBC reports. In a still-volatile market, these swings follow the worst Christmas Eve trading day in Dow history.
Investors received a bit of reassuring news yesterday, as White House economic advisors suggested on Wednesday that Federal Reserve Chairman Jerome Powell's job was safe despite President Trump's repeated Twitter attacks on the Fed under Powell's leadership.
The only problem our economy has is the Fed. They don't have a feel for the Market, they don't understand necessary Trade Wars or Strong Dollars or even Democrat Shutdowns over Borders. The Fed is like a powerful golfer who can't score because he has no touch – he can't putt!

— Donald J. Trump (@realDonaldTrump) December 24, 2018
Amid an ongoing partial government shutdown now heading into its sixth day, Trump's trade war with China and his insistent calls for Congress to fund a border wall, the president has criticized the Fed for raising U.S. interest rates, which he says has contributed to the volatile state of the stock market.
While there's not much to gauge from just a few days of stock performance, the market's continued volatility could prove to be an issue in the coming weeks.