There Are People in England Who Are Legitimately Mad that Jeremy Corbyn Didn't Congratulate Kate & William on their Baby Fast Enough
Photo courtesy of Getty
Politics
News
The Royal Baby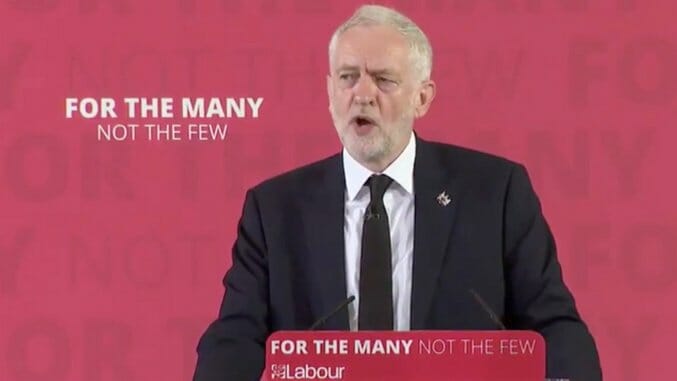 One of the great benefits (read: nightmares) of existing in the Twitter era is that occasionally you come across stories like this one:
I assure you this is NOT satire – an actual journalist really was forced to write this.

To say the @Daily_Express was scraping the barrel would be a monumental understatement. This kind of actual garbage makes them look beyond insane.https://t.co/YrFIGSME4V

— Evolve Politics (@evolvepolitics) April 24, 2018
Yes, that's right—courtesy of Isabel Van Brugen at the Daily Express, we have a story about the outrage that supposedly accompanied Jeremy Corbyn's three hour—repeat, THREE HOUR—delay in congratulating Prince William and Kate Middleton on the birth of their third child. How dare he!
Congratulations to Kate and William on the birth of their baby boy. I wish them all the very best.

— Jeremy Corbyn (@jeremycorbyn) April 23, 2018
Let's look at the title and the subhed, which will seem like irony or satire or something, but which is somehow sincere. Note the use of capitals:
Jeremy Corbyn SILENT for HOURS after Kate and William welcome royal baby
JEREMY Corbyn took more than three hours to congratulate the Duke and Duchess of Cambridge on the birth of their third royal baby child – a boy – at the Lindo Wing of St Mary's Hospital, sparking frustration across social media.
My favorite is the random capitalization of JEREMY. Now for some of the prose:
Over three hours after Kensington Palace officially confirmed the news, Jeremy Corbyn tweeted: "Congratulations to Kate and William on the birth of their baby boy. I wish them all the very best."
Before the Labour Party leader offered his warm wishes towards the royal couple, web users took to Twitter and said: "Still no acknowledgement of #RoyalBaby @UKLabour or @jeremycorbyn … disappointing."
Another user commented: "3.5 hours later, not a single congratulations on the royal birth from @UKLabour or @jeremycorbyn."
Meanwhile, other Twitter users said: "#Royalbaby Why hasn't @jeremycorbyn sent congratulations? He's supposed to be Leader of Her Majesty's LOYAL Opposition.
I honestly don't even know why I'm writing a post about this, other than fact that I'm so enraged. Corbyn is the leader of a political party that's trying to help people in the face of the soulless opposition of the Tories (and the centrist Labour technocrats that preceded him), and the Express saw fit to run a story whining because he didn't immediately congratulate two very nice-seeming people who nonetheless serve a purely ceremonial purpose and are subsidized by taxpayers and maybe probably shouldn't exist…on their third kid?
GOD.
Then, hilariously, the author of this dreck paints the contrast with Theresa May, who apparently sent a tweet faster or something:
Prime Minister Theresa May was quick to congratulate Kate and Prince William, extending her well wishes just half an hour after Kensington Palace's official announcement shortly after 1pm.
Mrs May said: "My warmest congratulations to the Duke and Duchess of Cambridge on the birth of their baby boy. I wish them great happiness for the future."
The story then veered off from there and left Corbyn alone, but the idiocy (if not the damage) was done. So the next time you think that only American media is stuffed with establishment shills, think back to this story and know that the UK has more than its fair share of weird attack dogs too.
And for what it's worth, Jeremy Corbyn probably believes in getting rid of the monarchy—like most sane people do—but he's not going to purse it as a politician.