Secret IRS Memo on Trump's Tax Returns Completely Rebukes Trump and Steve Mnuchin's Excuses for Hiding Them
Photo by Chip Somodevilla/Getty
Politics
Features
Trump Tax Returns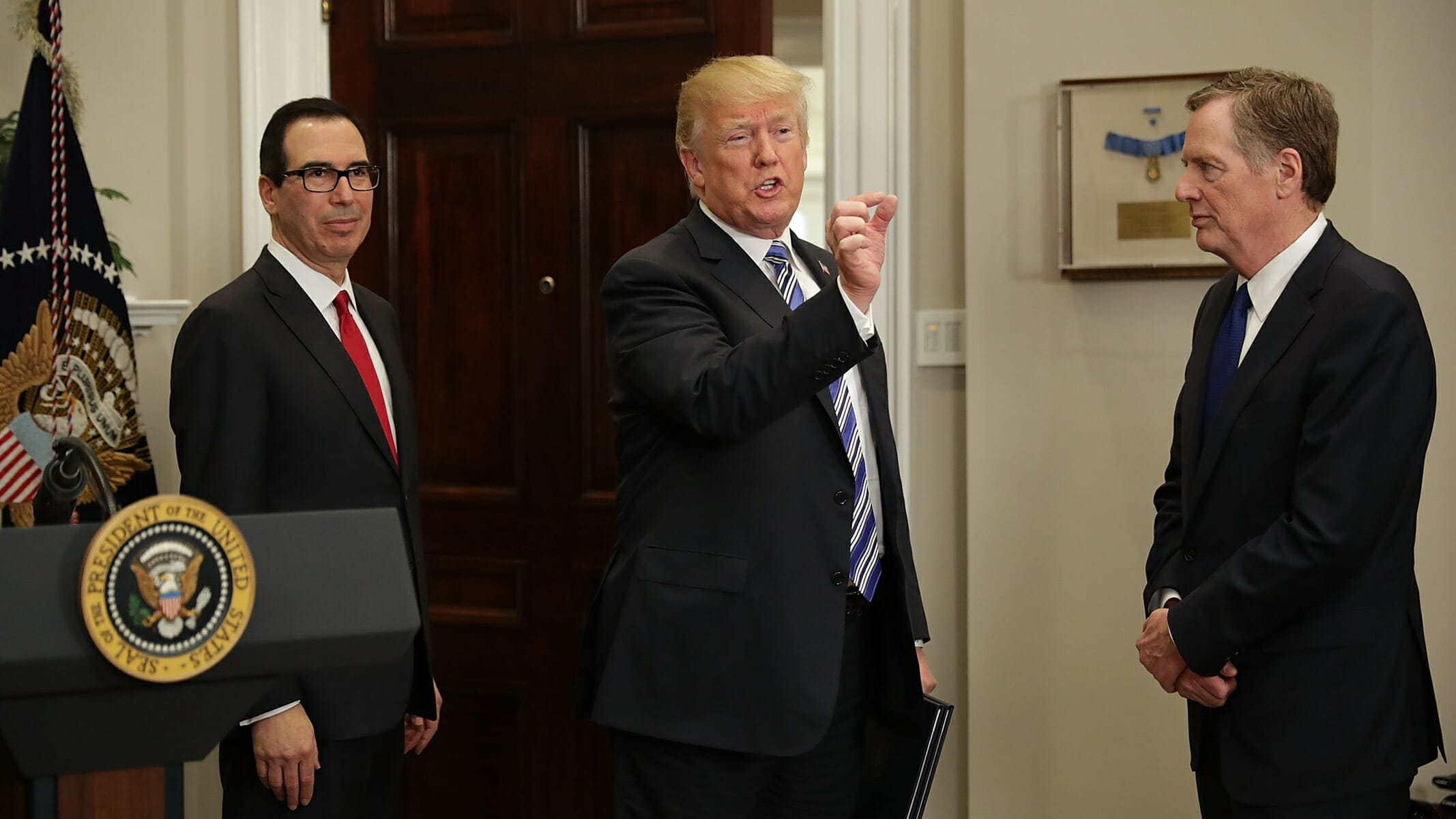 Shortly after taking the House this past November, Nancy Pelosi said that the new Democratic House majority would seek to obtain Trump's elusive tax returns, and she is currently trying to follow through on that promise. Every presidential candidate in recent history has released them, and Trump bucked the trend, hiding basic financial disclosure required of anyone seeking higher office. Thanks to the New York Times, we have received a glance at his returns in two major stories—one about his father gifting him a tax avoidance empire—and another demonstrating how for two years in the early 1990s, Trump was literally the worst businessman in America.
But still, these are second-hand reports that do not deliver the full picture. We need to see Trump's tax returns. Treasury Secretary, and part-time Bond villain, Steve Mnuchin, rejected a congressional subpoena last Friday that demanded Trump's tax returns. Mnuchin said that the request filed by the House Ways and Means Committee "lacks a legitimate legislative purpose." Now, The Washington Post obtained an internal IRS legal memo saying that Mnuchin's excuse for not turning over Trump's tax returns is complete poppycock (you can read the entire 10-page memo here). Per WaPo:
A confidential Internal Revenue Service legal memo says tax returns must be given to Congress unless the president takes the rare step of asserting executive privilege, according to a copy of the memo obtained by The Washington Post.
…
But according to the IRS memo, which has not been previously reported, the disclosure of tax returns to the committee "is mandatory, requiring the Secretary to disclose returns, and return information, requested by the tax-writing Chairs."
The 10-page document says the law "does not allow the Secretary to exercise discretion in disclosing the information provided the statutory conditions are met" and directly rejects the reason Mnuchin has cited for withholding the information.
What we learned from these two exhaustive NYT investigations and the Mueller Report is that the president's finances are sketchy at best, and his business relies on business and financing from unscrupulous figures. The reason why he does not want us to see his tax returns is likely because he wants to keep his business network hidden—perhaps due to the fact that one of his businesses was hit with what was at the time, the largest anti-money laundering fine ever given out to a casino, and Trump Taj Mahal admitted to "long standing anti-money laundering violations." Trump continuously finds himself in the same business ventures as money launderers, and it's clear as day that has been a major part of at least one of his casino businesses.
Trump also likely wanted to keep his tax returns hidden thanks to the 1990 and 1991 worst businessman in America revelations unearthed by the NYT. Trump's businesses lost more money than any other in America during those two years, and it's a safe bet that his business incompetence is reflected in years outside those two catastrophic ones in the early 1990s. Trump's entire shtick depends on people thinking that he is good at business, but given that his brain was made of grade-D Taco Bell meat long before it started bleeding out his ears as he reached the Oval Office, it's clear to any semi-informed observer that Trump is not a good businessman. This fight over Trump's tax returns is likely going to court, but given this internal IRS legal memo unearthed by WaPo and last week's ruling by a judge to deny Trump's attempt to block a congressional subpoena to his accounting firm, the forecast does not look good for those trying to hide the president's financial history from the public.
Jacob Weindling is a staff writer for Paste politics. Follow him on Twitter at @Jakeweindling.