FBI Director Says White Supremacy Presents a "Persistent, Pervasive Threat" to the U.S.
Photo by Mark Wilson/Getty
Politics
News
White Nationalism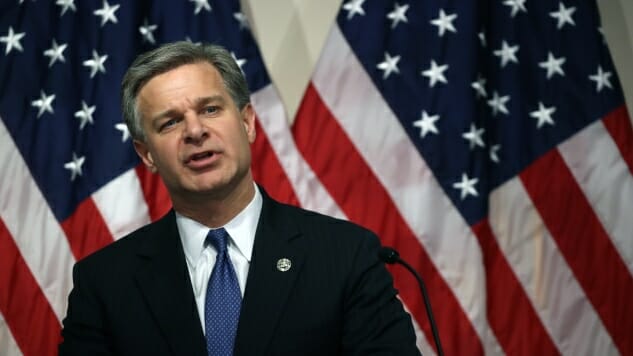 FBI Director Christopher Wray told lawmakers Thursday that white supremacy presents a "persistent" and "pervasive" threat to the United States. The comment offers a starkly contrasting position to that of the president, who in the past has avoided condemning rising levels of white supremacy and nationalism.
"The danger, I think, of white supremacists, violent extremism or another kind of extremism is, of course, significant," said Wray during an FBI budget request hearing before the House Appropriations Committee.
"We assess that it is a persistent, pervasive threat," he continued. "We tackle it both through our joint terrorism task forces on the domestic terrorism side as well as through our civil rights program on the civil side through hate crime enforcement."
Hate crimes have seen a steady rise since the start of Donald Trump's presidency. In 2017, the FBI recorded more than 7,100 reported hate crimes, with race and ethnicity being the target motivation of those crimes. In 2015, the FBI. recorded 5,850 incidents of reported hate crimes.
The House Judiciary Committee has announced that it will hold a hearing on white nationalism and hate crimes next Tuesday.