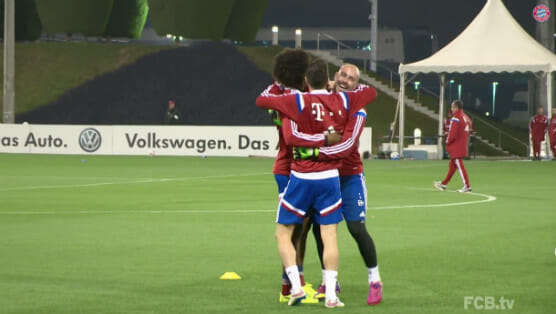 This past week, Bayern Munich ended a nighttime training session with a series of win-or-go-home games of soccer tennis. Each match featured two teams of three players each, as well as a considerable amount of technical ability.
The final match pits a team of up-and-comers against an all-star crew, and ends in dramatic fashion courtesy of a perfectly executed bicycle. Given the number of playmakers and generaly brilliant performers currently on the books in Munich, it would be challenging to guess which individual pulls off this particular piece of skill. Answer: the last player you would expect.
Yes, in a team featuring Brazil's Dante, Poland's Robert Lewandowski and Spain's Pepe Reina, it's the goalkeeper that finishes the match with a van Basten-esque volley. In fact, with this video in mind, don't be surprised if Pep Guardiola ever elects to throw on the team's reserve goalkeeper if he finds his side in need of a late goal.