Villa's 'U21 Humiliation' Hyperbole Reveals Disdain for Youth Football
Photo by Stephen Pond/Getty
Soccer
Features
Football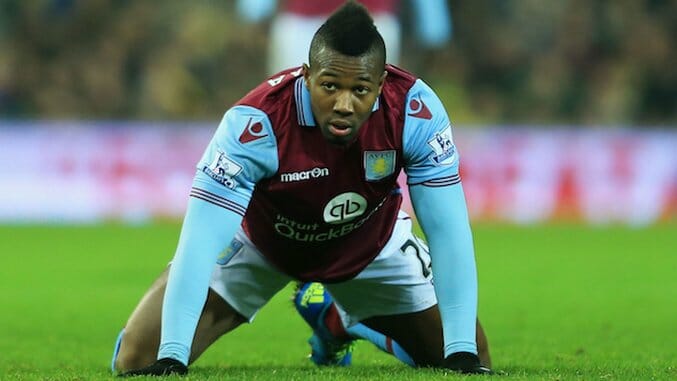 Last Friday in a closed door friendly, Aston Villa—currently last place in the Premier League and destined for relegation to the Championship—lost 3-0 to…Aston Villa.
The U21 team, that is.
The Ghanaian forward Jordan Ayew, who is confusingly 24 years old, managed to score a brace against a senior team that included Scott Sinclair, Brad Guzan, Ciaran Clark, Alan Hutton, Idrissa Gueye, Ashley Westwood, Kieran Richardson, and Jordan Vetetout.
Or at least Ayew might have; for reasons unknown the story no longer appears on Sky Sports News. In any case, the damage has been done. The loss to the Villa youngsters was one more humiliation for Remi Garde's Villa, a team that has managed to string together 16 points in 26 matches.
Yet the pile on in the thickets of social media and beyond was a little over the top. Perhaps eager to ratchet up the sense of humiliation, various articles referred to the match as "an embarrassing encounter," a "new low," "frankly laughable." Though this Villa side deserve scorn, our reaction to the very idea that a senior Premier League side would lose to their younger, less experienced understudies reveals the lowly state of youth development in England.
And it is an English problem—as of October 2015, two thirds of the Villa U21 squad hailed from the nation in which it plays. If, for example, the Barcelona B team managed to beat the senior team—about as likely an occurrence as England winning the World Cup—the headlines would be less about Barca's shocking decline and more about how the world should tremble at the next generation of Barcelona stars.
Part of the problem is English players have a lot of trouble breaking into first team football in the Premier League. The Guardian's David Conn wrote about this problem seven years ago, lamenting a system in which Premier League clubs would recruit young players from across the country only to reject the vast majority of them:
Even the few who survive the annual cuts and make it to a "scholarship" at 16 are likely to fall away. Research tracking academy boys is itself difficult to find but it is accepted that only a minority of boys awarded "scholarships" remain in the professional game at 21. Of those who win the golden ticket of a proper, professional contract at 18, the vast majority, Green found, are also not playing professionally at 21.
The reason, as the Independent's Glenn Moore more recently pointed out, was that Premier League clubs, flush with TV cash, have the funds to recruit talent on a wider, more global scale, including from countries like Spain, France and Germany. This, Moore says, "…means you have to be a very good English player to make it into our best teams."
This sounds intuitively correct, except that it implies that Premier League clubs are brilliant arbiters of future world class talent—we should trust them to know that foreign players are a better bet than homegrowns because money always follows talent. However the hit-and-miss record of most Premier League clubs when it comes to player transfers tells a different story.
There are also reasons beyond "superior playing ability" why Premier League clubs might prefer players from certain overseas countries. Nations like France and Spain clearly produce world class talent, as the comparative success of their national and club teams at all levels suggests. At the same time, their professional leagues don't have the same financial resources of the Premier League. Even without knowing anything about the player, a top flight English club could do worse than punt on a 21 year old Spanish starlet who started 80% of available minutes for a La Liga club. It's a sound bet with minimal financial risk.
Even so, many would argue that countries like Germany, Spain and France do produce more technically gifted young players. This begs the question, though. Why?
Here we get into one of football's biggest mysteries. Traditionally our go-to answer is these nations have "better youth coaching." This is not wrong, of course, but it's a tad simplistic. If England was really serious about winning a World Cup, why wouldn't it just copy Spanish or French youth coaching methods?
The answer may have to do with why these players are also cheaper to buy. With some exceptions, most clubs in these countries don't have the resources to acquire ready-made talent from overseas. Therefore, many have no choice but to start more youth players in the first team.
However, because of the standard expected of these clubs—a pattern set by history, culture, whatever—over the years these teams have raised the standards of youth development. That mentality has trickled down to the very youngest teams—after all, for many of these kids professional football is not a lottery or an impossible dream, but an achievable goal.
The key point here is that this transformation starts when a club manager or coach is forced by circumstances beyond their control to start one or two or three youth players in the first team. So Moore is right; the lack of English players in the Premier League is down to its immense wealth. Yet that wealth immunizes them from risk, and youth development is all about risk.
Back in 1996, the BBC football commentator Alan Hansen made one of the all time great pundit gaffes. After Manchester United lost 3-1 in their first match of the season to—who else?—Aston Villa, Hansen chided the club for replacing recently sold players like Mark Hughes and Paul Ince with untested youngsters named Beckham, Neville and Scholes. "You can't win anything with kids," he warned.
Man United went on to win the Premier League title.
Hindsight lets us laugh at Hansen, but we would have shared his sentiment at the time. In fact, we still think like Hansen today, witnessed by our incredulous reaction to Aston Villa's U21 victory. Of course some will claim they would have seen it coming. The Man United youth team coaches were particularly good, and the Class of 92 was obviously 'something special.' Yet it's also possible that United, unable to secure proper replacement players, were forced to gamble on youth, and did, and won.