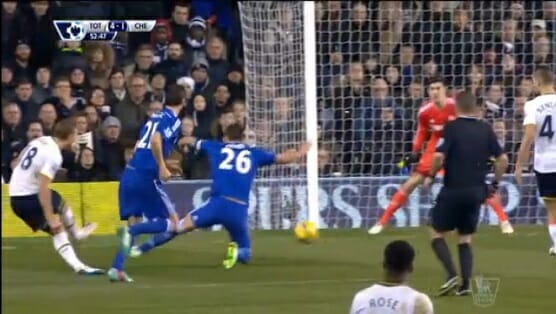 Harry Kane was doing WORK in Tottenham's 5-3 win over Chelsea on New Year's Day. Not pretty goals with stepovers and tricks, but goals that required some good old-fashioned strength, alloyed with a deft touch.
The big Spurs striker plays like a man among boys, using every angle to get an edge on a defender. Factor in a subtle flick here, a quick turn away there and a perfectly placed ball in the back of the net, and you understand why the Tottenham forward has been transformed from a glimmer of hope to a full blown Supernova this season.
Here's Kane's first goal from Spurs' 5-3 win over Chelsea on New Year's Day:

(if the video is zoomed in too tight, just give it time)
Here is Kane's second goal against Chelsea, where he rolls Chelsea's Nemanja Mati?, who is 6'4" by the way:
Time for an England call-up maybe? The next national team game is March 30, vs. Italy, and if Kane continues to deftly bulldoze his way through Premier League defenders, then we can pect expect to see his name on the list.