Searching for Didi Kuhbauer: the Mysterious Austrian Legend You've Never Heard Of
Photo by Phil Cole/Getty
Soccer
Features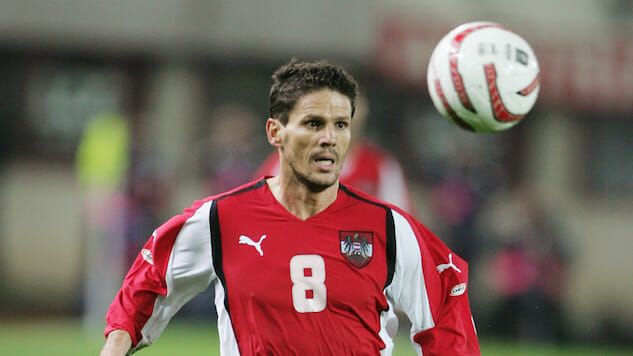 In the fall of 2016, Christian Fuchs wrote an article in the Players' Tribune on his successful season at Leicester City. You already know the fairy tale. Claudio Ranieri ordered pizza parties after wins, and Leicester stormed to a shocking Premier League trophy. Yet one line of Fuchs' article intrigued me: a name I didn't recognize. Dietmar "Didi" Kuhbauer.
In his early years, Fuchs played a handful of seasons with a-then-aging Kuhbauer, but spoke highly of him. Apparently, Kuhbauer was a legend in Austria, one I'd never heard of. Even great international publications like In Bed With Maradona or The Blizzard didn't have a piece on Kuhbauer.
Thus, I resolved to find out all I could about Kuhbauer and share his story with the rest of the world.
As a disclaimer, I don't speak German. English language internet searches for Kuhbauer turned up zilch. Google. Yahoo. Even Lycos, Hotbot, and Altavista were more worthless than usual. I asked Jeeves; he had no reply. All I had to go on was a bare bones Wiki-page.
From there I read match reports from his games for Rapid Vienna and the national team to track down old Youtube clips of the games. I couldn't understand the German-speaking announcers, but I could sense the emotion in their voices watching him play.
Kuhbauer played for Austria during some dark times for the national team. In 1992, they lost to the Faroe Islands. In 1996, the team started very poorly in their Euro qualifying group. That' however is when "Didi" came into the picture. In Kuhbauer's first qualifier, Austria destroyed Latvia 5-0. He then scored the first goal in a 7-0 rout over Lichtenstein.
He also started in two 3-1 wins over Ireland in Dublin and Vienna, games that left a scar on the Emerald Isle. Though Austria played spoilers, they missed out on qualifying by a single point. The 1-1 tie with Portugal and the last minute loss to Latvia were missed opportunities.
Two years later, however, Austria qualified for France 98. They ended up in a group with Italy, Chile, and Cameroon. Didi was at the peak of his powers and started all three games. You can see the Cameroon game in its entirety here. I watched all three matches.
In many ways, Didi's style epitomized the 1990s. He was a box-to-box midfielder in a four-four-two, the ubiquitous formation of that era; he was a hard runner and harder tackler. Still, it wasn't all about brawn. Kuhbauer was ambidextrous and loved to play lightning-quick rolling passes on the ground to a forward's feet. He had a nose for danger, often sprinting back 40 yards to commit a smart foul and snuff out a counterattack.
It was all for naught. Despite drawing the first two games vs. Cameroon and Chile, Austria lost to Italy in the last group stage game and failed to advance. Worse, the team failed to qualify for the next European Championship and the next World Cup. Didi was a lone bright spot during a forgettable era for the Austrian national team.
He did enjoy some success at the club level. Didi played for Rapid Vienna from 1992-1997, and won the Austrian Championship and Austria Cup once each. Historically, this was a bit of a barren patch for the club, but it was more than compensated by an exciting run in Europe for the 1996 UEFA Cup Winner's Cup.
With Kuhbauer winning tackles and providing assists, Rapid Vienna made it to the final, no easy task. Their first challenge along the way was a home-and-away series with Sporting Lisbon. Sporting won the first game 2-0, but Rapid Vienna won the second leg 4-0 at home to advance.
Didi scored the opening goal with a dashing, late run and rocket of a shot after a nice square pass. This was a Frank Lampard moment before anyone knew who Frank Lampard was. Kuhbauer would also whip in a delicious, bending cross for the third and deciding goal. The club then made short work of Dynamo Moscow in the quarterfinals and faced Dutch club Feyenoord in the semis. Didi did not play in the opening draw, but returned to the starting lineup for the 3-0 win at home.
Didi, of course, sent in the corner for the opening goal in that home win.
In the final, they faced the then not-very-rich Paris St. Germaine. You can watch the match video here. Rapid Vienna lost the game 1-0, but the deep run was a consolation prize after the national team failed to qualify for the Euros.
Didi left Rapid Vienna in 1997 and played a few more seasons in Spain and Germany before returning to play for his childhood club, SV Mattersburg, where he retired. He enjoyed some success as a coach, leading Austrian Club Trenkwalder Admira to promotion and also coached recently promoted Wolfsberger for two years.
Still, the verdict on Didi is "legend in Austria" but "almost famous" everywhere else. With better teammates, could Austria have qualified for the 96 Euros or advanced at the World Cup? Could Rapid have knocked off PSG in that cup final? These are the hypotheticals for all the big fish stuck in little ponds, the Landon Donovans and the Kuhbauers beloved by their countrymen (and women) but unknown to the rest of the world.
My favorite clip of Didi online is a shot of him running down the field with the ball at his feet near the end of a game. Rapid were ahead in the derby, the game was ending, and the other team's goalie had come up to try and head a corner. Instead, Rapid countered and Didi head faked a pass to freeze a defender before slotting the ball into an empty net.
It was a dick move, but what else would you want/expect from a cocky box-to-box 90's midfielder?
Elliott yells about soccer on Twitter. You can find out about his new soccer novel here.