WATCH: Two Liverpool Players Take On 30 Academy Kids In Hilarious Friendly
Image Capture
Soccer
Video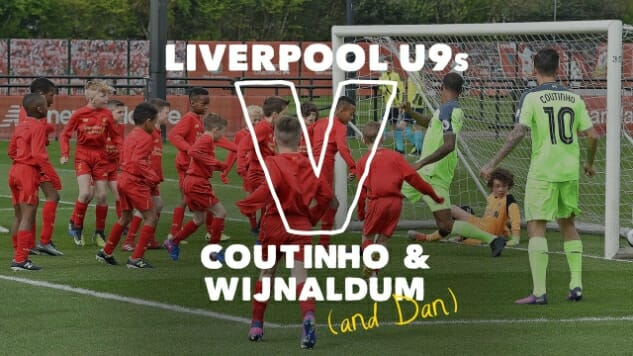 I don't even know what to say about this, except that I love it to bits.
Liverpool's academy hosted a special friendly match yesterday, pitting senior first team players Philippe Coutinho and Georginio Wijnaldum against THIRTY kids from the U9 squad.
The adults were aided by youth loan signing Dan Moore, who was an absolute hero in goal. Even so, they were faced with a tall order: two goalkeepers, ten defenders, nine midfielders, nine forwards, ALL TERROR.
I'm not sure what my favorite part of this is. The team talk right before kickoff and Gini Wijnaldum assuring the young keeper that everything will be okay? The two-on-one combination play for the senior side's opening goal? Moore getting caught out after coming up for a corner and somehow managing to rush back in time to prevent a goal? The fact that this somehow ended in a draw? It's all too adorable.
I would love to see other teams do something like this. (Just, uh, if Stoke does this, maybe have Ryan Shawcross stay at home. Best for everyone involved.)