Every season, we scramble to incorporate the latest trends into our wardrobe in a budget-friendly way. While adding a few key pieces here and there is always a great way to look like you've run off the runway, there's one way you can revamp your wardrobe without worrying about next month's rent. Hack the latest trends by re-arranging your current closet into clever of-the-season silhouettes. Below, find five foolproof ways to be both fashionable and frugal.
1. Crop Top + Wide Leg Pants
This one lends itself best to a bohemian sensibility. With festival style as a huge trend this spring, this is an easy, breezy way to try out a new shape without buying anything new. Try a cropped lace tank with your favorite pair of loose beach pants, or a little tee with an old pair of high-waisted flares (c'mon, they're in that closet somewhere). Heading to a formal event? A pair of wide-legged work trousers also pairs well with a minimalistic crop top.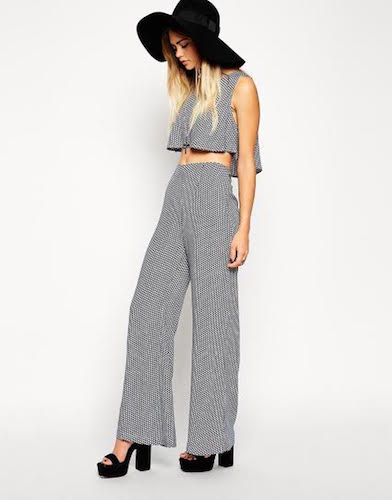 Reclaimed Vintage Navy Geo Wide Leg Pant from ASOS,
$34.85
2. Turtleneck + Long Vest
Until the weather warms up, layering will continue to be your very best friend. The turtleneck is no longer banished to bad yearbook photos—a minimal version has proven itself to be a great winter staple. When paired with a long vest or sleeveless coat, it creates a sleek silhouette that looks perfectly office-ready. If you're feeling extra fashionable, try your favorite knit turtleneck with a long fur vest for a stylish, super-bundled look that will keep you warm during the cold spring nights.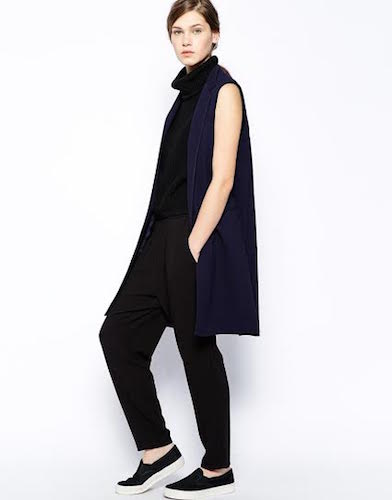 French Connection Ziggy Sleeveless Tailored Jacket from ASOS,
$154.07
3. Long Sleeves + Short Hemline
When you've finally decided to retire the tights and let your legs out for the season, this is the look that'll turn heads. A mod minidress with long sleeves or a boho version with bell sleeves are both perfect ways to look extra flirty without showing too much skin. Don't own one yet? Mimic the look by pairing a long-sleeve top and a short skirt in the same color. The variations on this are endless and it's the perfect choice for spring's transitional weather.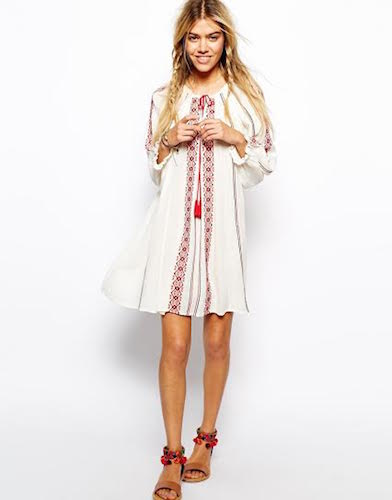 Swing Dress With Long Sleeves And Embroidery from ASOS,
$59.61
4. Bralette + Midi Skirt
This totally trendy look will be an absolute must-have for late spring. A tiny top paired with a high-waist midi skirt creates an ultrafeminine silhouette that isn't too revealing. We like this sleek and bold combo of a black top and a floral scuba skirt, but you could add all kinds of personal style by selecting a lace bralette and a denim bottom, or a leather bralette and a midi pencil skirt. Chilly night? Toss on a lightweight cardigan or leather jacket and carry on.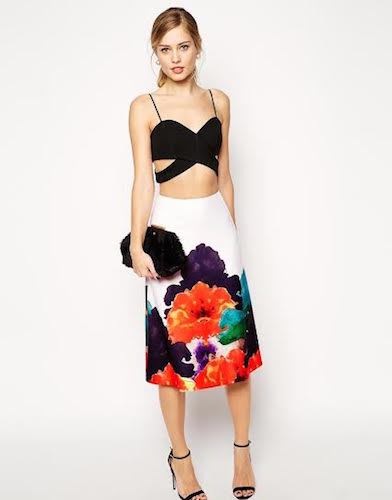 Aline Skirt with Border Print from ASOS,
$69.70
5. Fur Coat + Over The Knee Boots
There is no quicker shortcut to a glamorous look than this combo. Bust out your best vintage fur and any old pair of tall boots for a quick and easy update. Make it casual with a faux fur cardigan and flat leather boots, or opt for an ultrachic combination of a classic fur coat and thigh high suede. Try it with jeans while the weather is still cold, then let those legs out when the temperatures start to rise.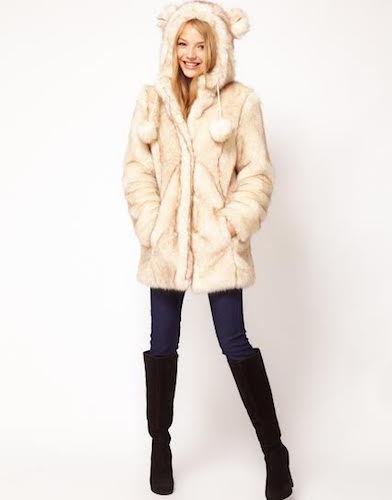 Faux Fur Hooded Coat With Ears from ASOS,
$71.53