As Yahoo Shrinks, CEO Marissa Mayer Turns to Phablets, Software for Growth
Photos courtesy of Getty Images
Tech
Features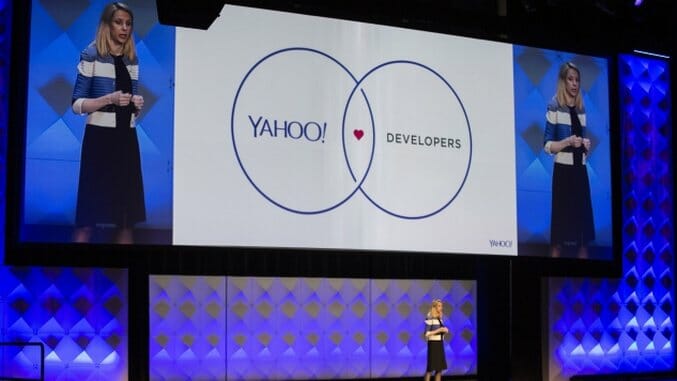 A day after Yahoo announced that it is shuttering most of its content business, CEO Marissa Mayer turned her attention to mobile during her keynote in San Francisco at the Yahoo Mobile Developer Conference, an area where company executives claim still possesses growth potential.
The mobile industry will be controlled by many players, and not the few big ones that we think of today, Mayer said, as she avoided addressing any of Yahoo's recent struggles.
"We're now experiencing the seven-year-itch of the mobile revolution," Simon Khalaf, Yahoo Senior Vice President of Publishing Products, said. "Mobile is growing so fast."
Khalaf predicts that the next big growth spurt in mobile will occur in late 2016 or early 2017, and the changes that are coming won't happen at the hardware level.
"Hardware hasn't changed in several years," Khalaf said. "Wall Street thinks that hardware is on the decline, but there's so much more opportunity in software."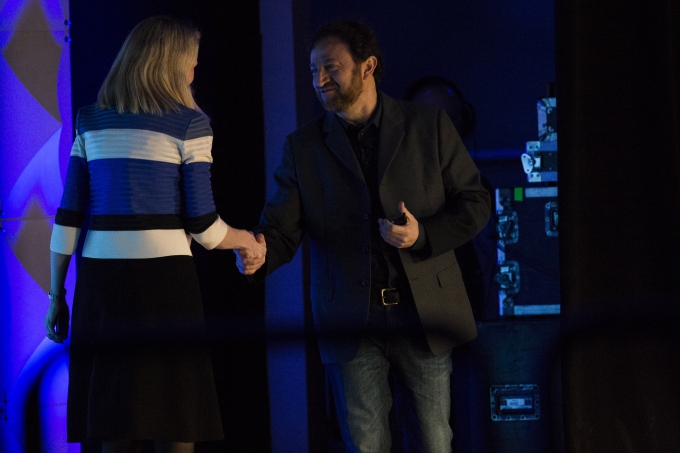 The mobile experience and landscape is vastly different today than it was eight years ago. Eight years ago, we needed to go to a bank to deposit a check, Khalaf said, and we carried digital cameras with SD cards, and being social meant going out and actually talking to people.
To illustrate that mobile is still growing, Khalaf looked at the "mobile addicts" category—people who constantly check their phones. "These people don't need wearables, because they're already glued to their phones," he said.
In 2014, the collected number of mobile addicts would make the category the eighth largest country in the world. In 2015, mobile addicts would become the fourth largest nation by population, trailing China, India and the United States.
Engagement is also up. Americans spend over four hours on their mobile devices daily. Most consumption categories are on the rise, except gaming. "This is because we didn't have a lot of gaming hits in 2015," Khalaf explained. Another reason is that even though people are spending less time in games, they're driving monetization up with in-app purchases to beat the games faster.
Khalaf noted that even though mobile phone sales have slowed, apps are growing at an accelerated pace. In fact, as Apple's and Samsung's value drops on the market, Wall Street is hedging its bet on software companies like Facebook and Google. Mobile accounted for 20 percent of Yahoo's revenues in 2015, representing a 26 percent year-over-year growth in the fourth quarter alone.
"This is a sign of a maturing industry," Khalaf said. But we're not finished yet. At the end of 2016, he believes we're going to see another seven years of growth, which he dubs Mobile 2.0.
Driving this growth is the phablet form factor, essentially large format smartphones that straddle the line between large phones and small tablets. Khalaf said that phablets grew by 334 percent.
"It's a revolution within a revolution," Khalaf said, trying to hype up Yahoo's mobile developer community. This will drive developers to "create content on a mobile device that will be consumed on a mobile device."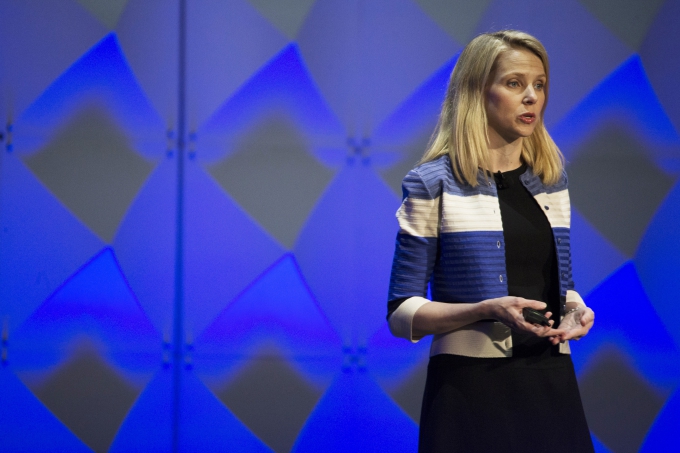 It's yet to be seen if Yahoo and its developers can create content tailored to the phablet that will drive audiences back to its web properties.
Yahoo's mobile business generates over $1 billion, and over half its billion users are now accessing Yahoo's content and services on a mobile device, Mayer said. To help developers track user engagement on mobile, Yahoo acquired analytics firm Flurry last year. Today, Yahoo announced that Flurry supports over 250,000 developers reaching 800,000 apps.
Along with announcing a new Flurry dashboard experience and new iOS and Android apps, Khalaf announced that Flurry will support Apple's tvOS to help developers "analyze, advertize, monetize and enhance" their apps for the platform.
"From growing the Flurry community to turning apps into real businesses, it's been an incredible year," Mayer said.
Her optimism, however, was clouded with questions about her brief presence on stage this year. While Mayer was originally scheduled for a 30-minute keynote, her presentation lasted only ten. The remainder of her time was taken by Khalaf, and Mayer avoided fielding questions from reporters.
Recent corporate decisions are also overshadowing this year's conference. Of note is Yahoo's flip-flopping strategy on Tumblr ads. Despite being the darling acquisition by Yahoo, Tumblr missed its revenue targets. And while mobile is growing, as Yahoo claims, the company is instead trimming its workforce by 15 percent.