Although consumer tech is a popular choice for gifts around the holidays, it's often hard to know what that special person in your life would want. You'll see our holiday lifts go up soon here at Paste, but what if you really have no idea where to get started? A recent survey from SquareTrade had some interested findings that might help.
The survey reported that Americans will spend an estimated $75 billion on gadgets and tech gifts this holiday season. What's more, more than 50 percent of Americans plan on buying an electronic gift, as opposed to that new tie or a pair of socks.
Surprisingly, the survey revealed that the topmost desired tech gift from Americans are tablets, with 29 percent reporting in for that. On the other side, upwards of 37 percent of shoppers plan on purchasing a tablet for someone else. Tablets have been known for being a declining product in the tech space in terms of sales, so it's heartening to see some desire out there for them. Some of the best tablets available right now are the 9.7-inch iPad Pro, the Surface Pro 4, the Galaxy Tab S2, and the Pixel-C.
Second, at 24 percent, were smartphones. This one seems like a shoe-in, but considering how difficult it is to purchase a smartphone for someone who isn't on your phone plan, it's kind of interesting. Not surprisingly, this one didn't show up on the list of what people actually plan to buy for others.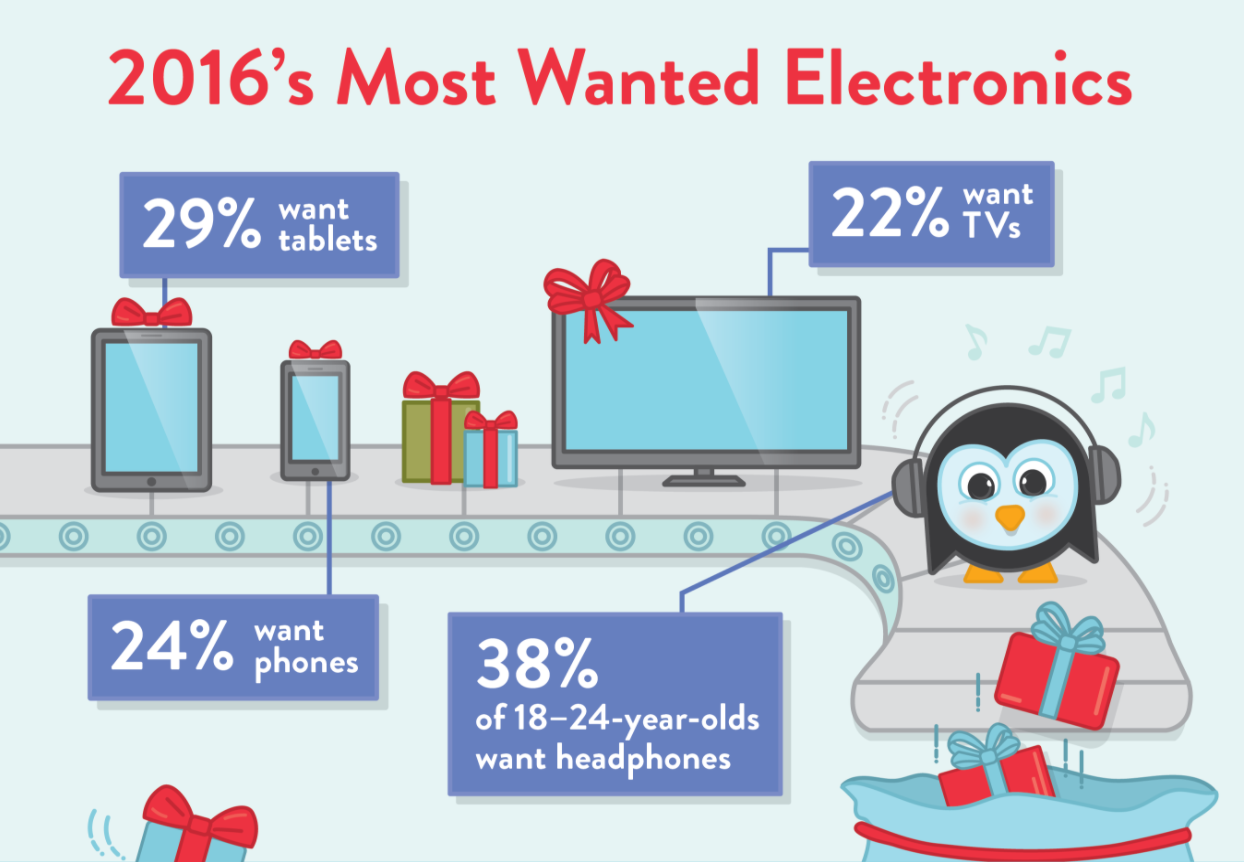 Lastly, televisions came in at 22 percent. Although televisions are a big purchase, you'll see a lot of big deals on Black Friday and throughout the holiday season. Whether it's a huge curved 4K television or a dirt-cheap HD TV, televisions are one of those things that people want to replace every few years or so.
One last interesting finding from the survey was that for 18-24 year olds, a new pair of headphones is what they want most. Considering Apple's jump to remove the headphone jack from the iPhone, wireless Bluetooth headphones will no doubt get a big bump this holiday season.