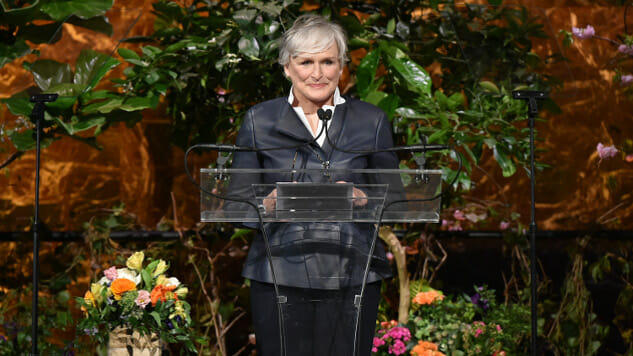 Broadway enthusiasts have reason to celebrate: Oscar-nominee Glenn Close will reprise her Tony Award-winning role in Sunset Boulevard at the Palace Theater. The play, based off of Billy Wilder's 1950 film, was adapted into a musical by Andrew Lloyd Webber and premiered in 1993. Close's 1993 performance as Hollywood diva Norma Desmond earned her critical accolades. The New York Times, for instance, gushed that "[Close] inhabits every square inch of the Shubert's immense stage with mesmerizing authority. She wears the space with the same elegant self-assurance with which she wears her succession of extraordinary outside-of-time Anthony Powell costumes."
Last year, Close returned to the role in London, receiving similar praise. Theater critic Dominic Cavendish, writing for The Telegraph, commented, "The triumph of the show and it's Close's triumph too—is to make you feel the shock of it as if for the first time." In an interview with Out, Close described her evolving understanding towards her role thusly:
Before I played her as somebody caught back in the 1920s and trying to maintain that look … She'd been a great beauty, but as she got older she apparently put on so much white makeup that there was powder everywhere. This time around I think Norma's more human, and of her time.
In addition to Close, the revival of the musical boasts a 40-piece orchestra, the biggest in Broadway history, and Tony-nominated director Lonny Price. Previews start on Feb. 2 at the Palace Theater, with the official opening on Feb. 9 to precede a limited 16-week engagement, per Broadway.com. Find tickets and more information here.