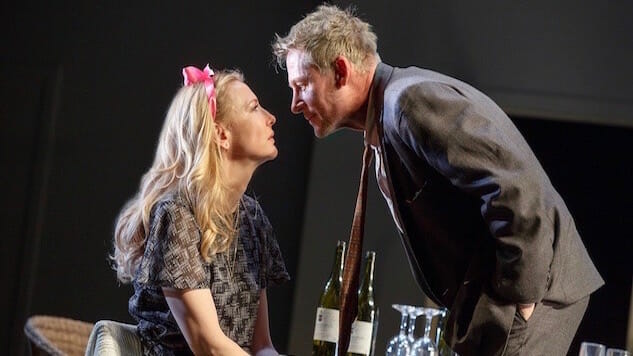 It's a shame that Cate Blanchett's Broadway debut has to be in such a mediocre play. She and Richard Roxburgh (Uncle Vanya), who plays her lover, are absolutely enrapturing. The play? Not so much. Still, it's obvious why Blanchett, Roxburgh and director John Crowley (Tony nomination, The PIllowman) would chose such a work to delve into. The Present is an adaptation of a play from Chekhov's early years, Platonov. Debuting in 2015 at the Sydney Theater Company and adapted by Andrew Upton, Blanchett's husband, the work is no short of a classic Chekhovian drama. There are extraordinary characters, all with ferocious desires—something that makes a Chekhov play, even if performed awfully (this one was not), kinetic with the electricity that comes from forbidden human emotions. Blanchett is known for choosing this type of work—Notes on a Scandal and Carol come to mind. She has a knack for playing characters with the I-want-to-but-no-I-can't throughline. As much as the play suffers from its intrinsic lackluster script, it succeeds in its performances and the questions it ponders. Walking away from the show on a cold New York night, the struggles the characters have with love, identity and purpose seem all the more, frighteningly, resonate.
The stage is set in 1990s Russia at the end of the Soviet reign. Blanchett plays Anna Petrovna, a beautiful, flirtatious and deceptively sweet landowner. We open on her 40th birthday where she's gathered old friends at her deceased husband's estate. As the play unfolds, the forbidden romance between Petrovna and schoolmaster Mikhail Platonov (Richard Roxburgh) becomes apparent—and dangerous. By the end of the first act, once everyone is good and drunk and teetering in their chairs, an impending doom looms over the birthday cake and champagne. In classic Chekhovian fashion, each character has become more intertwined with one another; affairs arising between past lovers, new acquaintances and all exacerbated by the sticky bonds of family and longtime friends. When the curtain fell on act one, half the audience seemed to think the play might have ended. How much more drama could these people create? The vodka wasn't helping.
Act one is slow to start, but the last third of it is wonderfully combustive. It can be hard to follow a Chekhov play purely because there are a LOT of characters and a LOT of long, Russian names to remember. Your brain is playing catch up with each character's backstory and relationship history while also trying to relax into the emotional trajectory of the play. It's a difficult balancing act. The Seagull accomplishes this challenge more eloquently—Chekhov spending more time on each character and outlining their desires more clearly. Upton's adaptation here illuminates the levity in the script, which is much needed, but still one has a difficult time emotionally connecting with anyone but Blanchett—and perhaps because everyone already is.
Blanchett makes the show. There is such huge expectation when seeing someone at her caliber on Broadway, let alone in a debut. She did not disappoint. Blanchett was brimming, connected to her body and spirit seamlessly. Surrounded by other veterans, like Roxburgh, and some other more young, newcomers, her mastery is even more prevalent. She is comfortable on the stage and, therefore, comfortable to watch, allowing her audience to disappear into her character's journey as much as she is. Anna Petrovna is a complicated woman, too. Without giving away too much, she's a manipulator and her seemingly scattered decisions, Blanchett ties together logically. They're rooted in a quiet insecurity and the dangers of boredom via privilege. Roxburgh displays a similar effortlessness, playing a man we've all loved and hated simultaneously. He's paralyzed by purpose—how does one navigate their life when sex is easy to come by, love is false and you've sold your soul for a wife and baby? As unforgivable as some of his actions are, he does what he should do, which makes one empathize. Blanchett does the same and this ability is exactly what keeps the play afloat.
Emotions can often be more powerful that the reason why they exist. Most all of the characters in The Present are self-centered, cowardly and borderline psychotic. Their acts are unforgivable. Their conflicts are tiny and irrelevant in the face of what modern audiences are facing—not that the theater going audience is any example of what the average modern viewer is. Somehow, though, the character's honest emotions are piercing. Blanchett's ability to communicate what it means to be on the verge of 40, worthless if not married and wilting because of an un-fulfilled long time love is the most honest work on Broadway this year. Even if the script doesn't quite hit its peak and the individual character plot lines are a bit scattered, the emotional connectivity of Blanchett and Roxburgh is hard to deny. There's something painfully satisfactory about watching people's imperfections and actors who aren't afraid to share them, raw, on the stage.
Director: John Crowley
Book: Anton Chekhov and Andrew Upton
Starring: Cate Blanchett, Richard Roxburgh, Andrew Buchanan, Anna Bamford, David Downer, Eamon Farren and Martin Jacobs.
Through: March 19, 2017
Meredith Alloway is a producer, filmmaker and Lois Lane by night for Paste, Filmmaker Magazine, Nylon, Complex and Collider. She currently resides in NYC, but is a Texan by heart and will always be an unabashed Shakespeare and Fosse fanatic. Instagram adventures: @atwwalloway.