When most people think about planning a trip to Chicago, they often plan for any time of year besides winter. The weather is typically frigid, the wind is brutal and there's a significant chance of substantial snow accumulation. All things considered, Chicago can actually be its most charming during the cold weather months, especially between the end of November and beginning of January. The city offers quite the itinerary of themed activities and events throughout the holiday season. Lights line the trees along Michigan Avenue, ice skating rinks pop up in the parks, and the windows along State Street are outfitted with holiday displays sure to impress. These are seven ways to get into the holiday spirit around Chicago this year.
1. State Street Holiday Windows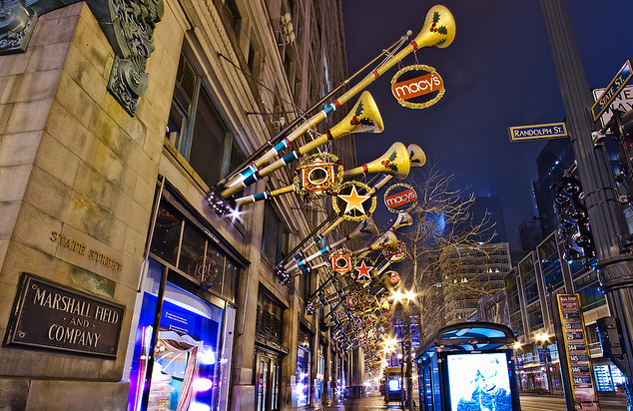 Photo by Natasha Jelezkina, CC BY-SA 2.0
Each winter for the past 108 years, the windows at Macy's (formerly Marshall Field's) State Street department store present holiday-themed displays for passersby to enjoy. The theme changes each year, and past years have varied from Harry Potter to The Nutcracker. This year's theme is Santa's Journey to the Stars and you can see it through the holiday season.
2. Christmas Around the World and Holiday Lights at the Museum of Science and Industry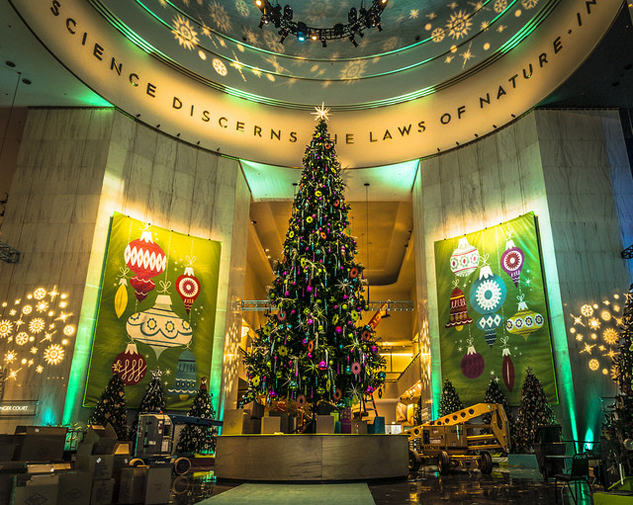 Photo by Colm Linehan, CC BY-NC-ND 2.0
The Museum of Science and Industry is a gem among Chicago's already great menu of museums. Since 1942 the museum has decked its halls and exhibit rooms with holiday cheer as part of their Christmas Around the World event. This year more than 50 trees feature decorations inspired by cultures around the world and surround a 45-foot showpiece tree adorned with over 30,000 lights. As an added bonus, artificial snow falls in the museum's rotunda every half hour.
3. ZooLights a Lincoln Park Zoo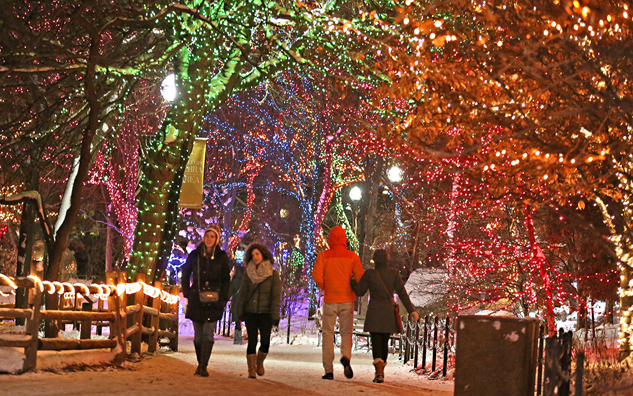 Photo via Lincoln Park Zoo
Celebrate the holidays with the animals at Lincoln Park Zoo during their annual ZooLights event. Brightly-lit exhibits are staged throughout the zoo and trees are draped in twinkling lights to enjoy as you stroll between the animal habitats. The lights stay on nightly until January 3 and admission to the zoo is free.
4. Navy Pier Winter WonderFest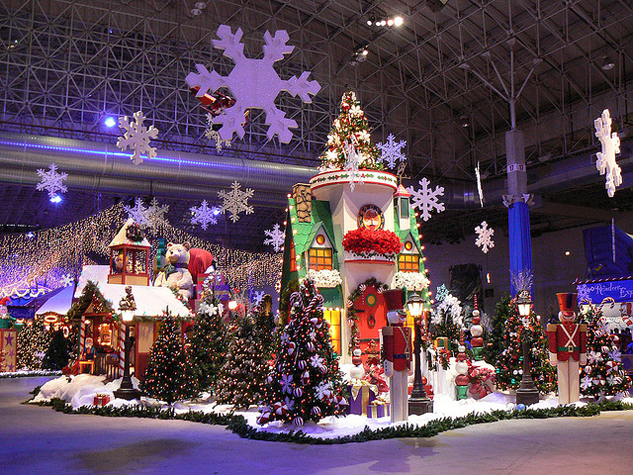 Photo by yuan2003, CC BY-NC 2.0
Navy Pier, one of Chicago's most popular tourist attractions, offers an impressive array of holiday-themed activities during its annual Winter WonderFest. There's a 170,000-square-foot ice skating rink, a 50-foot-high indoor Ferris wheel, along with 24 additional rides. If the activities don't entice you, visit for the decor, which includes nearly 500 trees decorated with more than 25,000 ornaments. You have until January 10 to take it all in and general admission is $10 or $25 for activities.
5. Macy's Great Tree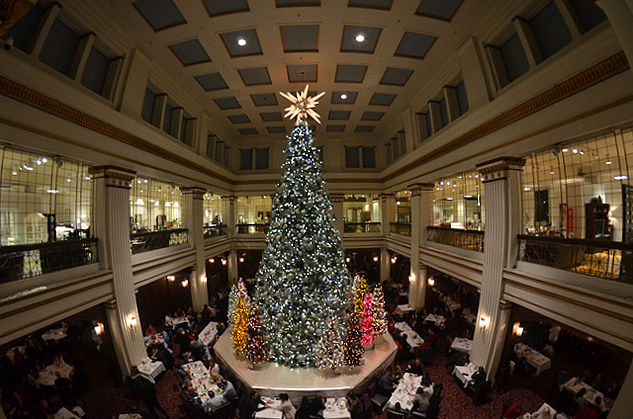 Photo by Michael Kappel, CC BY-NC 2.0
Dating back to 1907, it's been a Chicago tradition to enjoy a holiday meal in Macy's (formerly Marshall Field's) seventh-floor Walnut Room where you'll eat in the glow of the department store's 45-foot-tall Great Tree. The restaurant started as a tea room and today offers a full menu and holiday breakfast buffet. No reservations are taken and expect to wait for a table, but there's plenty to do around the store to occupy your time. Don't miss the massive Tiffany Dome, which contains a mosaic of than 1.6 million glass pieces. The Great Tree provides plenty of photo opportunities as well with its 42 LED stars and countless additional lights and ornaments.
6. Ice Skating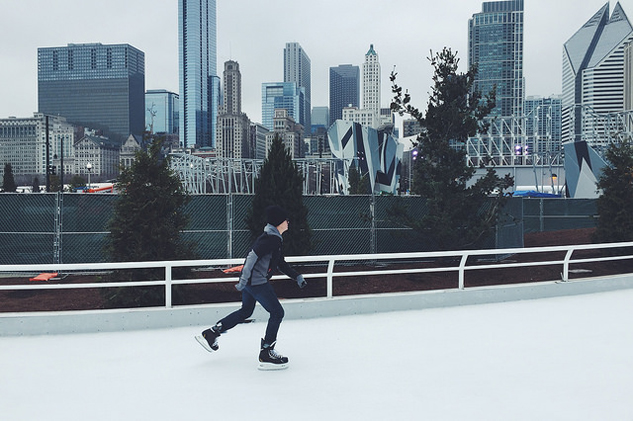 Photo by MA1216, CC BY-NC-ND 2.0
The McCormick Tribune Ice Rink in Millennium Park lets visitors participate in this classic winter activity while taking in views of the Chicago skyline and the park's iconic Cloud Gate, known lovingly as The Bean. The rink is open daily from mid-November to March and is free if you bring your own skates or you can rent a pair for a small fee. A recent and nearby addition to Chicago's ice skating options is the skating ribbon, which weaves in a loop around Maggie Daley Park. Admission is also free if you bring your own skates or you can rent them for $12.
7. Christkindlmarket

Photo by lobstar28, CC BY-NC-ND 2.0
This German-inspired outdoor market features food, drinks, shopping and entertainment in Chicago's Loop neighborhood. Tents pop up in Daley Plaza selling German glass ornaments, nutcrackers, bratwursts, strudel and mulled wine served in a souvenir mug shaped like a boot. Christkindlmarket is open daily between November 20 and Christmas Eve and admission is free.
Top photo: Justin Kern, CC BY-NC-ND 2.0
Paste Travel's Bucket List columnist Lauren Kilberg is a Chicago-based freelance writer. Her travels have found her camping near the Pakistani border of India and conquering volcanoes in the Philippines.