Off The Grid: The Advantages (and Challenges) of Electric Car Camping in the Rockies
Image: Courtesy of Chevrolet Bolt
Travel
Features
Adventure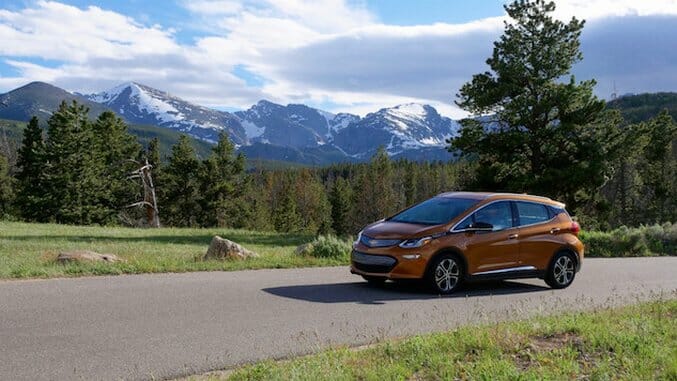 A strange thing happened to me this year. I started getting invites from consumer goods manufacturers to attend travel-related press trips. For instance, a deodorant company built an epic treehouse in Tennessee and wanted me to stay in it, even though it's not available to the public. A razor manufacturer wanted to fly me and a guest to the Bahamas under the guise that I'd mention their name while writing about the completely unrelated resort.
Why are companies doing this? Because people don't watch ads anymore. That and up-and-coming generations increasingly value experiences (such as travel) above things (such as consumer goods or even cars). In any case, I had previously declined these invitations. That is until Chevrolet offered to let me drive their new electric car through Rocky Mountain National Park. Since both of those interest me, I begrudgingly said "yes!"
First things first, the new Chevy Bolt (not to be confused with the Chevy Volt hybrid) promises 230 miles per charge. The sticker says $40,000, although—depending on individual state incentives—the price could end up being closer to $30,000. The better news is owners can break even in 4-5 years and pay a fraction of the cost thereafter to continue driving it.
But you didn't come here to read about cars, electric or otherwise. Is the Bolt capable of getting you off the grid?
Sort of. Upon touching down at Denver International Airport, I immediately took a liking to the "Kinetic Blue" bullet delivered to me. I liked it even more after its instant torque took me from zero to 60 miles per hour in just over 6 seconds, which is what base Camaros can do. To get to my destination—the popular and beautiful Glacier Basin Campground—I would need to travel 170 miles round trip, plus a few more miles to nearby hikes, the visitor's center, and around the adorable town of Estes Park.
With palpable excitement, I took to the challenge. So long, airport. Hello, open road. In less than two hours, I sped, ascended, and twisted my way into the radical Rocky Mountains. Upon arriving to the campsite, Chevy officials implied I may have had too much fun driving the car. In other words, my aggressive acceleration had drained the battery faster than expected.
Totally my fault. But range anxiety had quickly and suddenly set in. "You'll be fine thanks to regenerative braking," one representative told me. "But just to be safe, you can drive my Bolt back to the airport."
While I certainly appreciated the gesture, the offer underscored the deflating learning curve and serious limitations of all-electric vehicles. That is, while the Bolt's range is nearly double that of its competitors, its 230 miles per charge can only begin to scratch the surface when exploring the great outdoors. Although its intentions are noble, it's best suited as an extended range car for an on the grid city-dweller. At best, it will get you to the fringes of your own backyard.
As for Rocky Mountain National Park, I was immediately impressed by the scratches I made on its surface. I hiked the picturesque Sprague Lake and Bear Lake trails, the latter of which reminded me of a mini Torres del Paine. I gawked at the "woodsy" scenery and took in the sweet-smelling Ponderosa pines. And I cannon-balled the frigid waters of Dream Lake as quickly as I exited them. Four and a half out of five stars—will visit again.
All told, the Bolt is a promising car and perfect for nearby wilderness. But for now, I'll reach for a full tank of gas when planning my next drive-to expedition, if only for the added for range.
---
Off the Grid columnist Blake Snow writes epic stories for fancy publications and Fortune 500 companies. Follow him @blakesnow