New Regulations in Austin Could Ban Airbnb, HomeAway Rentals in the City
Photo via Getty Images, Justin Sullivan
Travel
News
airbnb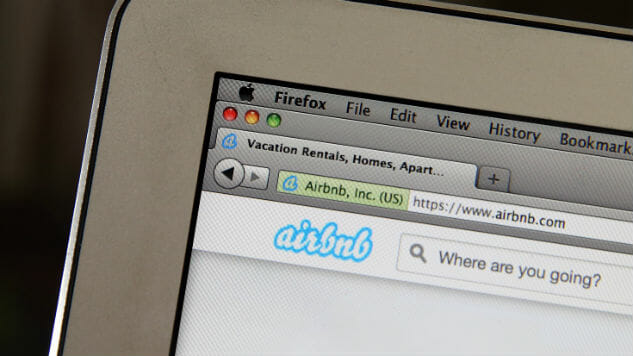 This past Tuesday, Austin, Texas passed a new set of regulations targeting the way short-term rentals, like those found on Airbnb and HomeAway, are handled within the city's limits.
The most contentious issue surrounding the city council's 9-2 vote in favor of new restrictions centered on how residentially based short-term rentals (known as Type 2 STRs) not occupied by the property owner will be handled.
Following a hold on issuing Type 2 STR permits through March 2017, under the newly passed laws STRs will be gradually phased out of the city and then banned by April 2, 2022. The crackdown comes on the heels of the city's attempts to address the more "seedy" Type 2 STR locations that attract and house disruptive residents and tourists, aka the "party houses." The effort is linked to an increase in reported disturbances by permanent residents who reside near the temporary living quarters. In other words, local Austin voters don't want to live near said "party houses."
Rental marketplaces like Airbnb and Expedia's HomeAway are opposing the new regulations. HomeAway is perhaps the more vocal of the two, as the majority of Airbnb properties meet the requirements of the restrictions. 87 percent of trips booked to Austin on Airbnb's platform feature four or fewer guests, while 85 percent of Airbnb's hosts "share the homes in which they live," a spokesperson for the company told the Daily Dot.
The additional regulation set to go through March 2017 requires that no more than 10 adults or six unrelated adults stay in a property. During the council meeting, the Daily Dot reports that Councilmember Kathy Tovo labeled several of the vacation residences as "mini-hotels 100 percent of the time" that prevent access to available housing for Austin residents and their families who would occupy the space full-time.
During the city council meeting, more than 200 Type 2 STR supporters and HomeAway employees vocalized their disagreement with the ban. Many noted that the city's new regulations may have the opposite intended effect of making affordable housing more accessible by making it less available. So far their efforts have remained unsuccessful.
Member of HomeAway's Government Relations team Walter Gonzalez spoke out about the company's displeasure with the Austin City Council's decision, noting that the company will continue to contest the new laws, which disproportionately disservice the compliant property managers.
"[We'll] continue to advocate for the responsible property owners and managers and hope that through continued discussion, we will have a chance to readdress this issue with the council," Gonzalez said.
The city's mayor Stevey Adler has also vocalized his opposition, proposing an amendment that would delay the phase-out timeline and making clear his intention to revisit the laws after the March 2017 moratorium expires.