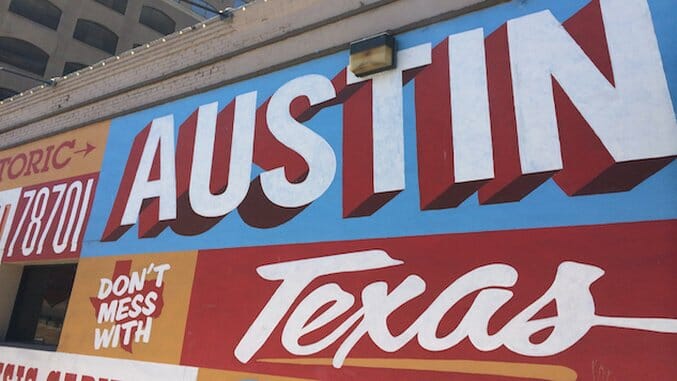 Searching for the perfect adventure? Look no further. Paste's series Brew with a View is a local's guidebook to the best hiking and drinking—and this week, we're headed to Austin. So grab a map, pack your boots, and get ready to chug.

Texas is known for doing things big, and Austin is no exception. With the motto "Keep Austin Weird" stamped on nearly every souvenir shirt and bumper sticker, Austin has decided to hang its Texas-sized superlative on the claim that it is The Strangest City in America … because of the city's eclectic and versatile vibe.
Luckily, that versatility means there is something for everyone here, beer selection included. Doubling as home to one of the top party schools in the nation—University of Texas—Austin jumped on the craft beer trend years ago, trading in Lonestar and Shiner Bock for locally harvested grains and native yeast. And even though the capital city is one of the fastest growing areas in the country, it still reigns as one of America's greenest.
So, why not combine the two? If you plan on being one of the 24 million visitors to Austin this year, don't forget to see (and drink) all this well-rounded city has to offer.
The View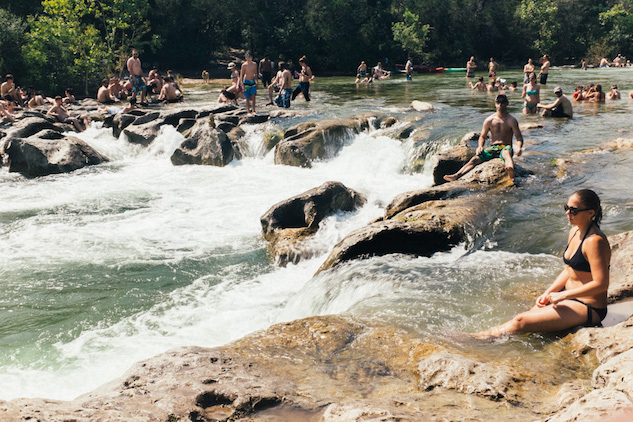 Photo courtesy of The Good in ATX
While most think of Austin primarily as a music hub, nature is surprisingly abundant and easily accessible for the population of over two million. The capital city is bordered, to the southwest, by the Barton Creek Greenbelt, a seven-mile-long path packed with multi-use trails. Cyclists and hikers can access the Greenbelt from several public access points to reach a series of picturesque views and clear water swimming holes to escape the desert heat. And the best part? All of this is a mere 2 miles from downtown Austin. Visitors are able to choose from a wide variety of adventures, making this trail the perfect pick for beginners, kids, and pets.
The trail begins at Barton Springs, a spring-fed pool that is unarguably Austin's most famous swimming spot. While the concept sounds great, the pool is freezing, costs $8 for each non-resident, and has an eerie moss-coated bottom for what looks like a swimming pool. For a more remote destination, park the car at the Gaines Creek & Twin Falls Access Point and get to hiking. For inexperienced hikers or those with little ones, the stop off at Twin Falls is an ideal sunny spot to explore. However, if you're willing to hike an easy three miles further, you'll find Sculpture Falls, one of Austin's most versatile swimming holes. The water is deep and the rocks are just tall enough to make this section of the river the quintessential place for cliff jumping (at your own risk, of course). If you're really looking to take it up a notch, head over to the Loop 360 Access Point to bike rugged terrain, climb the Seismic Wall, or take a tube down the falls near Gus Fruh.
The Brew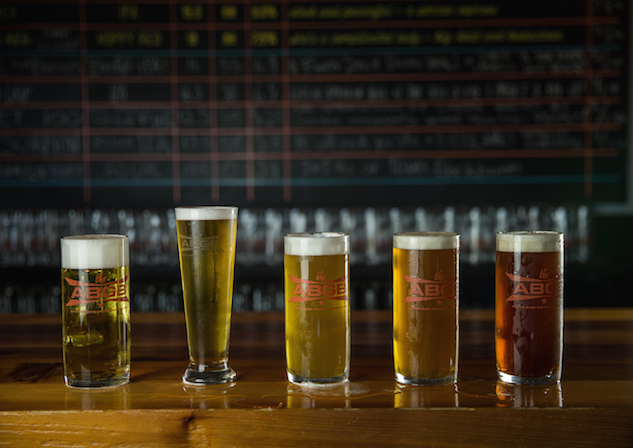 Photo courtesy of The ABGB
Everyone should reward themselves after a long day in the sun with a nice, local, calorie-packed brew. With 26 craft beer joints, finding a place to cool off isn't a problem in Austin. Locals recommend Hops & Grain, a brewpub that's been around since 2011. The brewery averages around ten taps at a time, including their best sellers—'A Pale Mosaic' and 'The One They Call Zoe', a pale lager. If you can make it during Happy Hour (Monday-Thursday, 4-6 p.m.) you can catch a full pour for just $2.50. They're also known for their all-natural dog treats made from spent grain, so your smaller hiking pals can recharge, too.
Jester King is another Austin staple to consider. The lively atmosphere and incredible service you'll find here is worth the 30-minute drive. This brewery strictly focuses on farmhouse ales made with locally-sourced produce, well water, and Texas grain.
If you're looking for something quick and close by the Greenbelt, The Austin Beer Garden Brewing Co. is less than a ten minute ride away. Voted the '2016 Large Brewpub of the Year' at last year's Great American Beer Festival, The ABGB has a refreshing assortment of rotating and permanent taps. On their 'Always' list, you'll find an award-winning 'Pre-Prohibition Style' Pilsner (aka, an American-style Lager) while their 'Sometimes' menu features crazier concoctions, like a Honeycrisp Apple Sour. They also serve gourmet pizza by the slice and host a variety of shows on the weekends, including a honky tonk dance party every Sunday.
Top Image: Jeremy Keith, Flickr CC BY
---
Sarah Bennett is a writer based out of Nashville, Tennessee, with a small budget and a big appetite for the world.