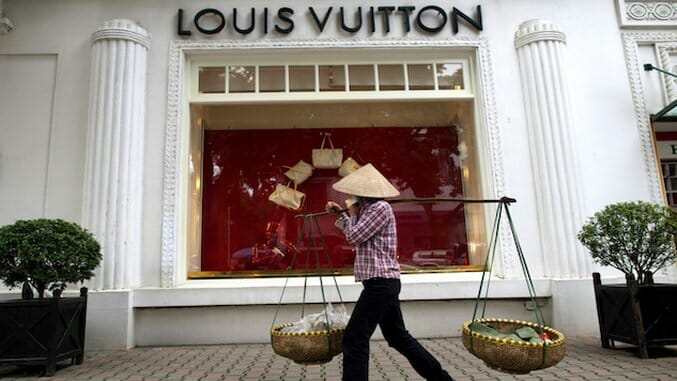 Backpackers pour into the crowded alleyways of the Old Quarter, sampling street food of every variety and the cheapest beer you can imagine—this is not your parents' Hanoi. Gone is the era that saw the capital of Vietnam in a constant power struggle with the French and United States. Instead, Hanoi has built itself out of the rubble of the previous century and doubles as both the government epicenter and a relic of empires past. French and Russian architecture meets modern skyscrapers, while overflowing indoor markets neighbor the highest of high end boutiques. If you're looking to walk through the urban jungles that make up Vietnam's major cities, Hanoi is the perfect jumping off point for both the history-seeking traveler and the food-obsessed backpacker.
1. Ho Chi Minh Museum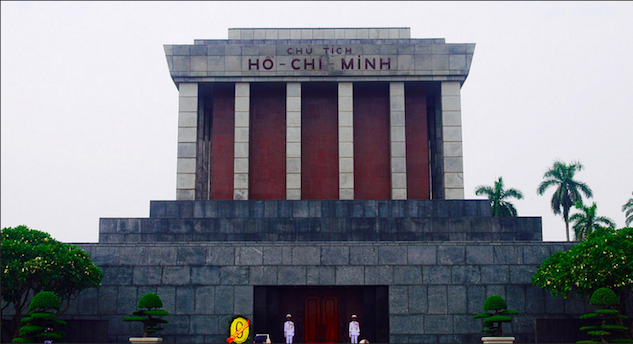 Photo by Max Bonem
Although Hanoi did not change its name to reflect the North Government's victory in the 1970s (that honor was instead forcibly bestowed upon the country's former capital, Saigon), Ho Chi Minh's presence is inescapable as you walk through Hanoi's streets. However, nowhere is his legacy more strongly felt than at the Ho Chi Minh museum and mausoleum that honors the man simply known as Uncle Ho. When a country's recent history is as complex as Vietnam's, it's important to start from the beginning when trying to understand where the country has landed in present day. As there's no modern day Vietnam without Ho Chi Minh, learning his origin story and how he took a nation by quiet storm is the perfect place to begin your quest.
2. Xoi Yen
Morning is a beautiful time in Hanoi and if you really want to see the city as the locals do then the morning is the time to do it. Before the shops catering to tourists and restaurants serving western classics open up, the locals drink their jet-fuel take on coffee (or ca phe) and the lucky ones are enjoying a bowl of one Hanoi's most under appreciated dishes, xoi yen. There are a number of shops on the outskirts of the Old Quarter that offer their own take on the classic, but the essentials to a good xoi yen are as follows: saffron-infused gelatinous rice, a fried egg, and whatever meaty additions suit your fancy. It's heavy and savory and the perfect compliment to the cavity-inspiring coffee you'll enjoy before hand. Enjoy your xoi yen fully before embarking on a walking tour of the city or another day of getting lost in the Old Quarter just for the hell of it.
3. The Old Quarter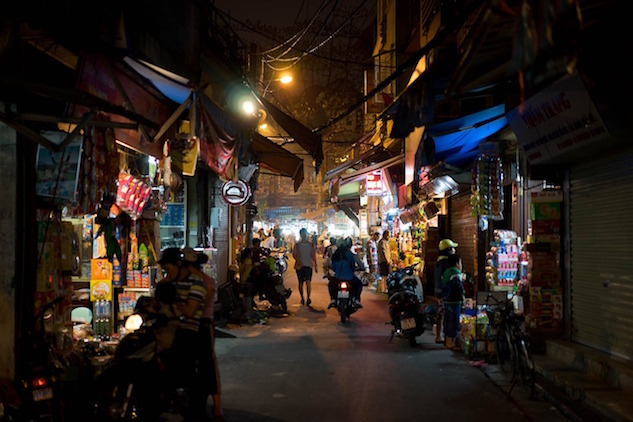 If you're visiting Hanoi, there's a very strong possibility you'll be staying in the city's Old Quarter. Designed before cars and motor scooters (the most popular way to navigate Hanoi's perplexing layout), the Old Quarter's congested streets now overflow with pedestrians, bicycles, scooters, cars, buses, trucks, and stimulation of every variety. This is where tourist retirees cross paths with backpackers of every age, all while locals try to sell you everything from knock off North Face gear to paper lanterns to the iconic conical hats that are still put to good use in Vietnam's more rural communities. There are streets solely dedicated to selling Christmas ornaments and toilets, while specific alleys in the garment district focus their business only on that of buttons. You're constantly checking to make sure you're not about to be run over by any number of vehicles, and surprises lurk behind every corner. It's Hanoi at its most crazed.
4. Pho 10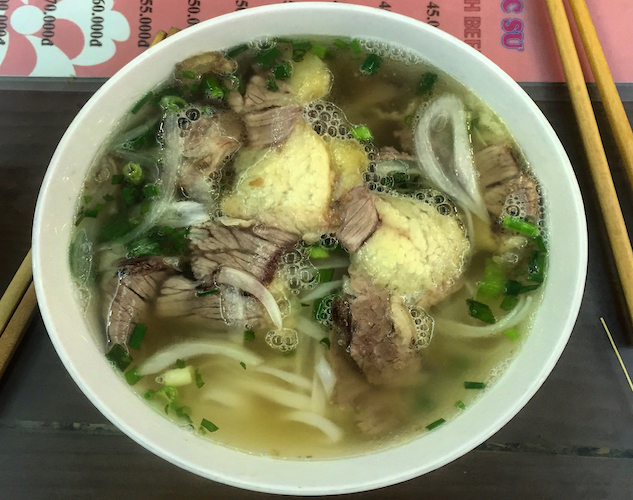 Photo by Max Bonem
Unlike much of Vietnam, Hanoi can actually get cold from time to time. Located closer to southern China than southern Vietnam, the northern capital can go from feeling like a humid urban swamp to a chilly country town in a matter of hours. When this happens, there's no dish better to reach for than Vietnam's most famous culinary export, pho, and no better place to warm up, both inside and out, then at Pho 10 in Hanoi's Old Quarter. The menu is simple: 10 options of pho with the only difference being the cuts of beef you choose. The entire kitchen is on display to diners and they will not hesitate to seat you with strangers in order to prevent you from dining elsewhere when it's busy. The windows fog up on cold nights and when coupled with a few Bia Hanois, Pho 10's seemingly perfect take on pho can do no wrong.
5. Hanoi Rock City
Nestled on the banks of Ho Tay (or West Lake)—one of the most popular neighborhoods for expats from every corner of the globe—Hanoi Rock City is one part performance space, one part club, and one part United Nations. Everyone ranging from hip locals and visiting English teachers to backpackers who simply never left spill into Hanoi Rock City as the evening turns into night and night turns to morning. Most bars in Hanoi are held to a midnight curfew but Hanoi Rock City is one of the few that will continue to serve until, well, the night has deemed itself over. Grab a kebab or a banh bo on the way out and greet the Hanoi sunrise with a sense of accomplishment.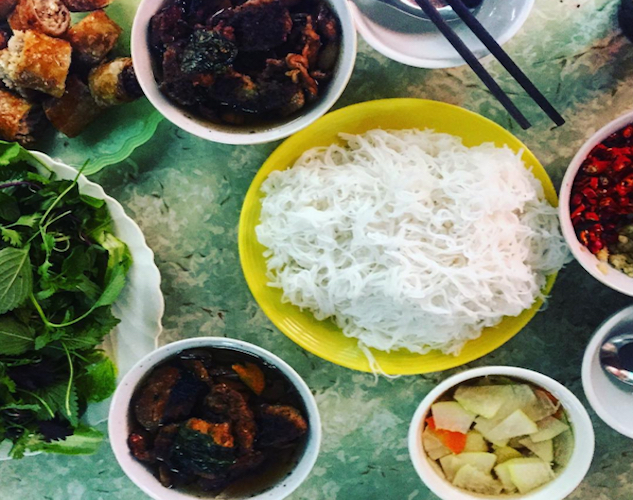 Photo by Max Bonem
6. Bún Ch? S? 1 Hàng Mành
One step below pho when it comes to dishes that are synonymous with Hanoi is bun cha, the multi-bowl feast of room temperature rice noodles, slices of fried spring rolls, grilled pork belly and sausage patties, any number of herbs, pickled apple and carrots, and a sweet, savory broth. No matter where you are in Hanoi, you can find some hole-in-the-wall serving up bun cha, usually for less than $2 per person, however, for the most memorable bun cha experience, you must visit the Old Quarter's legendary Bún Ch? S? 1 Hàng Mành (pictured above). What appears to be a quaint local restaurant quickly reveals its six stories of locals and travelers alike, stuffing their faces with one of Hanoi's oldest and most adored versions of the northern classic. You'll pay a little more here (upward of $5 per person) as it's become super popular, but the experience of climbing multiple flights of steps and watching as employees almost as old as the shop itself orchestrate diners and servers, while literal buckets of food are transferred from the large rooftop kitchen to the epicenter of the restaurant some six floors down, is almost too crazy to pass up, even for Hanoi.
7. Bia Hoi Street
The legends are true, you can still get a beer in Hanoi for less than $0.25. Pumped from a keg and traditionally served at tiny plastic tables in the street, Bia Hoi is the perfect beverage to pair with a banh mi or a platter of fried chicken bits from one of the Old Quarter's many vendors. When the masses come out for Bia Hoi though, Ta Hien (otherwise known as Bia Hoi Street) is where they go. Nearly every bar on the tiny excuse of a street serves four cups of beer for a dollar for as long as you can stay seated in a chair. The refills keep flowing while you take in the scene mixed of locals enjoying their one night off for the week, backpackers really stretching their money, and expats showing visitors a true Hanoi night out. It's not the best beer you'll ever have, but it's also not the worst, which is why people continue gravitating to this overflowing alleyway night after night.
8. Hoan Kiem Lake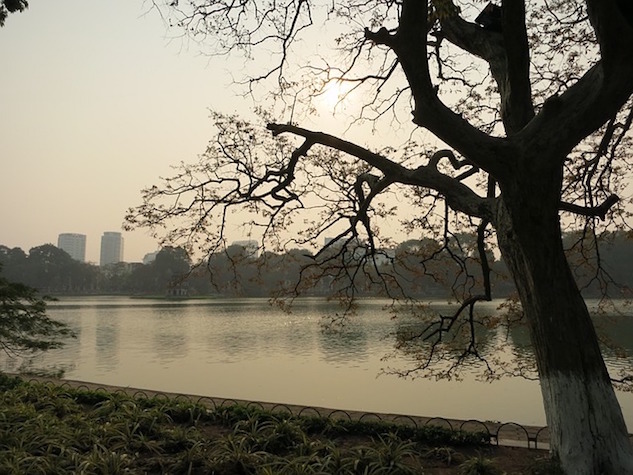 Hanoi never stops moving. It never stops humming and thumping and vibrating, but sometimes you can stumble upon little oases throughout the city that offer refuge from the static. Hoan Kiem Lake, located just south of the Old Quarter, is one such place. Yes, it's a major stop for tourists and elderly locals use the path that circles it as their location for recreation and exercise, but if you go just as the sun is setting and the city's lights start flashing on, you can experience a little bit of the tranquility that Hanoi continuously hints at, but rarely provides. Grab a coffee and take a walk around the lake, you'll feel more at peace than almost anywhere else in Hanoi.
Max Bonem is a writer and eater currently traveling through Southeast Asia. You can follow his travels via his blog, Instagram or Flickr.