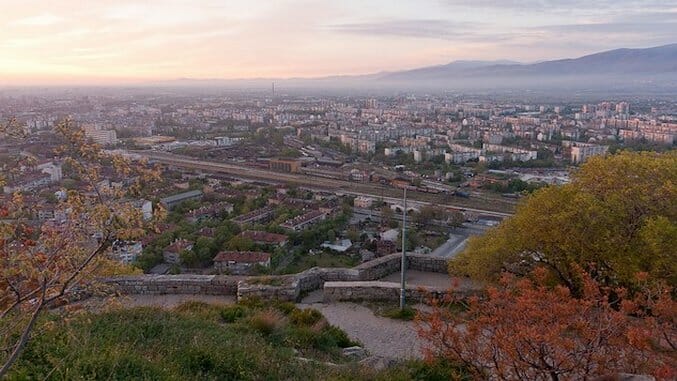 Photo courtesy of Filip Stoyanov CC BY NC ND
"One glass of wine makes you a philosopher. More than two and you're a donkey." Wise advice from the people of Plovdiv, for whom wine has been at the center of culture and business since the ancient Thracian times. Bulgaria's second largest city is a place where long held traditions and modern life collide. One of the world's 10 oldest cities, it was recently crowned the European Capital of Culture for 2019. Though often overlooked by tourists on their way through Sofia to the Black Sea coast, Plovdiv's central location makes it the perfect base for exploring Bulgaria's rich culture and beauty—from the country's famous rose oil production north of the city to the rolling green Rhodope Mountains to its south.
But make no mistake: this charming university town has more to offer than just its location. The "City of Seven Hills" is also home to some of Europe's best-preserved Roman architecture, a staggering array of art galleries, and-of course—some truly great wine. With so much to see in this artsy town, consider these the highlights for any upcoming trip to Plovdiv.
1. Ancient Roman Theatre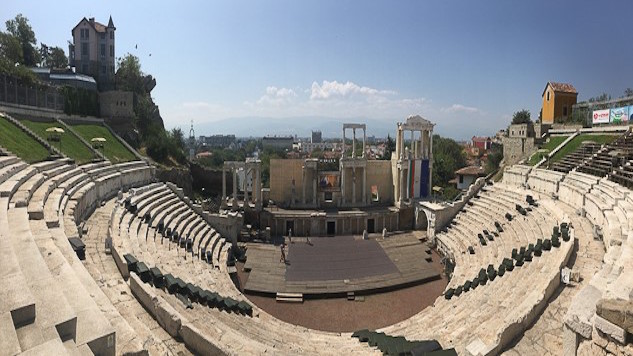 Photo by Bridget Nurre Jennions
This well preserved second century theatre is the pinnacle of Plovdiv's free two-hour walking tour and is well worth the climb up the cobblestoned streets of the city's Old Town. While the Roman Stadium nestled under the city's major pedestrian road is impressive, the Ancient Roman Theatre will take your breath away. Perched atop one of the city's six remaining hills, the 3,500-seat theatre—originally designed to hold twice as many spectators for gladiator battles and hunting games—was restored in 1981 and has hosted regular performances ever since. For a closer look, you can pay the 5 leva ($3) entrance fee, or simply take in the view while sipping coffee from nearby Kafe Arena.
2. Regional Ethnographic Museum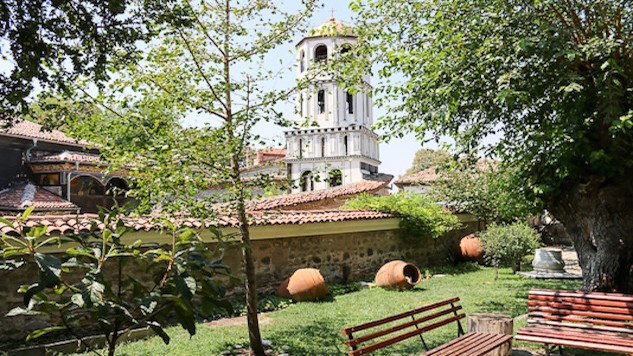 Photo by Bridget Nurre Jennions
The ornately painted building and expansive gardens would be reason enough to visit this museum housed in a converted mansion in the heart of Plovdiv's Old Town, but there is much more to discover when you walk through its doors. The Regional Ethnographic Museum offers a stunning collection of clothing, tools, furniture and musical instruments that offer a peek into Bulgarian life during the country's revival period toward the end of Ottoman rule. A visit to this well-designed museum (which is a National Geographic partner) is a necessary introduction to this eclectic city and its storied past.
3. Wine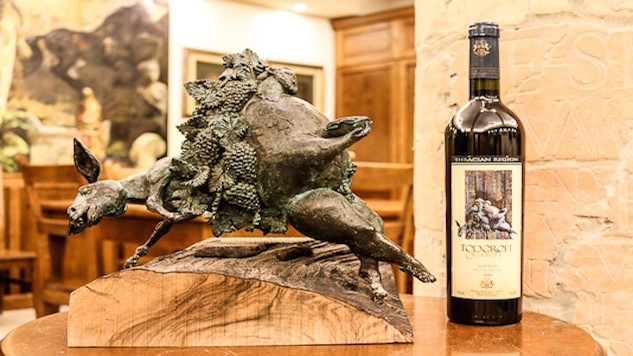 Photo by Bridget Nurre Jennions
If you prefer to punctuate sightseeing with liquid refreshment like we do, the options in Plovdiv are manifold. Inside the city bounds, cozy Vino Culture offers a great variety of the region's best wines for a midday break, pre-dinner drink or late-night philosophical debate. If your time in Plovdiv allows, you can also find yourself immersed in wine tasting and production just a short drive from the city center. At the foot of the Rhodope Mountains just 10 miles southeast of Plovdiv, the tiny village of Brestovitza boasts four wineries within walking distance of one another, including the standout Todoroff Winery and Hotel, where you can even bathe in wine at the hotel's spa. Further afield, you can find some masterly blends of international grapes like sauvignon blanc and cabernet sauvignon as well as varied presentations of the local Mavrud grape at Bessa Valley Winery and Villa Yustina.
4. Art Galleries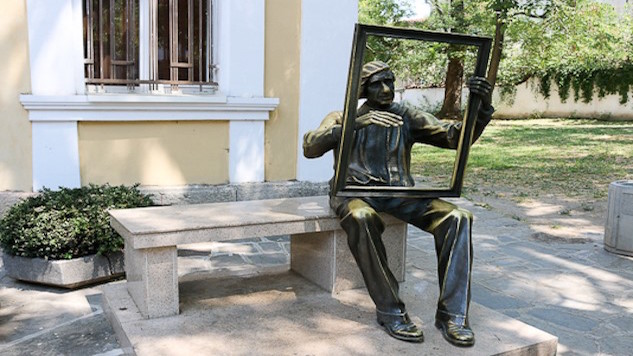 Photo by Bridget Nurre Jennions
Art is everywhere in Plovdiv—sold on the streets, inside its chic cafes and wineries and celebrated heartily in its many galleries. In fact, with at least 13 galleries open in the 40-square-mile city on any given day, it would take days to cover all of the art the city has to offer. If you'd like, you can move chronologically, starting with the Icon Gallery and its classic 15th and 16th century Orthodox icons and work your way to the 19th and 20th centuries at the City Art Gallery. If you'd prefer to focus your attention on any singular artist, Plovdiv has converted several of the old city's revival mansions into sites for both permanent and temporary exhibitions for famous Bulgarian artists like Encho Pironkov, Dimitar Kirov and Tsanko Lavrenov. Art Gallery Philippopolis and the zany Vazrazdane Gallery also have some great restaurants attached if you need to refuel during your artistic exploration.
5. Dining and Dancing in the Old Town
Fresh life is breathed into the city's old quarter each evening as young people hop among its cobblestones in search of food and drink. The tiny bars and restaurants that line the winding streets are so small that most spill out into the streets, which are teeming with energy by 10 p.m. Pavaj and neighboring Monkey House Cafe offer some of the district's most creative takes on Bulgarian food, but you'll definitely need to call ahead to get in. Satiated, wander down the street to Art Club Nylon, which offers craft cocktails and live music most nights of the week.
6. Bachkovo Monastery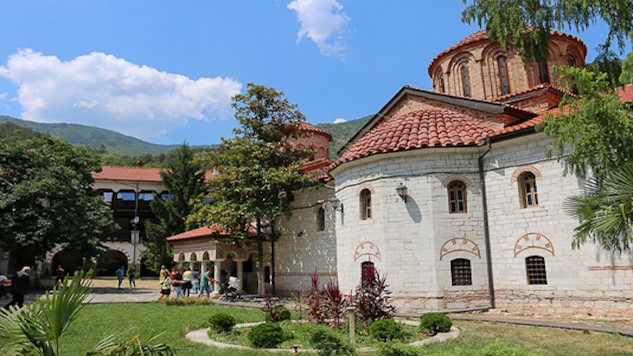 Photo by Bridget Nurre Jennions
If you're looking to shake off the city dust (or the multitudes of wine consumed the previous night) you can find some great hiking as well as this masterpiece of a monastic complex 19 miles southeast of the city center in the Rhodope Mountains. Originally founded in 1083, the monastery is a remarkable blend of Byzantine, Georgian and Bulgarian architecture, and is home to some of Bulgaria's most elaborate iconography. Join the many pilgrims who stand in line for a moment of reflection before the icon of the Virgin Mary Eleusa, which is thought to work wonders for believers. After visiting the monastery, you can either wander through the many handicrafts and grilled meat stands outside its gates or follow signs for the Green Path from the main gate for a leisurely two-hour hike in the mountains.
7. Fine Dining at Gastrolinea
For all its hype as a major cultural center, Plovdiv has been widely panned among the international foodie crowd … until now. If you need a break from heavy Bulgarian fare, look no further than an evening at chef Roge Rubio's Spanish fusion restaurant Gastrolinea. The small restaurant offers a beautiful terrace and excellent wine list to accompany your enjoyment of Spanish favorites like gazpacho and paella, as well as some unique twists on Bulgarian cuisine. The chef's whimsical presentation perfectly complements Plovdiv's artistic vibe and is a great way to cap off your visit to the city.
Breathtaking Balkans columnist Bridget Nurre Jennions is an Emmy-winning TV journalist and an international development specialist in Kosovo. Follow her travels on her blog, Bridgekrieg.