For years, Paris was the brunt of any specialty coffee joke. While you can easily get a café au lait and some excellent Parisian people-watching at any corner bistro, if you came to Paris in search of a quality cup of joe, you would have been disappointed, until now.
Thanks to an upswing in specialty cafes and roasters in the last few years, the tide is quickly turning. Specialty coffee in Paris is by no means the norm, but if you know where to go Paris can compete with any other major coffee-loving capital.
While espresso still reigns, filtered coffee has become the predominant coffee choice amongst local coffee drinkers—each with their favorite place for a good pour-over.
As the numbers of great java spots continue to grow, it can be hard to keep track. Don't fret, we'll do it for you.
1. Fondation Café, 16 Rue Dupetit-Thouars, 3rd arrondissement
Hailing from Australia—the coffee capital—and with many years as a barista under his belt, Fondation owner Chris Nielsen knows a thing or two about good coffee. In his small espresso bar in the historic Le Marais district, you'll be treated to skillfully pulled espresso served in the cafe's memorable light-green cups. Serving Belleville Brulerie beans, at Fondation (pictured above) the focus is on coffee but there are always a few sweets on hand to keep you salivating.
2. Coutume Café, 47 Rue de Babylone, 7th arrondissement
One of the first specialty coffee shops to hit the Paris scene, Coutume is both a roaster and cafe that has been sourcing other cafes with its coffee for several years. It's also one of the few specialty cafes on the Left Bank. The baristas are well trained, the brunch menu is solid and there's a special coffee concoction monthly to spice things up, like a cold brew mixed with house-made cola syrup. Pro tip: another Coutume venture to check out on the Left Bank is the café Coutume Instituutti, housed in the Finnish Institute.
3. Ten Belles, 10 Rue de la Grange aux Belles, 10th arrondissement
Always packed, Ten Belles has been a hub for coffee lovers in the Canal Saint Martin neighborhood since it opened in late 2012. The team behind Ten Belles went on to open Belleville Brulerie, a respected roaster that sources many of the specialty coffee shops in town. At Ten Belles, there is often a cheeky quote written on their blackboard outside like, "Drinking good coffee is sexy," and if you buy one of their thermoses, you'll be treated to inexpensive filter coffee for life. Yes, please.
4. Holybelly, 19 Rue Lucien Sampaix, 10th arrondissement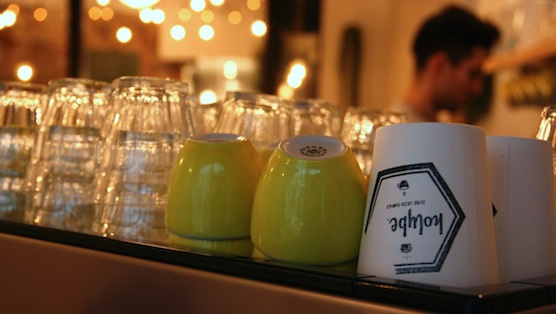 Having spent time in Melbourne, Nico Alary and Sarah Mouchot brought some Australian inspiration into their cozy space, Holybelly. Since opening in fall of 2013, they have become well-known for the good coffee, made using Belleville Brulerie beans and Nico's barista prowess. In the summer, they bottle up their house-made cold brew so you can stay refreshed while on the go. Not sure what the difference between a flat white and a cappuccino is? All you have to do is turn over the menu, where coffee drinks are expertly explained. The popular Agent Cooper special will get you a mug of dark filter coffee and a slice of the cake of the day.
5. KB Caféshop, 53 Avenue Trudaine, 9th arrondissement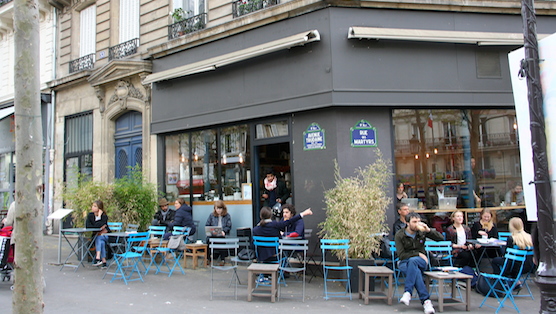 If KB feels a little like a coffee shop out of Australia, that's because owner Nicolas Piégay spent time working in Sydney. When he opened his Parisian cafe in 2010, it was one of the first coffee shops to serve something besides the industrial, over-extracted coffee that Paris was known for. Similar to many cafes in town, they serve locally roasted Belleville Brulerie beans, but they often have coffee for sale from other roasters around Europe. Because of its revolutionary coffee-making ways and wide variety of java, tourists and locals alike have come to love KB.
6. Café Lomi, 3 ter Rue Marcadet, 18th arrondissement
On the backside of Montmartre—the less frequented side—you'll find Cafe Lomi, an inviting cafe and roastery. Not only do they serve coffee, they're also happy to teach you about it during their regular Saturday series of workshops and cuppings. Committed to their local community, they team up with local brewery Brasserie de la Goutte d'Or for the 3ter coffee beer that's certainly worth a taste.
7. Loustic, 40 Rue Chapon, 3rd arrondissement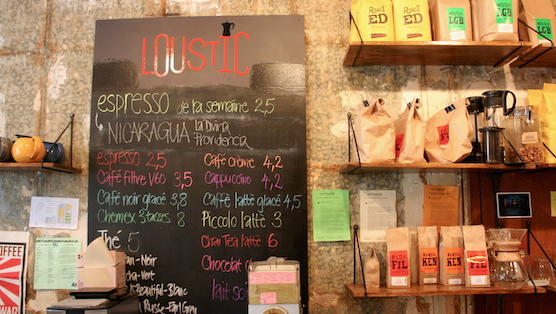 This neighborhood coffee bar run by Channa Galhenage is known for its cozy atmosphere and funky interior, making it the perfect place to warm up with a cup of joe on a cold winter day. The beans come from Caffènation in Antwerp, Belgium, and there are plenty of cakes, sandwiches and savory tarts to keep you there through lunch.
8. Fragments, 76 rue des Tournelles, 3rd arrondissement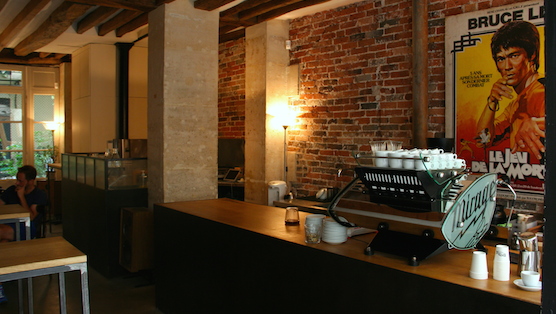 If you want to meet one of Paris' most devoted coffee geeks, go have a chat with Youssef Louanjli. At Fragments, his cafe in Le Marais, you'll find well-crafted coffee and espresso shots pulled from the gorgeous Kees van der Westen Mirage in a simple yet classic setting. Fragments has also recently started serving up porridge, the perfect compliment to their coffee, which is made from a rotating selection of beans from specialty roasters in France and Europe.
9. CREAM, 50 rue de Belleville, 20th arrondissement
Opened by two former Ten Belles baristas, CREAM is the latest specialty coffee shop to open in Paris. Just a stone's throw from Belleville Brulerie—where they gets their beans—CREAM produces coffee in a neighborhood that's otherwise known for Chinese restaurants and kebab shops. The offerings are written up on a long mirror hung behind the bar. And yes, that's a functioning record player in the corner.
10. Telescope, 5 Rue Villedo, 1st arrondissement
Télescope's Nicolas Clerc is a coffee purist, so don't come here expecting to get work done on your laptop. The purpose of this cafe is to enjoy quality coffee with no distractions. Beans come from a rotating list of well-known roasters from places like the U.K.'s Has Bean. Close to the Palais Royal, it's a perfect coffee break for anyone exploring the center of Paris.
Anna Brones is the author of The Culinary Cyclist and Fika: The Art of the Swedish Coffee Break, and wherever she is in the world, can often be found riding a bicycle in search of excellent coffee.