Off The Grid: 5 Lessons Learned After Visiting Every Country
Photos courtesy of Chris Guillebeau
Travel
Features
Earth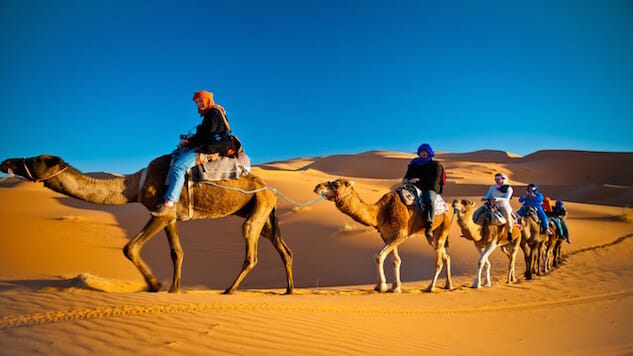 Chris Guillebeau of Portland, Oregon never intended to travel to all 193 officially recognized countries in the world—at least not originally. But 11 years and an estimated $130,000 later, he did it.
The accomplishment is eye-opening. It's also incredibly rare. Although there are no records for number of people to have visited every country, it's safe to say that Guillebeau, a best-selling author and explorer, is in extremely limited company.
"I worked as an aid worker in West Africa for several years and became comfortable traveling in challenging environments," Guillebeau says. "So when I came back to the U.S., I set a goal of visiting 100 countries."
As he neared completion of that first goal, however, Guillebeau realized it was easier (and cheaper) than he expected. "So then I decided to go for all 193 by my 35th birthday," he says, which was eight years away at the time.
What drove him to such a logistical, expensive, and time-consuming undertaking? "The ability to overcome a challenge," he answers. "The sense that if I failed I'd be disappointed, but if I didn't attempt I would deeply regret," he adds.
When asked which countries he would revisit first, Guillebeau cites several countries that begin with "L": Laos, Liberia, and Lithuania. He's also keen on countries that start with "A": Argentina for being a nice mashup of European and Latin cultures, and Australia, "because it's the greatest!"
The four nations he'd steer clear of? "Most of them fall in the category of boring rather than dangerous," Guillebeau says. For example, picturesque island nations with little to do beyond admire their picturesque-ness. Or seedier spots in otherwise lovable Africa that Guillebeau says he's "glad to be done with."
The biggest surprise country? "I trekked the Balkans through Macedonia and was blown away," he says. "It was beautiful, peaceful, culturally interesting, and affordable—I still think fondly of it."
Finally I ask Guillebeau what fellow travelers can learn from his experience.
Life is for Spending
"If you have airline miles, money, or the most valuable asset of all—time—put it to good use. Spend it!"
Measuring Goals Puts Them in Reach
After realizing he could visit 50 countries for $30,000, Guillebeau understood first-hand that "a journey of a thousand miles begins with a single step."
Experience Builds Confidence
Guillebeau didn't naively set a lofty goal for something he had no knowledge or experience in. He lived overseas and traveled for several years which built his confidence and ultimately inspired to visit all 193 countries.
Avoiding Stress is Worth $10
In Guillebeau's own words, "Always pay $10 or less for something that improves your life, such as a quick taxi or expensive sandwich from the airport," to avoid hunger headaches or being late.
Decide for Yourself what YOU Like
There's is no wrong way to travel, Guillebeau says. You can see and do whatever you want. "For years I carried a camera and took photos because I thought I was supposed to. When I stopped taking pictures, however—something I'm not particularly good at—I enjoyed myself much more."
Off the Grid columnist Blake Snow writes epic stories for fancy publications and Fortune 500 companies. Follow him on Twitter