Universal Announces a New Theme Park Coming to Its Orlando Resort
All images courtesy of Universal Studios
Travel
News
Epic Universe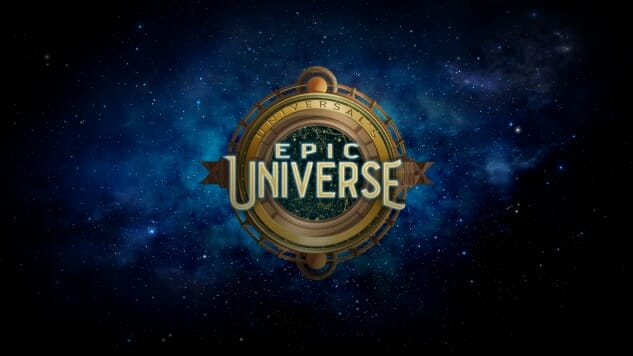 Universal Orlando Resort's about to get bigger. Today Universal officially announced a new theme park, Epic Universe, that'll be opening down the road from its current Florida compound. Details are scarce—pretty much all that was revealed today was a name and a few pieces of concept art—but in the press release Universal promises that this new park will feature "an entirely new level of experiences that will forever redefine theme park entertainment." They're definitely not setting the bar low with this one.
Universal's calling Epic Universe their fourth theme park in Florida, alongside the original Universal Studios Florida, Islands of Adventure, and the water park Volcano Bay (which generally isn't regarded as a theme park by anybody outside Universal—water parks are their own deal). It'll be the first brand new theme park in Orlando since Islands of Adventure opened in 1999, and, as Comcast Chairman and CEO Brian L. Roberts said at a press conference today, it'll be "the single-largest investment Comcast NBC Universal has made in its theme park business." Unlike their current parks and hotels, which are all clustered around each other and the City Walk outdoor mall, Epic Universe will be several miles away, on a 750 acre parcel of land that will become a new, separate hub for Universal development. The press release announces that this "new location will feature a theme park, an entertainment center, hotels, shops, restaurants and more," including a complex that will effectively serve as the City Walk equivalent for this new outpost.
Universal's press conference, which was held at the Orange County Convention Center earlier today, focused on the economic impact the new park will have on the region. Universal promises that Epic Universe will add 14,000 jobs to the 25,000 that they current employ at their Orlando complex. The base rate will be $15 an hour.
Curiously Universal did not reveal any details about what people can expect inside the new theme park. The concept art that was released contains no information about what intellectual properties will be based in the park, and there are no visual details that could help people guess what might be there. It's been known for years that Universal will be making theme park attractions based on Nintendo properties, and it's a safe bet that whatever shape that takes will based in Epic Universe. There have also been long-running rumors about a suite of attractions based on animated Dreamworks films like How to Train Your Dragon and Kung Fu Panda, among others. And with two different Harry Potter developments serving as the ever-popular linchpins of both Islands of Adventure and Universal Studios Florida, it's widely expected that any new Universal park will include a third Potter-themed area. It was long believed that the Fantastic Beasts series of prequels would be the basis for new Potter theme park attractions, but with the soft performance of the second film in that series there are rumors that any such plans are being put on hold. So perhaps a third Potter theme park area will once again focus on the original books and films.
No matter what makes up Epic Universe, it'll be probably be years before guests can start to experience it. Universal did not announce any expected window for an opening—you don't want to do that until you're deep into construction and know what dates you can hit—but it typically takes three or four years from when a project like this is announced for it to open. That'll give Universal a good amount of time to make more headlines by gradually trickling out information on what will lie within Epic Universe.
In the meantime, you can check out Universal's concept art below. It looks like the parks, hotel, shopping and dining are built around a central hub of fountains and other water features. Is this entirely within the confines of the new park? Does this include the City Walk-style shopping district that will be built alongside Epic Universe? Is this some entirely new concept, where the central hub of a theme park is the City Walk-style shopping district, complete with free entrance, and a valid ticket would only be needed to enter the various theme park lands that branch off of the hub? We don't know. At this point any of that could be possible. Expect to learn more from Universal in the years to come.