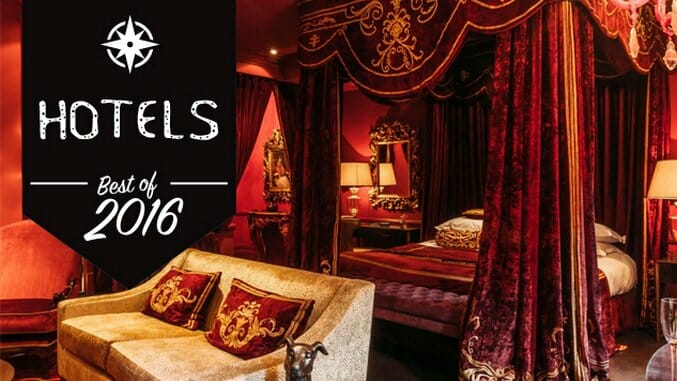 It's safe to say, 2016 was a good and accomplished year when it comes to our hotel-hopping. In the past year, we've luxuriated in New York City palaces, hammocked with backpackers in Costa Rica, slept in a bed of chocolate in St. Lucia and called a famous colonial house in Salvador de Bahia home for just a few nights, and we will never forget even the smallest detail of those stays.
We all travel for the experience, but many see that experience as something that happens outside the hotel, hostel or inn. We beg to differ. The accommodations are a small piece of the equation, often providing a gateway to another culture by way of locally made furnishings, traditionally designed rooms, native hosts and authentic meals. And at the very least, they are the place you go to rejuvenate after a day of exploring, without which you would not be able to continue on your journey. For those reasons, and many more, not only to we appreciate hotels, but also we look forward to them.
So, maybe we're a little more obsessed than others, examining each detail from the doorknobs at the front entrance to the faucets in the bathroom to the headboards behind the bed. But we encourage you to make use of our fascination. If you've been inspired to put a little more energy into choosing a hotel for your next trip, let our past experiences lead you in the right direction, as we reflect on our favorite sleepovers from 2016.
1. Hostel Galeria 13, Salvador de Bahia, Brazil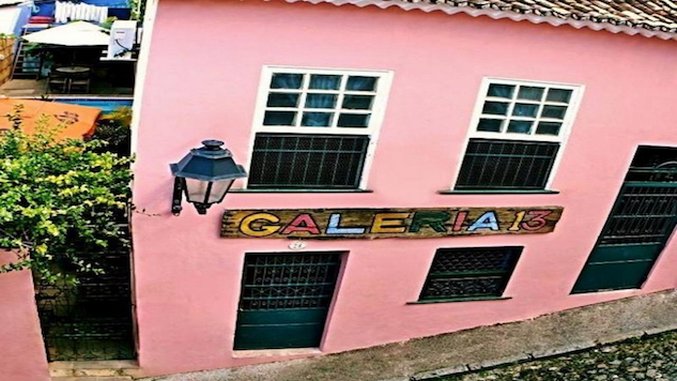 Photos courtesy of Hostel Galeria 13
While there are probably more glamorous hotels in the area, none offer the opportunity to sleep in one of the houses that make Salvador de Bahia's streets so famous. Hostel Galeria 13 is on a street lined with houses all painted a different color. With cave-like Moroccan themed reception and common areas; a pool and outdoor bar; and spacious rooms throughout multiple restored colonial houses with en-suite showers, locally crafted wood beds and brightly painted walls, this hostel exhibits the liveliness and positive vibes this Brazilian city is known for.
2. Lotte New York Palace, New York City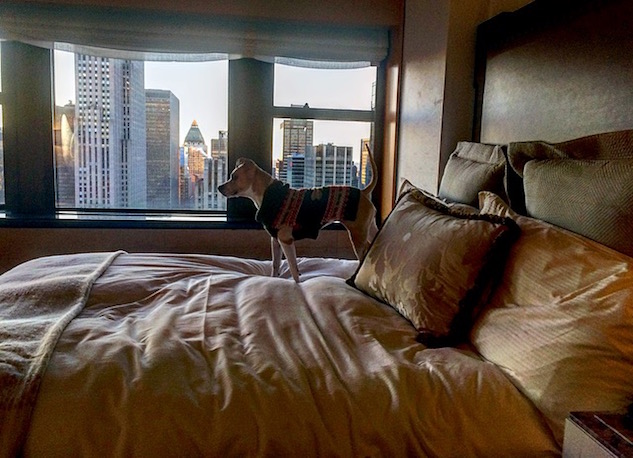 As you make your way down designer-lined Madison Avenue toward 50th street, you'll approach a short and wide neo-Italian Renaissance-style brick building that looks odd in its surroundings, where everything else is tall, thin and shiny (not just the people). You start to picture the rich people that lived here in the past, maybe the Rockefellers, and wonder what it's used for now. If only it could be your hotel. But all travelers know the world "palace" rarely means anything of royal standards when it comes to city hotels. Alas, you get closer and see that beyond the large courtyard—odd for Manhattan—the words ""The New York Palace rest above the front entrance in gold letters. Walk under the wrought iron vines that form an archway at the front gates and enter the U-shaped estate that is the Lotte New York Palace. The lobby is full of marble, gold and crystal, but the rooms are a bit more modern with Molton Brown amenities and earth tones.
3. Arenal Backpackers Resort, La Fortuna, Costa Rica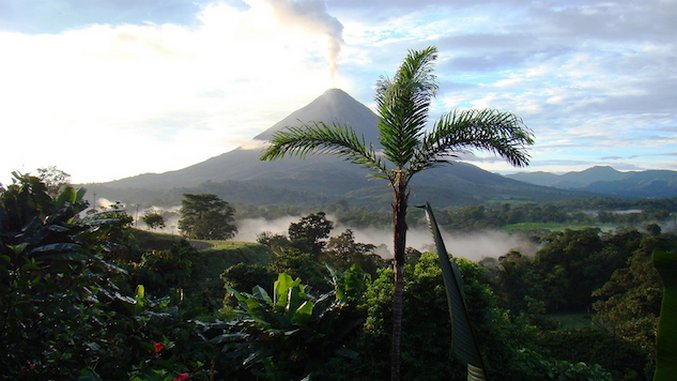 Photo by Arenal Backpackers Resort
Arenal Backpackers Resort could not have picked a more accurate name, as the hostel falls somewhere between a backpacker retreat and a bare-bones resort. Whether you're looking for a place to slum it in a hammock with fellow vagabonds, a fluffy pillow to rest your head on after a day of hiking, views of the famous volcano or a pristine pool to lounge in while sipping a frozen cocktail, this hostel is the best there is in La Fortuna.
4. The Chatwal, New York City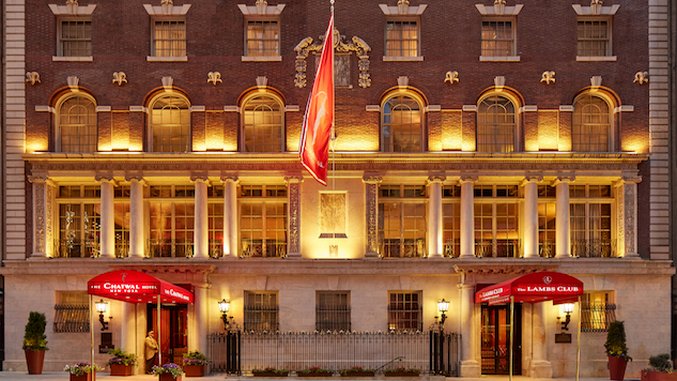 Photo by The Chatwal
The Chatwal, built in the early 1900s, lives in a building that can't help but catch the eye, and it's not because it towers above you or glows with flashy lights, like others in the theatre district. The six-story neo-Georgian brick building features a façade ornamented with columns, six ram heads and two ram profiles. Bellmen in traditional getup open the doors to the past as you walk up a few steps into the Empire Art-Deco period of the 1930s. The rooms are even more impressive; the walls of every room in this hotel are suede, the closet and dressers are covered in leather, and the huge windows provide great views of the city. Paying homage to their hometown, the rooms feature NYC-themed art and sparkling bathroom floors that are a more glamorous version of New York's sidewalks that shimmer with broken glass and city grit
5. Terranea Resort, Los Angeles, California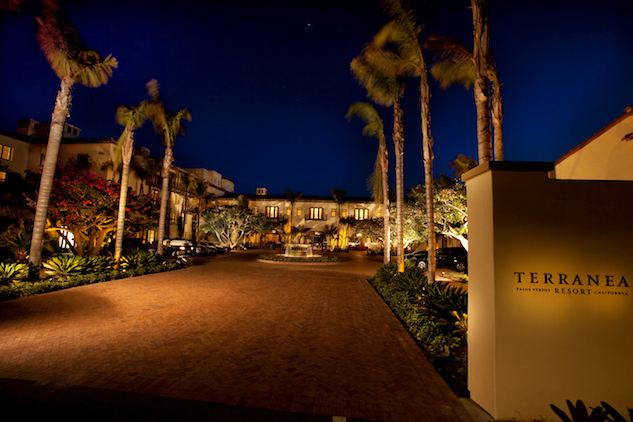 Photo provided by Terranea Resort
Terranea Resort is kind of a big deal, but unlike the rest of Los Angeles County, Terranea doesn't gloat. The hotel's cove was featured in films like Pirates of the Caribbean and Charlie's Angels. The rooms and pool made cameos in _This is 4_0 and the property was the backdrop for The O.C.'s theme song. Then there's the cave, which was used as Batman's home base in the TV show (pre-Terranea). Guests are greeted by a large driveway with a fountain in the center and different types of trees lining the sides. As you open the door to your room, your eyes will immediately fly to the wall of windows and the private balcony overlooking the ocean. The rooms channel the beach with sandy tones, from the armchair to the curtains, and beechwood furnishings, from the night stand to the headboard. The property also features about 75 acres of natural landscape for hiking, bird watching or just sunbathing.
6. Beach House at Half Moon Bay, California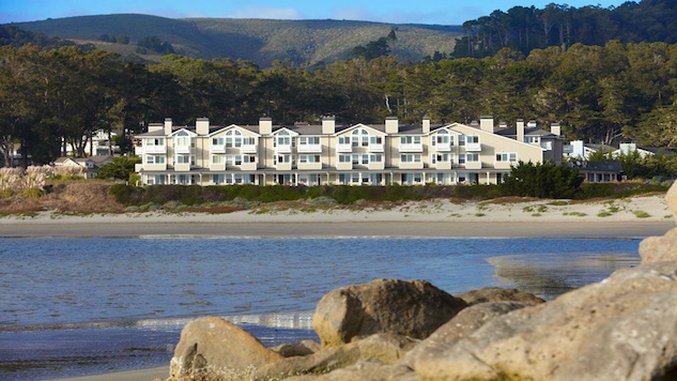 Photo courtesy of Beach House at Half Moon Bay
You know how they say don't judge a book by its cover? The same can be said for hotels and the destinations they call home. From the pacific coast highway, the Beach House at Half Moon Bay sticks out like a sore thumb with its taupe exterior, peaked roofs, and chimneys coming together to create an all-American town-home look set in between Sam's Chowder House and a trailer park. The cozy feeling of this roadside upscale motel is amplified in the lobby, which has a peaked wood ceiling with skylights, a fireplace directly in front of the entrance and plush seating. All the rooms in the small hotel follow a studio-like floor plan, with a living room and sleeping area, making these accommodations good for small groups. Each room has a patio or balcony, a fireplace, two flat screen TVs, a refrigerator and complimentary Wi-Fi. And the best part is that 80 percent of their rooms feature ocean and sprawling coastal views.
7. 1 Hotel Central Park, New York City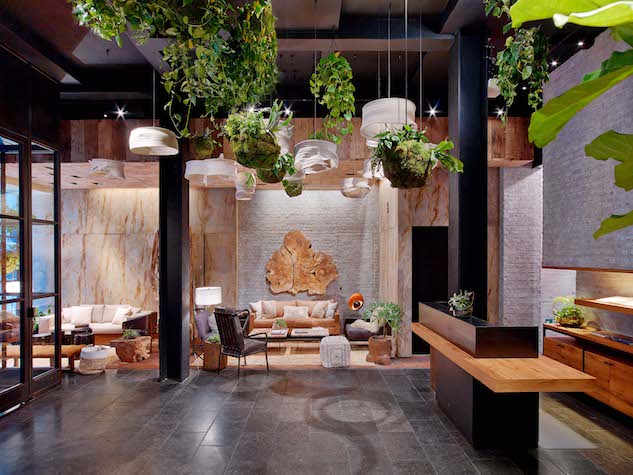 Photo courtesy of 1 Hotels
When you've tried and failed to find New York City's nature, there's a hotel waiting for you just a few blocks from famed man-made Central Park where you might have more success. You can't miss 1 Hotel Central Park, it's the only building on the block—and one of the only ones in all of Manhattan—covered in plants; the 18-floor hotel boasts a three-story living green façade. As you wait to check in, potted plants hang above you in the lobby that kind of looks like an industrial-chic nursery and black wood pillars hold up the dark space. While the lobby was an overload of flora, the rooms are oases. With furnishings made from natural and reclaimed materials and high-tech touches like a Nexus smartphone, the rooms in this seriously eco-friendly hotel blend natural and modern.
8. Kimpton Hotel Monaco Philadelphia, Pennsylvania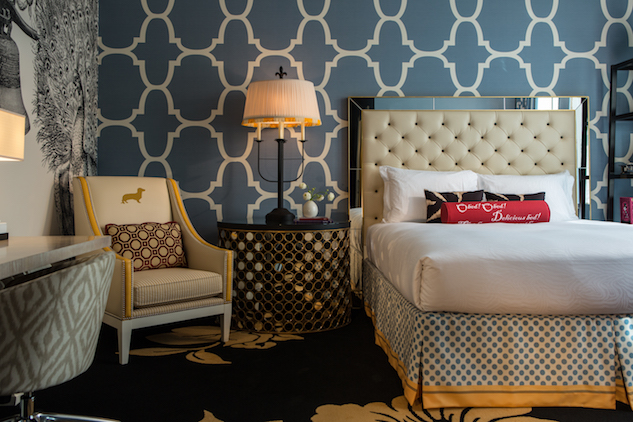 Photo by Chris Molina
Built in 1907, Kimpton's Hotel Monaco Philadelphia has a powerful and historical presence, and not just because of its location in America's most historic square mile, which also houses the Liberty Bell, Independence Hall and Betsy Ross' house. While the hotel's exterior with moldings and columns oozes early 1900s, that all slips away as you walk further into the space. Once you get to reception, what they call the Living Room, it feels as if you took one of those rooms from Betsy Ross' house, had the top interior designer of her time redecorate, and changed the scene from black and white to color, brightening up everything from the chests to the walls to the mismatched tufted seating. The rooms feature multiple wallpaper patterns, colorful furniture and Declaration of Independence themed pillows. The loud and personality-filled dwellings make it clear that if you're looking for a peaceful getaway, you've come to the wrong place.
9. Boucan by Hotel Chocolat, Saint Lucia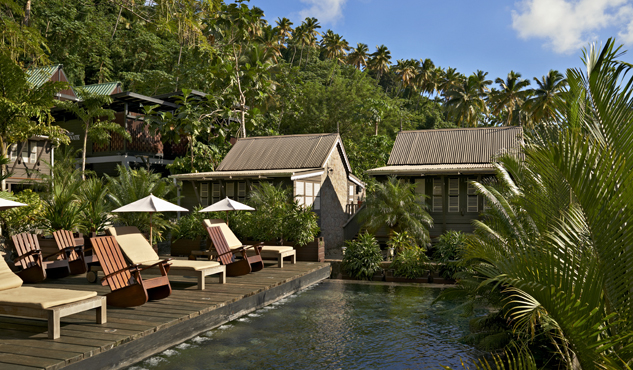 Photo courtesy of Boucan by Hotel Chocolat
The views from Saint Lucia's oldest plantation were just one of the reasons the founders settled on this plot of land. Boucan's 14 lodges know just how to frame those panoramas, with a mountainside setting 1,000 feet above sea level overlooking the twin UNESCO World Heritage Pitons mountains and Caribbean Sea. Instead of farm-to-table, here you can take part in tree-to-bar, strolling through the cocoa groves selecting ripe pods to grind and mix into an artisanal chocolate bar (hence the name of the hotel). The rooms are a unique blend of Saint Lucian charm and sleek contemporary style. The open sky rainforest shower might be our favorite part of the accommodations.
10. 11 Cadogan Gardens, London, England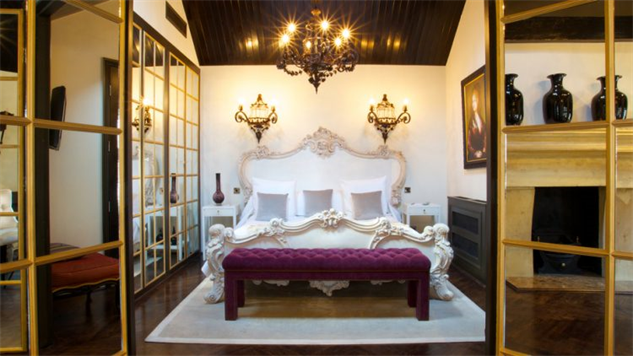 Photo by Cadogan Gardens
English actress Elizabeth Hurley owns the beautiful boutique hotel 11 Cadgoan Gardens inside a historic Victorian townhouse in Chelsea, London. There are 56 rooms including 6 different types of suites, ranging from a Sloane Suite to a Superior Suite. Rates vary depending on suite style, but all guests can enjoy the luxury features the hotel has to offer. A restaurant, a well-furnished library, a drawing room and an extraordinary terrace and conservatory are available at guests' disposal.
11. The Farm at Cape Kidnappers, North Island, New Zealand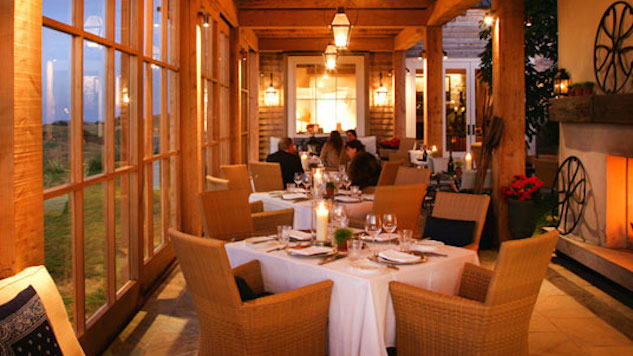 Photo courtesy of Tablet Hotels
The 26 roomed classic contemporary hotel is on 6,000 acres of farmland in Hawke's Bay in New Zealand. The Farm at Cape Kidnappers features a vegetable garden and henhouse. This allows on-site chefs to create a daily menu based on what is available on property. From the outside, the buildings that make up this resort look like a working farm, but inside you'll find rustic materials and modern furniture that make you feel at home. And the views of the Pacific Ocean don't hurt, either.
12. Caravan, Portland, Oregon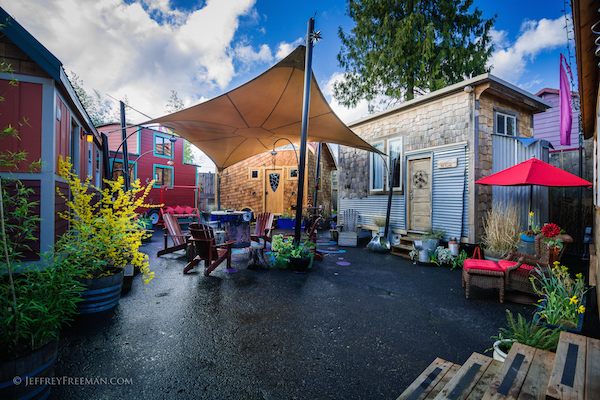 Photo courtesy of Caravan
Opened in Portland's Alberta Arts Distract in 2013, Caravan boasts the title of the nation's first tiny house hotel and features six eclectic custom-made tiny houses on wheels. The accommodations were all constructed by local builders and range in size from 120-170 square feet. What they lack in space, they make up for in personality thanks to creative, funky design elements, like custom stained glass windows, coupled with multifunctional, space-efficient furnishings like a triangle toilet.
13. Chicago Athletic Hotel, Chicago, Illinois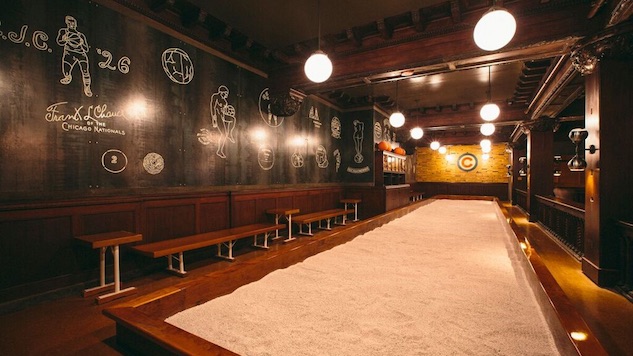 Photo courtesy of Chicago Athletic Association
The Chicago Athletic Association was recently renovated and refurbished as a hotel after two years of work. Founded in 1890 to be a meeting space for networking and socializing, the club was built with the now iconic Venetian Gothic 250-foot tower that can be seen from the lakefront. Now visitors can book one of its 241 rooms and enjoy the various homages to its story. The Game Room features bocce ball, billiards, shuffleboard and chess. The Stagg Court features three basketball hoops and a vintage mahogany running track that encircles the room like a balcony above. And the hotel room snacks include Cracker Jack and Wrigley Gum (which was invented by CAA founding member William Wrigley). The guest rooms pay the same respects to their beginnings, with gym ladders reimagined as shelving, pommel horses turned into benches, and nightstands with legs clad in a tennis racket's leather grip.
14. The Red Boat, Stockholm, Sweden
Docked next to Central Bridge just across from hipster island of Södermalm lined with vintage shops and cafes, the riverside lodging is made up of two ships: The Red Boat and Ran af. The wood planked rooms go from basic summer camp chic bunks (red knit comforter included) and work their way up to the more luxurious admiral quarters in the hotel side of the ship. Lounge chairs on the deck look out to land and the hostel-inspired common area looks like a sailor's haven, with nautical knick-knacks hanging from the ceiling and wall giving the illusion you're out at sea rather than a 10-minute walk from Stockholm's Old Town.