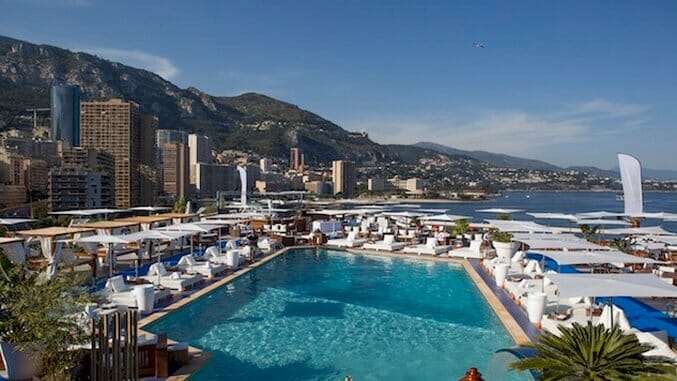 A jetset lifestyle doesn't have to be all private planes and decadent digs. In Paste Travel's Jet-Set Bohemian series, we blend the best of high and low for just the right balance … enticing everyone from backpackers to luxury boutique hotel lovers to come along for the ride.

It was a month before summer officially started, but in the tiny vineyard-filled town of Cognac, France, a 14-room manor home was partying like it was the height of the season. Private chefs grilled steak shish kabobs and parchment-wrapped trout while mixologists crafted the cocktail du saison from a pop-up blue poolside bar not far from the DJ booth, where French artist Zimmer was spinning his latest soundtrack, inspired by summer in the South of France.
Head to cities from Miami to Vegas and over-the-top pool parties abound at almost every big brand hotel, no matter the season. But spots throughout France are also taking a cue from their neighbors across the pond stepping up their game to host exclusive, Riviera-themed summer soirées in cities from Bordeaux to Saint-Tropez.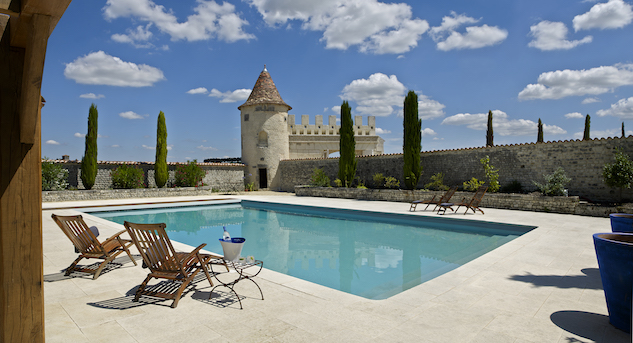 Photo courtesy of Le Logis
Four years ago, Grey Goose purchased the 17th century manor home that once housed lords in the brandy-growing region of Cognac not far from Bordeaux. Hiring a team of local craftsmen and stonemasons to restore the property's stone walls and oak beams, Thibault birthed new life into the historic home, Le Logis, that he's opening to the public for the first time this summer. Guests will have the keys to their very own pool party complete with personal chefs manning the BBQ pits and mixologists leading Grey Goose cocktail master classes.
In between the poolside lounging and martini drinking, guests can also learn the secrets of baking the perfect French baguette at the onsite boulangerie, using the same wheat from the "bread basket" Picardie region of France that's one of the key ingredients in Grey Goose's vodka. It wouldn't feel like summer without sorbet, and the haute brand developed its very own boozy version with the help of Michelin-starred Chef Bertrand Grébaut (of Paris's Septime), playing off the notes of Grey Goose's summer cocktail, Le Grand Fizz, with its St-Germain elderflower liqueur, peach purée and citrus notes.
In addition to the manor, Grey Goose's summer-themed Boulangerie Bleue events will pop up in 20 cities around the globe from now through September, but if you can't score an invite to one of these hush-hush parties—with locations TBD—modeled after beach clubs on the French Riviera, head to the next best thing: the Riviera itself.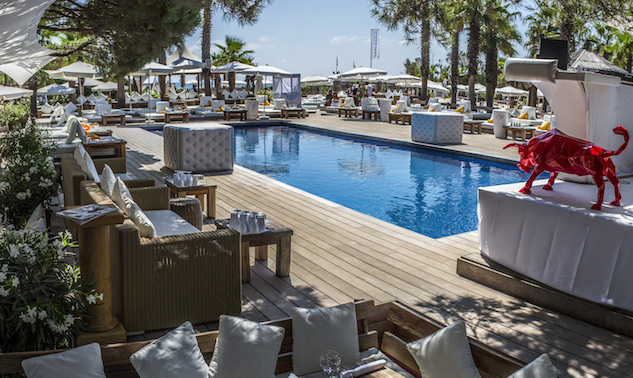 Photo courtesy of Artman Agency Pano
Despite being the second-smallest country in the world, roughly the size of New York's Central Park, Monaco's three-mile-long coastline isn't lacking in pool space. At the Fairmont Monte Carlo, Miami transplant Nikki Beach takes its pool parties to the hotel rooftop popping up with its signature white linen-lined cabanas for the second season in a row, from early-April through the end of October. Evenings start here with sunset BBQs and DJ-spun beats with views overlooking the megayacht-filled Mediterranean Sea, while Sundays capture the beach club's Miami spirit. Pool parties kick off at 11 a.m. and linger on until 2 a.m. Monday morning with copious amounts of Champagne and gourmet spins on South of France cuisine (think barbecued sea bass à la plancha and crawfish flambéed with rum) for the ultimate distraction from the week ahead.
Nikki Beach in Saint Tropez, meanwhile, is less of an urban oasis, embodying more of the Côte d'Azur's beachside glam. While the entire peninsula turns into a summer-long beach soirée for the jetset society, the pool parties here are notorious for being the best. The 70 day-long White Party (à la Miami and New York) debuts Saturday, June 25, bringing everything from poolside burlesque dancers to aerialists for a cabaret that makes Moulin Rouge look tame. July is the month to be in Saint Tropez and that just so happens to be when the beach club fêtes its 15th anniversary, featuring 70s band Earth, Wind and Fire playing a live show to celebrate on Tuesday, July 19.
Another club with a Miami outpost, Bâoli, originally started in Cannes on the Port Canto, a 15-minute walk along the Boulevard de la Croisette away from the swanky scenes at the Martinez and InterContinental Carlton. Not to say the scene is any less swanky here, however. The more secluded spot is in a league all of its own, with cuisine that fuses Asian and Mediterranean flavors into dishes like Thai spice-marinated chicken and Black Angus beef carpaccio served with a truffle and Yuzu vinaigrette. Come midnight, the club takes a cue from Cinderella, transforming into a different scene entirely with its infamous themed evenings like Wednesday's My Boyfriend is Out of Town—the ultimate girls' night out—and the new Amazonia night, inspired by modern tribal motifs ranging from Amazonian forests to festivals like Burning Man, that rages on until 5 a.m.
Of course you can also party near the sea day or night at Bâoli Beach – fr/beach/homesite, one of the largest private stretches of sand on the Croisette. Parties thrown here are full-fledged affairs with flaming bottles of rosé and Champagne, turning the bohemian bungalow of a beach club with its knitted hammock swings and seaside loungers into a roaring soirée not unlike a scene from The Great Gatsby. Evening events debuted during Cannes Film Festival and continue on with a music-themed party celebrating the annual French Fête de la Musique in June.
Lane Nieset Paste's Jet-Set Bohemian columnist and a freelance writer covering all things travel from her home base in Nice, France.