Festival Outsider: Lollapalooza, Chicago, Illinois
Getting the most out of the Windy City between sets.
Photo below courtesy of Shea Flynn
Travel
Features
Lollapalooza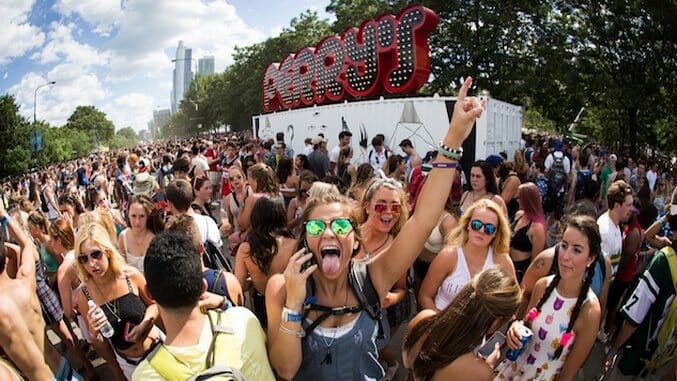 Radiohead and the Red Hot Chili Peppers are back to help Jane's Addiction singer and festival co-founder Perry Farrell celebrate the 25th anniversary of Lollapalooza. And we're here with suggestions for all the awesome things you can find outside the park before and after your favorite bands take the stages.
The Main Event
As part of the celebration, a fourth day has been added to the Lolla party this year, which will bring more than 150-thousand music fans to Chicago's Grant Park from July 28-31. 
Farrell started the then-traveling fest in 1991 as part of a farewell tour for Jane's Addiction. He has said he heard the word "Lollapalooza" in a Three Stooges episode…but also liked its definition: something that's extraordinarily impressive or an outstanding example. If you've seen the festival's lineup through the years, you'd probably agree organizers have stayed true to that meaning. 
General admission tickets for this year's fest are sold out, but there are still a few VIP and platinum tickets available, as well as Hotel Packages, meaning all is not lost if you are a last-minute planner (with a good amount of cash).
Setting the Stage
Although it started as a touring festival, Lollapalooza has called the Windy City home since 2005. Chicago, located in the northeast part of Illinois on Lake Michigan, was established in 1833 as an important transportation hub between the east and west coasts. It's the third largest city in the United States, and is known for its architecture, art, and—among other delicacies—deep-dish pizza.
Eat It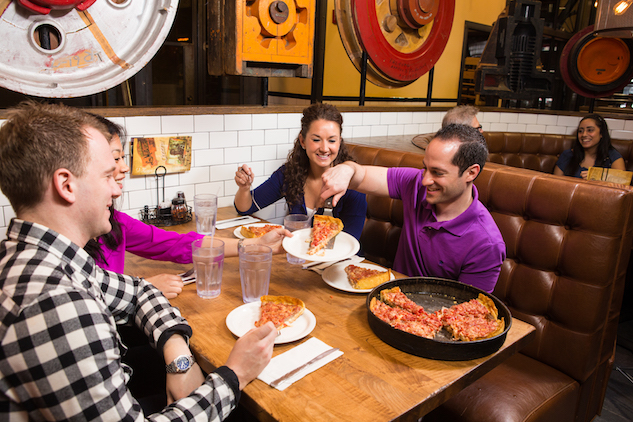 Photo by Adam Alexander Photography
Lou Malnati's (pictured above) is the upper crust of pizza purveyors, serving multi-award-winning deep dish, while Pequod's has you covered for a late-night/after-the-fest snack. And then theres Giordano's if you want to take things a step further and combine Chicago's famous pizza style with one of the city's other popular eats—hot dogs.
If you'd like to separate the experiences, Portillo's has you covered in the dog department, but if you want it "Chicago-style," don't ask for ketchup.
If barbecue is your thing, check out Tiny Hatt on the River Walk. More a small-plates-with-wine person? Try The Purple Pig. And Sweet Mandy B's will satisfy any sweet tooth with its array of old-fashioned desserts. 
Since brunch is always a good idea during a festival, a few suggestions: Mad Social if you like it fancy; Wildberry if you like it close, casual, and farm fresh; or The Bongo Room if you're looking for something in between (with great day-drinking cocktails).
Big Star is a good spot in Wicker Park for authentic street-style Mexican food. They offer breakfast to-go and late night tacos, so it's a perfect fit for the festival crowd.
Poison and Wine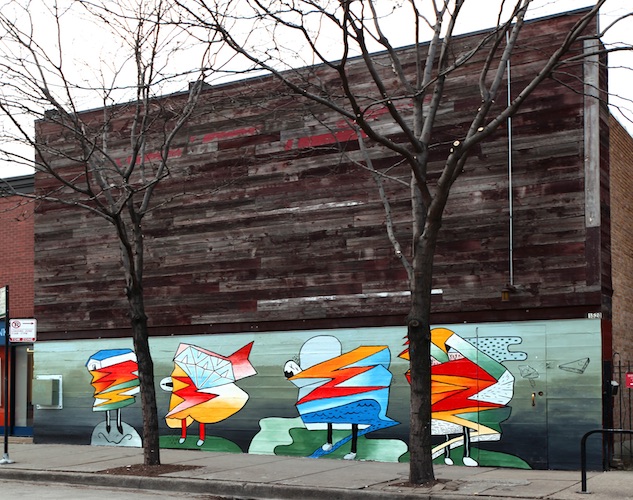 Photo courtesy of Cassandra Stadnicki
After you've had your fill at Big Star, hop over to The Violet Hour (pictured above) for artisanal cocktails.
More crafty beverages can be found at Paramount Room. It's also in a 100-year old building that used to be a speakeasy, so it's like stepping into history. I mean, you're basically studying.
Meanwhile the travel-themed Map Room offers more than 200 beers from around the world. (They also have wine and a full bar, everyone wins!)
If you're a fan of beer, but don't enjoy waiting to be served, you'll like that Public House features self-serve taps right at your table.
And finally, if you want to take in views whilst imbibing, head to Cindy's. It's on the top floor of the Chicago Athletic Association hotel, and looks out on Millennium Park.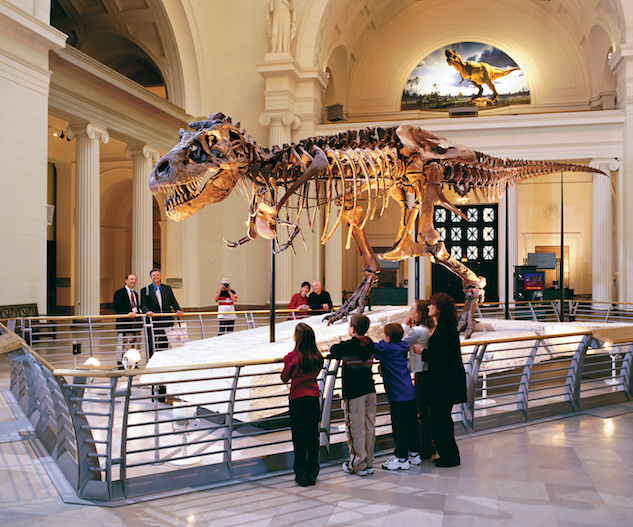 Photo courtesy of Choose Chicago
Forget the Fest
The cool thing about a festival in Grant Park is that you don't have to go very far to immerse yourself in some incredible non-festival-related Chi-town awesomeness.
Grant Park is home to more than just the fountain they used in the opening credits of Married with Children. It's also where you'll find Shedd Aquarium (the largest indoor aquarium in the world), the Field Museum of Natural History (pictured above), and the immense Art Institute of Chicago, which was founded in 1879 and houses more than 300,000 works of art. Another air-conditioned escape nearby is The Harold Washington Library, where an atrium offers respite from the festival frenzy.
Instagrammers will most likely want to venture over to the snap-worthy Bean (official title: Cloud Gate) in Millennium Park.
To take in a broader—bird's eye—view of the city, head to the Skydeck of the Willis Tower. It's on the 103rd floor, and looking down—and around—is encouraged. The 94th floor of the Hancock Tower is also known for its view, and if you're over 21, you can go a couple floors higher to the Signature Lounge and drink it all in.
If you like what you see, and would like to take a closer look, hop on a riverboat for an Architecture tour.
You Can Take it With You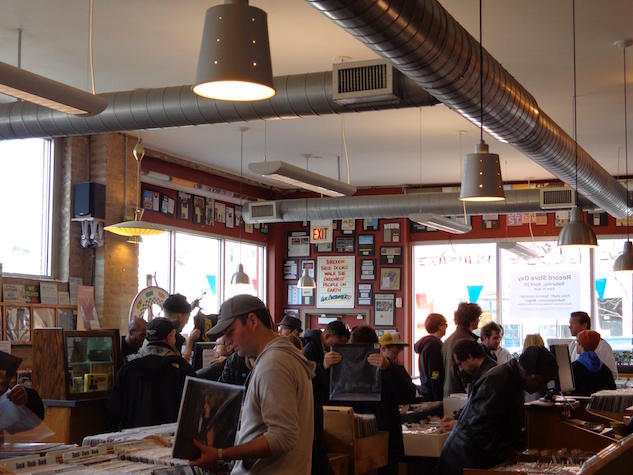 Photo courtesy of Dusty Groove
Shopping is big in Chicago, but there's more than the famed Magnificent Mile. 
Chi-town is known for its neighborhoods, and if vintage or boutique shopping is your thing, you'll be happy to peruse the streets and stores of the Pilsen, Logan Square and Wicker Park areas.
And Wicker Park is where you'll find Myopic aka Chicago's best used bookstore. Fans of tomes and browsing stacks will also enjoy Uncharted Books, voted Chicago's best new bookstore, and 57th Street Books in Hyde Park.
Those on the hunt for used music should check out Dusty Groove (pictured above) or Reckless Records. Those looking for used music and a little something extra should head over to Logan Hardware (don't worry, the only nails they sell are of the Nine Inch variety), where a code on your receipt unlocks a door that leads to a working vintage arcade museum. 
But Leave Something Behind
Since it began, Lollapalooza hasn't just been about the music. It's also about being a part of the world, and its Lolla Cares efforts focus on bringing awareness to causes near and far. 
Drop-in volunteer opportunities in the city include the First United Methodist Church Homeless Ministry, where you can help prepare and serve food. Volunteers are also needed at Lakeview Pantry, one of Chicago's largest and longest-operating food pantries, to help unload deliveries, as well as sort and distribute. Another option to put your volunteer gears in motion is Working Bikes, where you can stop by and help mechanics repair bikes to be donated. 
If you live in Chicago, you can volunteer at the fest in exchange for free tickets. It's too late for this year, but sign up to be on the forefront in 2017.
In the meantime, slather on the sunscreen and head to the park, you're in for quite the party.
Lead photo courtesy of Cambria Harkey
Mary Anne Bargen is a freelance writer based in Nashville. She likes to choose her own adventure.