Jet-Set Bohemian: Miami's New-Age Spa Movement
Photo courtesy of The Spa at The Standard Spa: Adrian Gaut
Travel
Features
Miami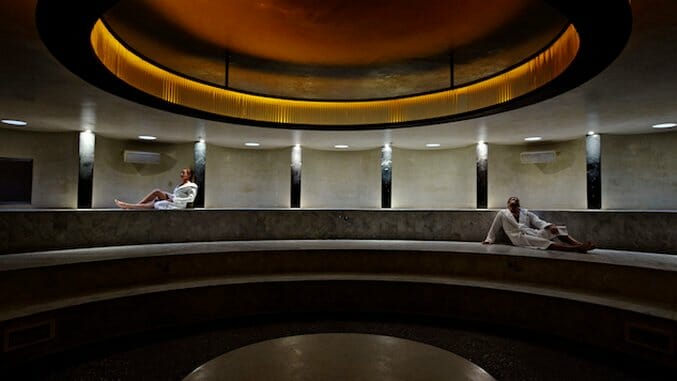 A jet-set lifestyle doesn't have to be all private planes and decadent digs. In Paste Travel's Jet-Set Bohemian series, we blend the best of high and low for just the right balance … enticing everyone from backpackers to luxury boutique hotel lovers to come along for the ride.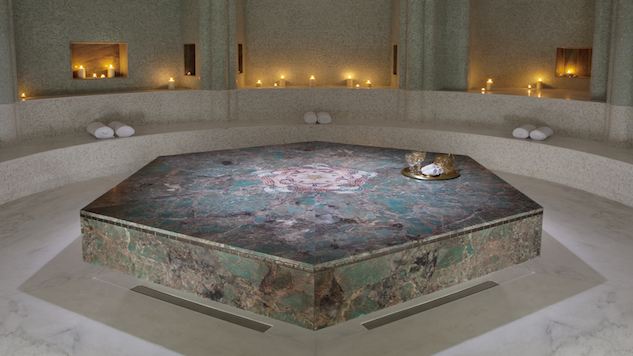 Photo courtesy of Faena Hotel Miami Beach
Stepping into the light-filled room, I take a seat against the seafoam-green wallpaper painted with flamingos and flowers, ready to chat with the therapist, James, about my treatment. After getting the medical history portion out of the way, he presents a golden tray with seven small bottles sitting on top. "Take a sniff and see which one you'd like in your singing bowl during the massage," James says. Like Alice in Wonderland, I hesitantly select one of the scents, learning that the orange bottle of "Sacred Oil" is associated with my crown chakra. Catching my look of confusion (crown? chakra?), James gives me a quick crash course on chakras and singing bowls, both of which would be worked on throughout the course of my two hour-long treatment titled "Tree of Life Vibrations" at Miami's first South American-inspired spa, Tierra Santa Spa.
A melody of sound bowls play over three of my seven chakras (Sanskirt for wheels, referring to wheels of energy throughout your body), starting at my head and ending at my toes, before a singing bowl of warm water is placed on my heart chakra on my upper back. Each of the seven South American-sourced oils is used as aromatherapy throughout the nature-themed experience that targets tension points with the help of Brazilian rose stones, vibration and sound.
When James slowly removes my eye mask, I learn that not only did the vibrations and sound from the bowls help move energy throughout my body, he also weaved in a bit of reiki and energy healing as well. Faena Hotel's spa is just one spot in Miami that's moving away from mainstream massages, incorporating elements from crystals to sound therapy for an alternative type of treatment, so you no longer need to trek to Asheville or San Francisco to get your new-age spa fix.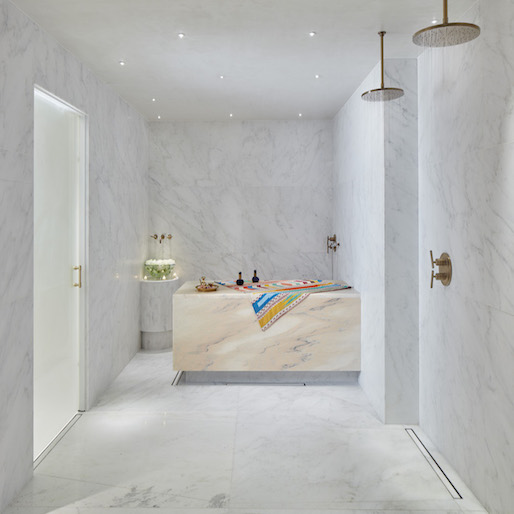 Photo courtesy of Faena Hotel Miami Beach

The Mediterranean Revival-style Biltmore in Miami with its signature 93-foot copper tower (designed after the Giralda Tower in Seville), is a Coral Gables landmark that hosted galas and fashion shows back in the Jazz Age of the 1930s and 1940s. After a $40 million, 10-year renovation in the 1990s, the historic hotel tacked on a spa that's now heavy on holistic treatments.
Dubbed "Benessere," which translates to well-being in Italian, the wellness program features traditional Asian treatments like acupuncture and reiki, but also looks to age-old Mediterranean remedies like Thalassotherapy, playing on the sea water therapies of the ancient Greeks and Romans. Of course the spa doesn't dismiss the notion of chakras, and a few treatments like the Abhyanga massage work Ayurvedic medicated oil into these seven spots using a rhythm meant to bring balance to the body.
At five-star Acqualina Spa by ESPA on Sunny Isles Beach, you'll find classic spa amenities like arctic ice fountains and Finnish dry heat saunas in addition to pink Himalayan Salt Walls, the first at a Florida resort. Filled with 84 trace minerals said to naturally purify air, these walls work as a mood booster and stress reliever, getting rid of any surrounding negative vibes.
For something a bit more hands-on, try the spa's Ama Releasing Abhyanga Treatment, which starts with a balancing foot ritual followed by a full body salt and oil scrub. A warm oil and herb infusion is massaged into energy points releasing tension, before wrapping up with Shirodhara, where oil is poured into the third eye through the scalp to immediately offer a sense of calm.
A long-time go-to for locals, The Standard Spa, Miami Beach is no stranger to holistic practices with its combo hydrotherapy playground (think Turkish hamam and saltwater infinity pool by the bay) and new-age-inspired ashram atmosphere. This is the kind of spot where you'll want to spend an entire day indulging in the healing process. Start with an algae-infused mud bath, letting the sun do all the work as the mud hardens and works out toxins. Then head over for a soak in the al fresco tubs overlooking Biscayne Bay, sipping on a coconut-almond juice along the way.
Crystals here are not only used in soaking tubs, they're also integrated into balancing facials with gemstone exfoliation and a crystal mask—plus a bit of energy healing—designed to hydrate and smooth out your skin. Once the spa session wraps up, take part in one of the twilight activities like yoga and crystal bowl healing, using meditation and movement to connect mind and body becoming all the more centered before sipping on a sundowner frosé at Lido by the water.
Lane Nieset is Paste's Jet-Set Bohemian columnist and a freelance writer covering all things travel from her home base in Nice, France.