Sundance 2016: Eat, Drink, and Do Festival Combos
Photo below by Jason Merritt/Getty
Travel
Lists
Sundance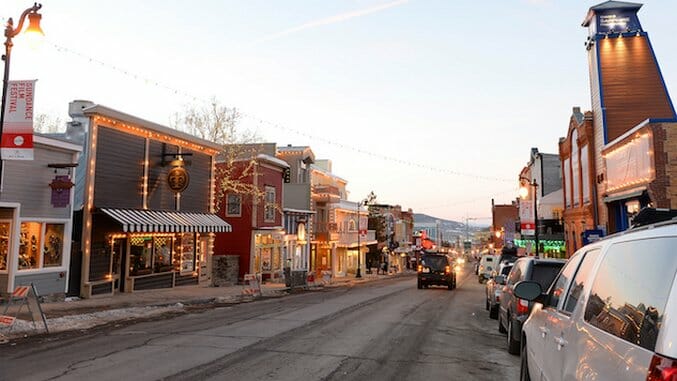 The Sundance Film Festival is exciting enough to draw almost 50,000 people to Utah each year, but if you love good food and the outdoors, the festival is just an added perk.
During the 10-day event, screenings take place in multiple cities, so we've mapped out great activities and delicious food close to the most popular Sundance theaters for those of you who want to do more than stare at a screen all day.
See our guide to attending Sundance for tips on navigating the movie madness.
Sundance
Do: Sundance Mountain Resort
When Robert Redford opened Sundance Mountain Resort, he couldn't get a loan from the bank. Since then, the resort has become one of Utah's most magical destinations and a refuge for artists and filmmakers on 5,000 acres up Provo Canyon. You can spend the day skiing or simply enjoying the quiet while you shop for an artisan-made gift—Redford is also a patron of the jewelry designers, rug makers and painters.
Dine: Tree Room Restaurant
With soft lighting and Native American rugs on wooden walls, the Tree Room Restaurant is the idyllic place for dining post-ski. Try the steelhead trout with prosciutto and smoked paprika sauce before following the smell of pines and view of Mount Timpanogos outside.
See: Sundance Mountain Resort Screening Room
Make your day at Sundance Mountain Resort Saturday, Jan. 23 or Monday, Jan. 25. On Saturday at 3 p.m. you can break from the slopes to watch the documentary Resilience, about a new movement among doctors, educators and communities using brain research to disrupt cycles of violence, disease and addiction. On Monday, at noon, watch Captain Fantastic, about a Pacific Northwest father (Viggo Mortensen) who raises his kids deep in the forest and the struggle they face as they reenter society.
Downtown Salt Lake City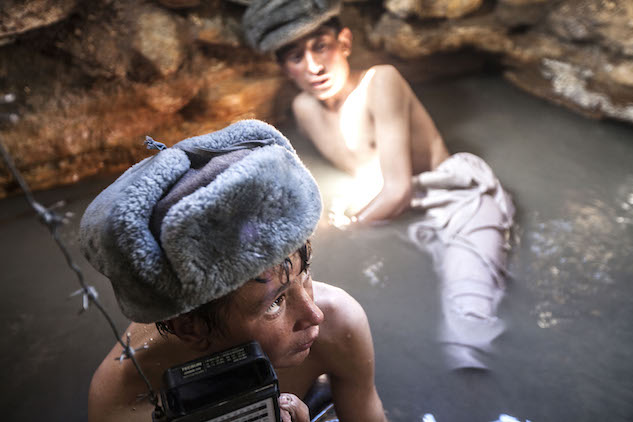 Land of the Enlightened photo courtesy of Sundance Film Festival
Do: City Creek Canyon and Gallivan Center Ice Rink
Run, jog or hike up City Creek Canyon on the north side of downtown Salt Lake City. The entrance to the Canyon is a park filled with war memorials, and the path takes you into the canyon for miles and miles alongside a creek and under fir and pine trees. Dogs are welcome.
If you're more comfortable on ice, skate outside at the Gallivan Center Ice Rink in downtown Salt Lake.
Dine: Even Stevens Sandwiches and Avenues Bistro
For a daytime bite, hit up Even Stevens Sandwiches, where, for every sandwich you order, they donate a sandwich to someone or some organization in need. Our picks include the sloppy Joe made with beef and chorizo slow-simmered with pickled red onion, and the banh belly sandwich stuffed with soy glazed pork belly, pickled slaw, roasted jalapenos, cucumbers, garlic aioli and cilantro.
A casual restaurant set in an urban homestead (honey and eggs are from the backyard bees and hens), Avenues is a tight-knit eatery in the city's popular Avenues neighborhood. Eat simple yet delicious dishes from food raised (or caught) and cooked with integrity. The breads are made on site by the owner's daughter of Back Alley Bakery—don't miss her marbled rye bread made with Valrhona Chocolate or brown butter monkey bread, thick with pecans.
See: Broadway Centre Cinema and Eccles Theater
If you spend the day in downtown Salt Lake City on Monday, Jan. 25, you can catch The Land of the Enlightened (pictured above) at 6:45 p.m., in which director Pieter-Jan De Pue takes viewers into war-torn Afghanistan, where young gangs of boys sell explosives from leftover mines, control trade routes and make their playgrounds amid the ruins of war. Otherwise, on Friday, Jan. 29 at 11:59 p.m., catch Yoga Hosers, a funny, quirky film starring Johnny Depp, Depp's daughter and screenwriter Kevin Smith's daughter. Both films will be screened at the Broadway Centre Cinema.
Plan to be in Salt Lake City on Friday, Jan. 22 at 9 a.m. if you want to see Other People, a film that captures a funny and relatable family. For something more serious, visit Salt Lake on Jan. 25 at 6:30 p.m. or Jan. 26 at 9 a.m. for screenings of Little Men, in which two middle school children deal with new friendships and gentrification. Both will be screened at the Eccles Theater.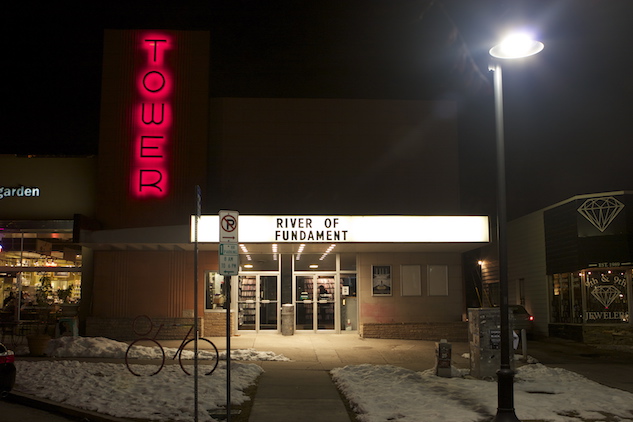 Photo by Casey Cranor
East Salt Lake City
Do: Mill Creek Canyon
Rent skis or snowshoes then drive to Mill Creek Canyon in the Wasatch National Forest. Move to the sound of your own breathing, trees creaking and the soft thud of snow as it topples from boughs.
Dine: Fresco Italian Cafe
After 5 p.m., join diners in what feels like someone's home with adobe tiled floor, white linens and wine glasses reflecting fire. Warm up with risotto and other old-style Italian dishes. The cherry on top is Fresco Italian Cafe's torta di mandorla cake soaked in liquor with a poached pear, salted caramel, candied almonds and gelato.
See: Tower Theater
On Thursday, Jan. 28 at 6 p.m. you can catch Eat that Question—Frank Zappa in His Own Words. With archival footage, the film has been described as, "fun-poking" and "acidic." If you're down for a double feature see The Birth of a Nation that day at 9 p.m. Set in the South, the film follows a literate slave/preacher who comes up with a plan to lead his people to freedom.
Park City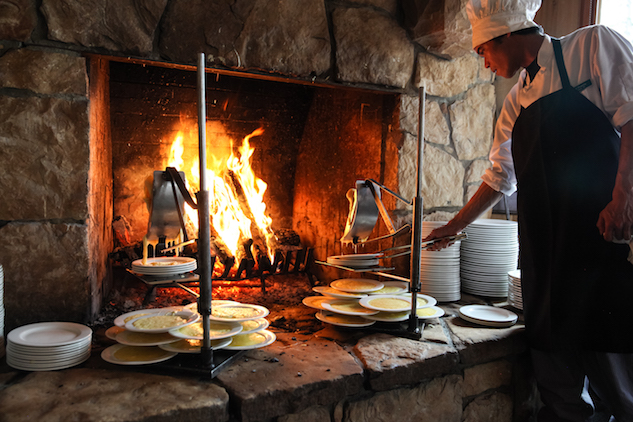 Photo courtesy of Deer Valley Resort
Do and Dine: Deer Valley Empire Canyon Lodge
Imagine standing in an 18th century kitchen in Europe; a lamb's leg spins and cooks over the hearth while you eat venison and drink red wine. Since you can't be there, try Fireside Dining at Deer Valley Empire Canyon Lodge in Park City instead (pictured above). Wander the timber-framed lodge, plate in hand, between five stone fireplaces and enjoy dishes like veal stew over crispy potatoes with sides of charcuterie and house-made pickles, basil jam and fig mustard. Fondue is for dessert; dip green apples in white chocolate sauce made with half-and-half and Grand Marnier. Add a horse-drawn sleigh ride to top off the evening. Reservations needed.
See: Yarrow Hotel Theater and Library Center Theater
Before dining and riding, catch Halal Love (And Sex) at noon on Jan. 26 at the Yarrow Hotel Theater. The film features four tragically comic stories about Muslim men and women as they manage dating and their desires, while trying not to break their religion's rules. At the same time in the same theater on Jan. 29, Between Land and Sea screens in Spanish with English subtitles and features a mother-son bond like no other. If you have an early dinner, mad dash to Maya Angelou and Still I Rise on Saturday, Jan 30, at 9 p.m. at the Yarrow Hotel. The film is about the poet and activist who overcame abuse and racial inequality to become one of America's greatest voices.
For more films, visit the Library Center Theater on Monday, Jan. 25 at 5:45 p.m. for Spike Lee's Michael Jackson's Journey from Motown to Off the Wall, which explores the album with archival footage and interviews. On Wednesday, Jan. 27 at 3 p.m., the Library Center Theater screens The Bad Kids, a film about a high school in the Mojave Desert and the inspirational educators who help its "at-risk" students combat the affects of poverty.
Jenie Skoy is a travel & food writer based in Salt Lake City, Utah, who would rather be based on a sailboat bound for places with glorious food and exotic men who love to tango.