Take Five: The Best Bars in Atlanta for Gamers (or Overgrown Children)
Photo below by Sharif Hassan
Travel
Lists
If you're always trying to sneak into the McDonalds PlayPlace, birthday party bouncy castles or playgrounds in which adults are only allowed if supervising children, these Atlanta bars will satisfy the child inside you. A mix of innocence and alcohol, these Southern spots feature everything from bocce ball and Ping-Pong to battleship and drunken chess. When visiting Atlanta, skip the museums and turn the trip into one that will rival your best year at summer camp, because, kids shouldn't get to have all the fun.
1. Joystick GameBar
Put down the secret code phone, fanboy. At Joystick GameBar (pictured above) you can unwind with a classy gin and Dolin cocktail named The Nabokov or an even classier Genesee Lager while playing arcade games that cost a quarter all night. Joystick has got all the classics, from Street Fighter II and Rampage to Galaga and Teenage Mutant Ninja Turtles. If you're in town at the right time, don't miss the monthly Rocket League night, which pits noobs against the resident king.
Arcade game hater? Get into Dolly Parton pinball or Atari games, scream "Checkmate!" over drunk chess, or spend all your arcade quarters on Magic: The Gathering booster packs.
Cougar dating games, lip sync battles, and comedy shows round out the drinking hole that morphs into a dance party on nights like Dance Dance Contribution. Big plus—Joystick often does events for charities, collaborating on events with the likes of Extra Life, during which gamers power up sick children in desperate need of some immunity.
2. Thinking Man Tavern
Battleship, beer and bourbon fried chicken all under one roof? Yes, please. The extensive Belgian, German and American West beer list at this Decatur watering hole is enough to bring all the boys and girls to the yard. By day, Thinking Man Tavern's well-priced and locally-sourced comfort food and fair trade coffee are a draw too.
Hunker down with a game of Scrabble, a friend and a bottle of Pumpkinfest from Georgia brewery Terrapin, or get rowdy and competitive at Tuesday trivia nights. The smorgasbord of board games, including Candyland, Trivial Pursuit, Scattergories, Pictionary, Sorry!, Cranium and Monopoly, is second only to the variety of beers offered. With 21 drafts on tap, plus dozens of bottles and special Tap Takeover nights featuring local breweries, this is beer and game heaven.
For food, go for the tasty sandwiches including the L.B.G.T., the Cuban and the Fried Green Tomato; the pulled pork or veggie tacos; or fun apps like chicken and waffle sliders, organic deviled eggs with pickled green tomato relish, or Pine Street bacon and onion dip.
3. Leon's Full Service
Drunken street side bocce ball is safer than you think at this Decatur gastropub. With a protected court tucked into the Church Street side, no diners or drivers will witness your epic cocktail-fueled spills. When you're done playing, venture over to Leon's lovely patio, an easy spot to while away the evening hours tucking into a bucket of fries with mango Peppadew ketchup and smoked tomato mayo.
There's no shortage of beef at Leon's Full Service, with a holy trifecta of brisket, burger, and New York strip steak. However, the menu has scaled up recently with new executive chef Cameron Octigan, a Georgia native focused on increasing both local sourcing and international flavors. Leon's also features some of the best rye and rum cocktails in Georgia, including the Scofflaw and the White Lion.
4. Sister Louisa's Church of the Living Room & Ping Pong Emporium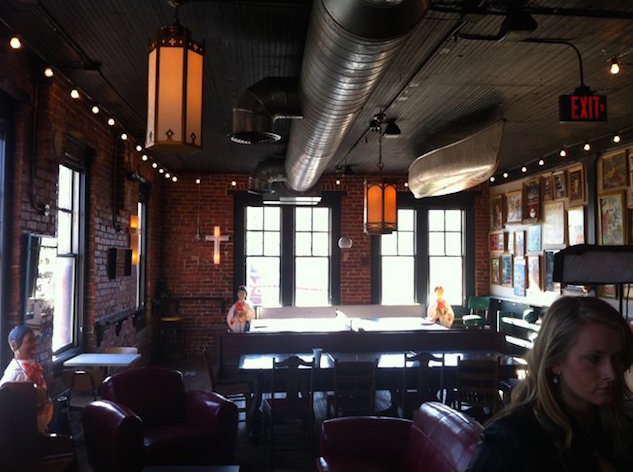 Ping-Pong is the source of divinity at this lively gay-friendly bar, where a weekly Monday tournament draws brightly clad local hipsters looking for a booze-fueled workout under triptychs of Jesus, nuns and angels. Top shelf liquors are only six bucks, basic beers are three to four bucks, and bartender Sam Wagstaff's Spiritual Samgria pleases the masses during happy hour.
According to local lore, Sister Louisa was a nun in Baton Rouge who fell for the convent janitor and absconded with the dangerously-named Luscious Lamar Thibideau to cleanse the world of boredom. With locations in Atlanta and Athens, Sister Louisa's Church of the Living Room & Ping Pong Emporium provides dance parties, tarot card readings with Madam Butterfly, church organ karaoke by T.T. Mahony with a real live backup choir in robes, and of course, Ping-Pong. A dartboard, comfy beat-up couches, a lit-up nativity display, crucifix lanterns and artwork declaring Jesus' love for outcast heathens will make you feel right at home.
Despite a recent fire, Church, as locals call it, reopened with fanfare, much to the relief of those who can't live without their faith. Did we mention the bar attracts the likes of Owen Wilson and Ben Stiller?
5. Twain's Brewpub & Billiards
Twain's Brewpub & Billiards is home to sweet tea chicken and waffles with bourbon bacon jam and nine house-brewed draft beers. Need we say more?
All right then, the bar also boasts pool tables. If that isn't entertaining enough for you, try your hand at a game of shuffleboard, the stand-up table kind.
Dakota Kim is a food writer, gardener, mushroom hunter and burlesque producer living in Brooklyn. She is currently working on a cookbook featuring burlesque performers called Bombshell Bakers.