American Gods Begins Season Two Production at Iconic House on the Rock
Image via Starz Entertainment, LLC
TV
News
American Gods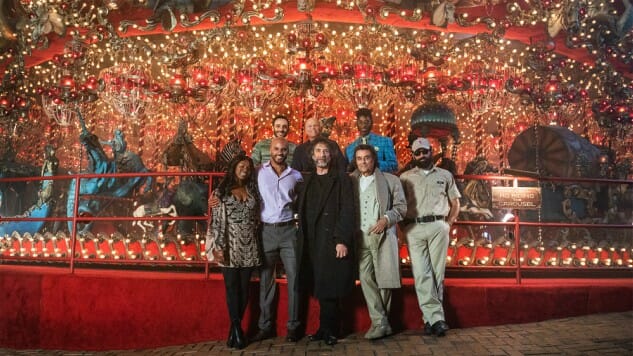 American Gods soon returns, as production has officially started, Starz announced on Monday.
In the new video below, American Gods season two kicks off at the iconic Wisconsin roadside attraction, The House on the Rock. This marks an ideal location for Neil Gaiman's acclaimed contemporary fantasy novel upon which the series is based. The location boasts many unique collections but most importantly is home to a pivotal moment from the book. Starz promises that season two will give the fans exactly what they have been dying to see: a meeting of the gods.
The first-look photo of cast and executive producer Gaiman along with showrunner and executive producer Jesse Alexander takes place in the fabled Carousel Room. The start-of-production video teases what lies ahead in season two of the eight-episode, one-hour scripted drama series, returning to Starz in 2019.
"The first season was all about getting to the House on the Rock," says executive producer Gaiman. "It's amazing to see everyone back, and to be entering the next stage of the story with the best bunch of actors around, along with some inspired filmmakers."
The show's cast includes Ricky Whittle (The 100, Austenland) as Shadow Moon, Ian McShane (Deadwood, Pirates of the Caribbean: On Stranger Tides) as Mr. Wednesday, Emily Browning (Sucker Punch, Legend) as Laura Moon, Pablo Schreiber (Orange is the New Black, 13 Hours) as Mad Sweeney, Orlando Jones (Madiba, Sleepy Hallow) as Mr. Nancy, Yetide Badaki (Aquarius, Masters of Sex) as Bilquis, Bruce Langley (Deadly Waters) as Technical Boy, Crispin Glover (Back to the Future, 9) as Mr. World, Peter Stormare (Fargo, Prison Break) as Czernobog, Mousa Kraish (Superbad, Fast & Furious) as The Jinn, Omid Abtahi (Argo) as Salim, Chris Obi (Snow White and the Huntsman, The Counselor) as Anubis, Demore Barnes (Waco, 12 Monkeys) as Mr. Ibis and Academy Award winner Cloris Leachman (The Last Picture Show, Raising Hope) as Zorya Vechernyaya.
American Gods is produced by FremantleMedia North America. Alexander (Hannibal, Heroes), as aforementioned, serves as showrunner and executive producer this season after original showrunners Bryan Fuller and Michael Green left the series last November. FMNA's Stefanie Berk is executive producing the series along with Gaiman, McShane, Craig Cegielski and Scott Hornbacher. Chris Byrne (Star Trek Discovery, Hannibal) is directing the premiere episode and will co-executive produce along with Heather Bellson and Rodney Barnes. Lisa Kussner will produce. Senior Vice President of Original Programming Marta Fernandez and Manager of Original Programming Kathleen Clifford are the Starz executives in charge of American Gods.
See the start-of-production video below.