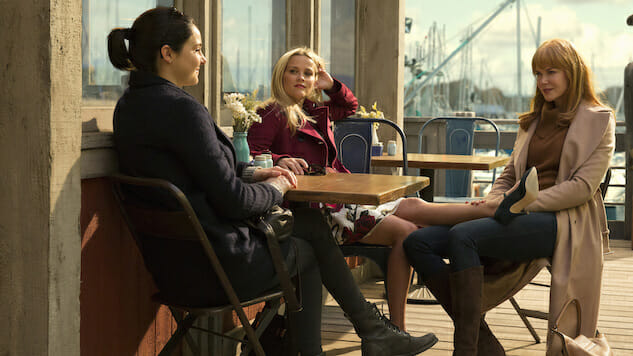 To say I'm the target audience for HBO's new miniseries, Big Little Lies, is a vast understatement. Like the main characters, I live in a suburban town and have a child in first grade. I know all too well about birthday party politics and play date fiascos. I know how the mom information network can tell you about a nasty divorce, the problem child and fractured friendships. Just like the characters, our school is currently gearing up for its big annual fundraiser.
Yes, I have a lot in common with the ladies of Big Little Lies. Except, of course, for the vast wealth and, you know, the murder mystery. I am a huge fan of Liane Moriarty's novels, and Big Little Lies, published in 2014, is her most engrossing and engaging tale. It's the classic example of a book that's impossible to put down once you start reading it.
But something gets lost in translation as the novel moves to the small screen. It's not just the move from Australia to Monterey, California or the aging up of the children from kindergarten to first grade. The novel had a darkly comic vibe that doesn't quite come across here. And even though the events in the novel and the seven-episode miniseries are almost identical, on screen they play much larger than life and are not nearly as relatable. Reading the book, the characters' immense affluence didn't detract from the novel's larger themes of parenthood, marriage and the "big little lies" that we tell ourselves. But here, as the impeccably dressed and coiffed stars look out from their mansions onto the ocean, it's hard to feel a lot of kinship with these mothers.
Perhaps that's because Reese Witherspoon and Nicole Kidman, who bought the rights to the novel and serve as executive producers, don't exactly exude "everywoman." Witherspoon's Madeline Martha Mackenzie is the type-A mom whose only mode is overdrive. She plays like Tracy Flick, Witherspoon's Election character, all grown up. And that's part of the problem. It's hard to see Madeline as a real person and not just a caricature. So her more tender moments with her devoted husband, Ed (Adam Scott), or her daughters, Abigail (Kathryn Newton) and Chloe (Darby Camp), ring false.
On the first day of first grade, Madeline and her best friend, Celeste (Kidman), befriend single mom Jane (Shailene Woodley), who has just moved to Monterey and enrolled her child in the Otter Bay Elementary School in search of a better life. Madeline, who was abandoned by her first husband, Nathan (James Tupper), when Abigail was a baby, feels an immediate kinship with Jane.
Jane's son, Ziggy (Iain Armitage), is accused of hurting Renata's (Laura Dern) daughter, Amabella (Ivy George). Ziggy is immediately stigmatized and Renata invites everyone but him to Amabella's lavish birthday party. Madeline retaliates by inviting everyone to Disney on Ice, which just happens to be on the same day. "I can't even keep track of all the fights you start. Someone needs to develop an app," Ed tells his wife.
Nathan is now married to Bonnie (Zoe Kravitz), a yoga instructor who has made Nathan a changed man, just a little too late for Madeline and Abigail. Although her life seems perfect on the outside, Celeste is in a toxic marriage stuck in a cycle of violent fights followed by passionate reconciliation.
To say more about the plot would ruin the surprise twists. The miniseries keeps the same conventions of the book and bounces the action between present-day police interviews and the events that lead up to the murder. Alexander Skarsgard is stellar as Celeste's husband, Perry. He simmers with a just-beneath- the-surface rage that is poised to erupt at any time. Dern brings a great deal of humanity and vulnerability to Renata. And Woodley, whose character's dark past is at the heart of the story, is terrific. (She has grown immensely as an actress since the days of The Secret Life of the American Teenager)
From the working mom/stay-at-home mom tension to the who-is-busiest one-upmanship, the show captures the subtle and not-so-subtle ways women take digs at each other. "I joined the board of Pay Pal. What was I thinking, adding one more thing to my life?" Renata says to Madeleine.
And I personally loved the opening credits, which shows all the moms in cars. Because you do so much driving as a mom. Seriously.
But the show is good, not great. The mystery is interesting, but not thrilling. And while not a flat-out failure, I was still expecting something more. I had big hopes for this little series.
Big Little Lies premieres Sunday, Feb. 19 at 9 p.m. on HBO
---
Amy Amatangelo, the TV Gal®, is a Boston-based freelance writer, a member of the Television Critics Association and the Assistant TV Editor for
Paste
. She wasn't allowed to watch much TV as a child and now her parents have to live with this as her career. You can follow her on Twitter (@AmyTVGal) or her blog .