Watch the First Black Mirror Season Five Trailer, Starring Miley Cyrus, Anthony Mackie, Topher Grace and More
Image via Netflix
TV
News
Black Mirror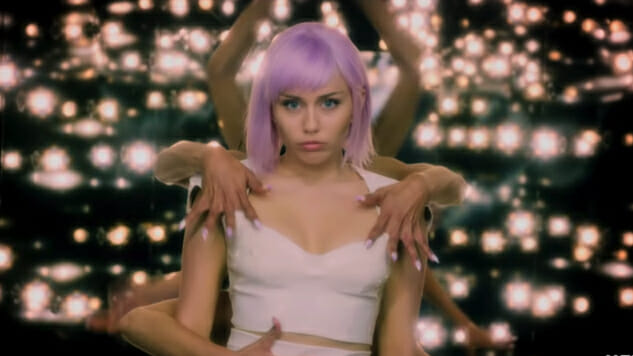 The much-anticipated fifth season of Black Mirror will air on Netflix on June 5, with an all-star cast including Miley Cyrus, Anthony Mackie, Yahya Abdul-Mateen II, Topher Grace, Andrew Scott and more. The new season will include three all-new stories from the award-winning show's creator Charlie Brooker and executive producer Annabel Jones.
Most notably, Cyrus appears in the new trailer as a performer with thousands of fans in a seemingly meta storyline. Cyrus confirmed her new Black Mirror role in December to Howard Stern during a guest appearance on his show.
The new season also stars Damson Idris, Nicole Beharie, Pom Klementieff, Angourie Rice, Madison Davenport and Ludi Lin.
Technology and concerns about loneliness, privacy and connection once again take center stage in the new season, as the trailer begins with the buzzing of phones. The season also promises to explore artificial intelligence, smart technology and virtual reality.
"Black Mirror is an anthology series that taps into our collective unease with the modern world, with each stand-alone episode a sharp, suspenseful tale exploring themes of contemporary techno-paranoia leading to an unforgettable—and sometimes unsettling—conclusion," a press release explains. "Without questioning it, technology has transformed all aspects of our lives; in every home; on every desk; in every palm—a plasma screen; a monitor; a Smartphone—a Black Mirror reflecting our 21st Century existence back at us."
Season five comes less than six months after the show's special, interactive standalone feature Black Mirror: Bandersnatch was released in 2018. Bandersnatch allowed viewers to make decisions for the main character in a "choose-your-own-adventure" format leading to alternate outcomes. It is unclear if there are plans for any similarly formatted episodes in the series' future.
Watch Black Mirror's new trailer below.