Aquanauts, Take Note: AirBnB and BBC Worldwide Want to Send You to the Seafloor
Photos by Luis Lamar
TV
News
Blue Planet II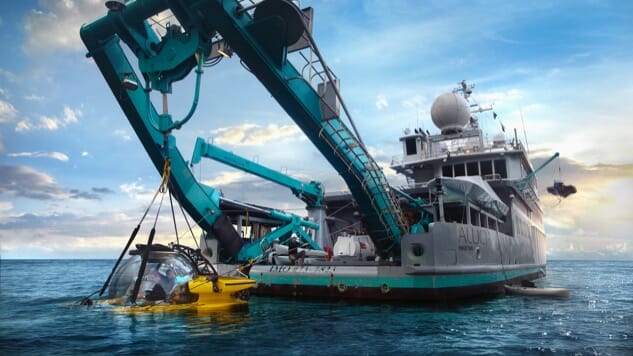 So, you love Blue Planet II, because you are a human and have a heart and a brain. Right? Do you harbor a desire to find out what it's really like in a deep-ocean submersible?
Airbnb and BBC Worldwide are offering a contest that will allow three lucky folks to do exactly that. The winners will have once-in-a-lifetime opportunity to become true ocean explorers on the world class exploration vessel, OceanX's Alucia, now listed on Airbnb. They'll get to experience what it's actually like to travel up to 1000 meters beneath the surface, explore undersea territory and see firsthand a whole host of extraordinary marine wildlife that most can only see on TV.
For a chance to join this expedition, budding explorers are invited to explain what their ideal deep-sea adventure is and what they dream of exploring beneath the waves. The three chosen entries will enjoy a two-night expedition, boarding OceanX's world-class marine research and exploration vessel, the Alucia, in Cape Eleuthera, Bahamas and finishing in Nassau, Bahamas. Whilst on board, guests will learn about the extreme adventures experienced during filming Blue Planet II and see first-hand a whole host of surprising marine creatures. The trip is hosted by Blue Planet II producer Orla Doherty, who has logged some 500 hours onboard this amazing vessel. The Alucia has seen some groundbreaking science research and filmmaking, including the first-ever footage of the giant squid and unprecedented deep sea dives in Antarctica. So … it'd be a pretty cool AirBnB to score.
Three entries will be chosen by a panel of judges. Each winner can take one guest with them. The expedition will be from April 4-8, 2018 and will include return economy flights from winner's home city to Nassau. Two nights will be spent onboard the Alucia (April 5-7), and two nights at an Airbnb home before and after the expedition.  All meals, ground transportation and entertainment are included.
To enter, visit the listing page of Blue Planet on Airbnb and answer the following:
You don't need to be an astronaut to discover a new world. Our oceans are teeming with bizarre species and dramatic, alien-like landscapes. Tell us about your ideal deep sea adventure—what do you dream of exploring beneath the waves?
Describe your dream adventure and complete your entry by Feb. 10, 2018 at 7 a.m. EST for a chance to win. Submissions should be 50-550 characters, in English.  
Find eligibility requirements and full contest terms and conditions here.  Eligible markets include the U.S., Canada, China, Singapore, Taiwan, Hong Kong, Indonesia, Malaysia, Germany, Philippines, Portugal, Spain and the U.K..
Planet Earth: Blue Planet II recently premiered across all five AMC Networks, including BBC AMERICA, AMC, SundanceTV, IFC and WE tv. The premiere episode attracted nearly three million viewers and became the most-watched nature program on ad-supported TV in nearly eight years. All subsequent episodes air on BBC AMERICA on Saturday nights at 9 p.m. EST.