Vince Gilligan to Create a Breaking Bad Virtual Reality Experience
Image via AMC
TV
News
Breaking Bad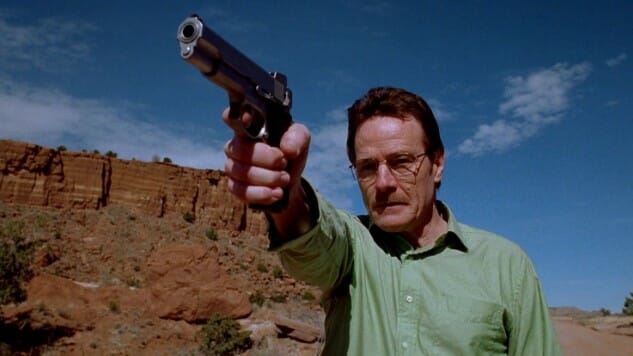 How many times while watching Vince Gilligan's groundbreaking Breaking Bad did you think, "This is cool, but I wish I could stand inches away from that meth head's diseased face"? A lot, right? Well, it's looking like that dream may soon become a reality.
Gilligan is teaming up with Sony's Playstation division to make a brand-new virtual reality experience for Breaking Bad. This content will apparently not be a game—no Candy Meth Crush, yet—but it's unclear what exactly the new content will be. We don't know if it'll be episodic or a one-off event, but Gilligan is apparently really pumped about the possibilities.
Speaking to Variety, Andrew House, global chief executive of Sony Interactive Entertainment—the videogame wing of the company—described Gilligan as uniquely excited about VR:
We set up a day at our campus where we brought seven of the best show runners [Sony Pictures Television] work with, like David Shore of The Blacklist and Ron Moore, who did Battlestar Galactica Vince and some other folks. And they just played around with VR. Several of them were intrigued, but Vince was the one who said, 'I really want to do something with this. I want to experiment with this.'
The reason it matters that Gilligan will partner with Sony's videogame division is because the new project will actually be computer-generated. What that will look like and when it will be released are still unannounced, but given Gilligan's success with Breaking Bad spinoff Better Call Saul, we've got faith the man has more stories to tell in that meth-addled world.