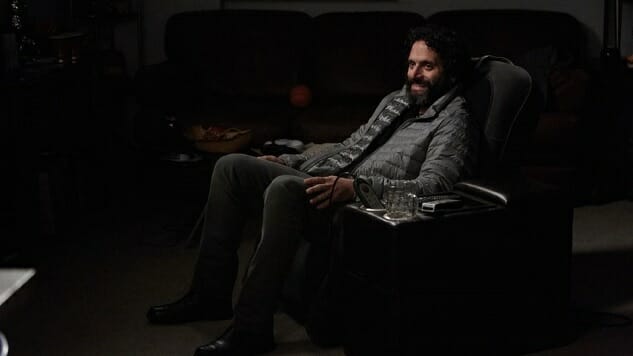 Guest stars have been a thing for Brooklyn Nine-Nine since the very beginning, when Stacy Keach, Mary Elizabeth Ellis, and Patton Oswalt showed up for one-offs, and Craig Robinson, Marilu Henner, and Kyle Bornheimer each stepped into limited but recurring roles. (Remember: Doug Judy is still around!) But after season two took several paces back from inviting new celebrity cameos (outside of Eva Longoria, Nick Cannon, and Chris Parnell), season three appears to be overcompensating: to date, the series has been inundated with guest spots for Paul F. Tompkins, Mary Lynn Rajskub, Bill Hader, Anders Holm, Riki Lindhome, Neil Degrasse Tyson, Niecy Nash, Damon Wayans, Jr., Allan Graf, and Katey Sagal.
Add the following names to that illustrious list: Kate Flannery and Jason Mantzoukas. (Also add Robinson, Dean Winters, Bradley Whitford, reprising characters they've previously played on the show.) "Adrian Pimento" feels, at times, as though it is trying to top Brooklyn Nine-Nine's third season guest deluge by dropping two names on its audience at once, though the double-guest maneuver has by now become nearly habitual, so really the episode just feels like it's trying to live up to a newly established standard. Flannery plays Mean Marge, the custodial boss Boyle runs afoul of after he explodes a pressure cooker in the precinct's breakroom; Mantzoukas plays the title character, a detective fresh off a twelve-year undercover stint who might be a few sandwiches short of a full picnic basket.
As with most marquee guest stars, Mantzoukas is paired off with Andy Samberg, whose talent for instant histrionics is grossly outmatched by his co-star's. "Adrian Pimento" has a lot of fun dabbling in anti-comedy, as Pimento arrives in the 9-9 and begins "funny" sharing stories of his time as a hatchet man for an apparently very unpleasant mobster named "The Butcher"; these stories only involve him brutally slaying people and weeping as he does so, which, of course, is not funny at all to the 9-9. But it's funny to us! Mantzoukas has a manic sensibility and a gift for making untamed facial contortions that make for an immediately successful dual-portrait of Adrian: he's a total loony tune, but he's also incredibly tragic, even in light of his oddball comic appeal.
Naturally, Adrian's grim backstory is like catnip to Jake, who thinks he can relate to the kind of deep subterfuge Adrian engaged with. This is the essence of Jake, as we have long established: he thinks he knows more than he does and he wants to be everybody's best pal. These tendencies lead to trouble for him and for everyone around him more often than not, though in "Adrian Pimento," he's really the only person to suffer any grief for obsessing over Adrian; Rosa, teaming with Jake as he explores his suspicions that Adrian is still working for the mob, sees nothing but sexual attraction, because apparently she is only attracted to creeps, plus Stripe from Gremlins. (This probably explains why she and Marcus couldn't work in the long run.) Her oft-repeated intention to jump Adrian's bones adds a hilarious counterpoint to the plot's central tension, with Jake getting a lesson in trust and gaining a new partner in the process.
Elsewhere, Boyle, Terry, and Santiago also learn a thing or two about judging books by their covers—Mean Marge is mean, or at least bitter, because people call her Mean Marge—while Holt and Gina are paired off in one of their classic personality clashes, as he attempts to get her to film a video for the purpose of winning a grant from the MC Guffin Foundation (which might be the best lazy punchline Brooklyn Nine-Nine has ever made). These are fairly typical Brooklyn Nine-Nine set-ups in contrast to the A-plot's Grim Dark Cop Show set-up, but guess what? They work, and largely because of how smartly they play off the cast's personalities. Marge blackmails Boyle, Terry, and Santiago using trash collected from their desk bins, with Santiago's refuse being the most damning of all: a memo with a typo. C'est pas vrai!
Meanwhile, Holt's fruitless efforts at getting Gina to just do her job and be normal reinforce his stodginess. (Tan is his favorite color, to no one's surprise.) Business as usual, in other words, but that's what makes Brooklyn Nine-Nine so great: if the show is dedicated toward evolving its characters, it is also aware of the core qualities that make each of them special, and it knows how to keep those disparate qualities in sync with each other (much as bagboys and cashiers must be totally in synch with each other). Week in and week out, these are the elements that make us want to spend time with these people. Clearly, that's what eventually wins over Adrian, and it might even be what attracted Mantzoukas to Brooklyn Nine-Nine in the first place. (It seems he'll have a multi-episode arc for the next few installments, which is nothing but great news.) So let's all welcome our new and unhinged detective to the 9-9: if "Adrian Pimento" tells us anything about the guy, it's that he'll fit in with this lot just fine.
---
Boston-based critic Andy Crump has been writing online about film since 2009, and has contributed to
Paste Magazine
since 2013. He also writes for Screen Rant, Movie Mezzanine, and Birth.Movies.Death. You can follow him on Twitter. He is composed of roughly 65% craft beer.