How Starz's Counterpart, Led by J.K. Simmons, Thrillingly Tests the Viewer's Trust
Photo: Starz
TV
Features
Counterpart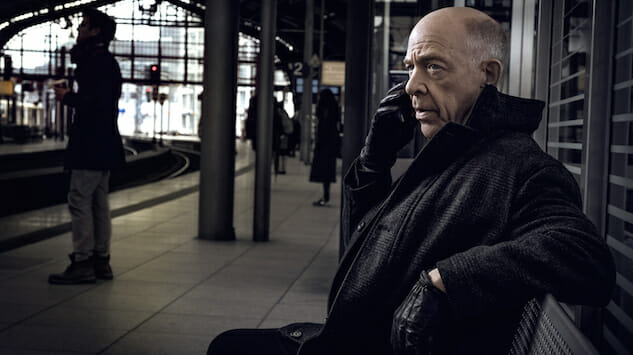 By its very title, Counterpart may be telling us that it's lying to us.
The new Starz series is quite literally a story of counterparts, in that it stars Oscar winner J.K. Simmons as two perceivable branches of one man living in Berlin. Specifically, these are two people who were once were one man, named Howard—but whose lives have been running in parallel since a curious incident some 30 years ago caused a split in human existence that gave everyone a clone who lives in a world that runs in conjunction with ours but with some significant differences. (It's a diversion about which only a few high-ranking officials on either side actually know.) Not surprisingly, and quite amusingly, the Howards are not fast friends after they meet.
But Counterpart, which was created by The Jungle Book writer Justin Marks and counts infamously not-Oscar-winning producer Jordan Horowitz as an executive producer, is also the sum of many parts: It's a tale of espionage, science fiction, a government coverup and a manhunt for an assassin all rolled into one impeccably thorough thought experiment on inevitability and fate. Is there another version of you out there somewhere who buys the same clothes, prefers the same cocktails and marries the same spouse? Due to the circumstances of his or her world, does this other you also end up in a career path where an expertise in semi-automatic weaponry and a knowledge of bureaucratic leaks is par for the course? (To delineate between the two men, it's probably best to refer to Simmons' weakling pencil pusher as Howard Silk, and his not-to-be-fucked-with muscle as Howard Prime.)
"It was always our intention to make it a show about identity, about an exploration of self and nature versus nurture and who we are and why we are the way we are," Horowitz told Paste late last year, during the series' Los Angeles press day. "The question we always need to ask is, 'What does the audience need to know and what's the least amount we can do to let them know that?' We never really wanted to get hung up on the believability or the unbelievability of a concept. It was a sort of knocking it once like a bell early on and letting it ring out."
Marks says his formative years, spent reading John Le Carré and Graham Greene, served as training ground for the world of Counterpart: "I wanted to give it my own spin."
And that they did.
Horowitz and Marks are friends since childhood who reconnected as adults in Los Angeles when the latter ran in front of the former's car while running late for a dentist appointment. (Fun fact: They were in a band together in high school called The Side Projects, playing what Horowitz describes as "Dave Matthews-ish" music befitting their backgrounds as "white kids in Scarsdale in the '90s.") And Marks says Counterpart has been percolating for about eight years.
Eventually, Simmons signed on to star and The Imitation Game director Morten Tyldum agreed to do the pilot. A writers' room was established after Starz guaranteed a two-season order, the group subsequently amassing a show bible that, as Marks joked to journalists during the show's Television Critics Association panel earlier this month, reads "like a giant, hundred-page long set of stereo instructions" to anyone who isn't on staff.
When I asked Marks last year if the Berlin setting was too on the nose, he didn't blink. From an allegorical standpoint, he argues, "We took the Berlin Wall and made a sort of metaphysical construct." Architecturally, the German capital works for the show's theme because it's loaded with a mix of old and new world designs—although the credit for melding a good deal of that into the minutiae of Counterpart's aesthetic has to go to production designer Dan Bishop ( Mad Men) and others in his department.
Plus, practically speaking, Marks says, the show needed a place that would be welcoming to film crews but also one that—considering the actual events of the past century—would be a believable place for a bunch of recently unemployed Reagan-era spies to go to be "recruited to apply all of their skill sets to a new kind of Cold War."
Simmons, who rose to television prominence via the grizzly HBO prison drama Oz, told me when we spoke last year that he wasn't exactly looking for a series regular gig after his Oscar win for Whiplash in 2015. But he was drawn to the enticing idea of playing both sides of the character coin.
"I was just looking for really compelling characters and story, especially in a long-form like this," he says. "This world has so many emerging possibilities and places to go that you don't feel like, 'Oh, we're on episode 32 and we have to jump the shark because we're doing cookie-cutter, old-school TV.'"
Simmons knows that fans familiar with his work in these projects will enjoy his portrayal of Howard Prime. But, as someone going in blind when he first got the script, he says the idea of playing a "sort of downtrodden Howard" was what interested him enough to keep reading; it was "the character and the writing overall that I found really intriguing."
"It's great to go back and forth and play the action hero and the kinder, gentler, more nebbishy version, too," says Simmons, who, for what it's worth, has made a point of not watching a certain recently ended clone-focused TV show. He adds that "the sort of disdain [Silk and Prime] have for each other, and understanding for each other, is a really fun aspect."
But alternate universes and a European setting also shaped another aspect of Counterpart: Simmons deadpans that "as a guy who was an adult in 1987, I certainly have a different perspective of it than most of the production team." In other words, in order to make the split have impact, much of the cast members are at least part of the way through their third decades on Earth. They're also mostly European, because Marks says he wanted "J.K.'s character be specifically lonely in his identity as an American on this show."
Manhattan and Rushmore's Olivia Williams plays Howard's complicated wife, Emily, while Game of Thrones alum Harry Lloyd plays his privileged, out-of-his-element boss, Peter Quayle. Other cast members include Iranian-born actress and activist Nazanin Boniadi (Homeland) as Clare, a coworker at the bureau with her own motives.
"We started to find our way into characters in the writers' room," Marks says. "We said, 'We don't want this show to just be about Howard [Silk] and Howard Prime.' We want to build out a variety of diverse characters who are different from just a man of a certain age and who are exploring things about themselves that are different."
Viewers also learn very quickly that—in a nice feat of gender equality—Italian film star Sara Serraiocco plays the ace contract killer known simply by the codename "Baldwin."
"Baldwin was always a woman," Marks says when I ask if the character choice was meant to suggest any political commentary. "I just wanted to write a cool character who we hadn't seen and would be interesting in the context of that first episode. Then you bring a bunch of writers into the room and you start to talk about who are the characters who are the most interesting as you build the next nine episodes together. And it amazes me that everyone was coming back to Baldwin. We started to build her out in a way that surprised me."
You see. I knew they couldn't be trusted.
Counterpart premieres Sunday, Jan. 21 on Starz. The series premiere is streaming now.