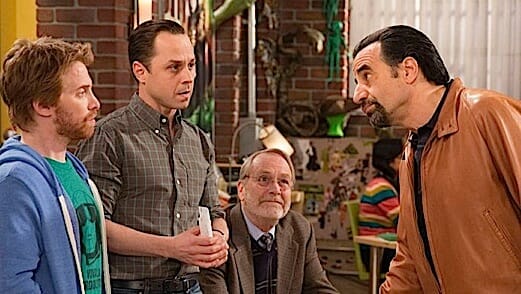 This week Dads finally picked a cultural group to make fun of that no one gets mad at: Italian Americans. But don't worry, no minority, gender, or sexual orientation was safe this episode. Between jokes about Asians regarding chopsticks and eggrolls, and turning Veronica's desk into a stripper pole, Dads was in full "obnoxious humor" mode. At least they hit indiscriminately, their jokes being more like a machine gun than a sniper rifle.
In "Warner's Got it Made," Warner and Eli are developing a Mafia video game and Veronica suggests they invite a real Mafioso to consult with them. Crawford brings in an old friend of his, Johnny, an incredibly stereotypical mobster. The guy is tough and sketchy. Predictably, he makes Warner uncomfortable, but he even manages to make Eli feel the same. He foregoes his consulting fee for a place to play poker. During poker, Warner gets very drunk and gambles away the company. The next day, Warner finds his strength and challenges Johnny, telling him they have to leave. Angered, Johnny takes Warner for "a ride" to kill him. Warner ends up helping Johnny with his computer troubles, and Johnny is so grateful he lets his vendetta go.
While the episode was average to say the least, it was all worth it to watch Martin Mull dress up like a mobster in a velour orange tracksuit. Crawford and Warner are such a funny pair, they deserve their own spin-off show. For as cliché and shallow as Eli and David's characters are, Warner and Crawford are original and subtly three-dimensional. While Eli plays the typical hot shot who creeps on with gorgeous women, Warner's relationship with Camilla is fresh and sweet. Their affection toward each other is evident, but their relationship is funny. Camilla is the gorgeous strong woman who married a prissy computer geek with a very strong feminine side to him. In the tag scene of the episode, they show Warner and Camilla in their bedroom. Warner has brought home the stripper pole that Johnny had put in front of Veronica's desk, and now Camilla is using it to do a sexy dance in front of Warner. Warner stares at her, seemingly appreciating her beauty, but the moment she steps off the pole, he yells, 'My turn!' and jumps on it.
Most of the good jokes in "Warner's Got It Made" were visual gags, but here are some of the better one-liners:
—Mobster Johnny, referring to Eli: "How about you, troll on the end of a pencil?"
—Edna (who says she doesn't like Italians because they come to this country, don't learn English, and take away jobs), says to the Italian mobster who tries to help her clean up: "No, you no take my job."
—When the mobster suggests Warner bet his company, a drunk Warner adorably misunderstands, answering, "Oh, you wanna hang out with me? Yeah, yeah. I am good company."
—Camilla, asking about Warner's recurring dreams, "Were you an elegant lady in this one, too?"
—Crawford: "Come on, Warner. You got to get to work before all the good tracksuits are taken."