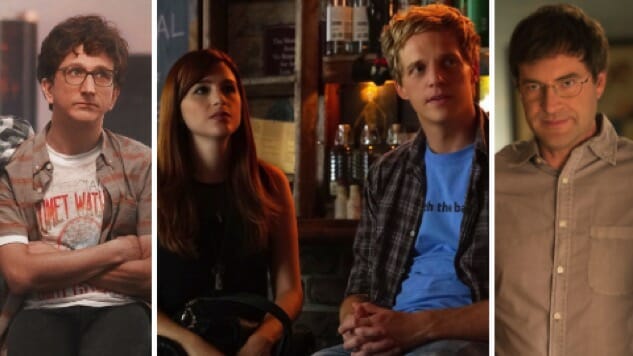 Earlier this year, many of us lamented the cancellation of HBO's Togetherness, a poignant, frequently hilarious meditation on marriage and friendship produced courtesy of DIY auteurs Mark and Jay Duplass. As with the best HBO shows, it was a program that was precisely scripted, beautifully acted and immaculately directed.
It was also—unfortunately—a show about reasonably wealthy, white Los Angelenos and their various "what does it all mean?" existential crises. Don't know if you've noticed, but there's not exactly a dearth of these programs on TV right now.
Indeed, despite numerous think pieces written about this recent Golden Age of TV, a good portion of the material being shipped across our viewing platforms on the cable/streaming space has been half-hour comedies—with a dash of cable-approved melancholy—whose central, financial sound, white characters reside in various sections of Los Angeles. Besides Togetherness, recent examples include the Venice-set Netflix comedy Flaked, You're the Worst, Casual, Transparent, the recently defunct FX comedy Married and Love.
Now, let's be clear, I actually love the vast majority of these shows. You're the Worst, for instance, had a phenomenal second season that expertly walked the fine line between being a goofy anti-romance while also examining the very real fallout of clinical depression. Transparent is an outstanding work of art that blasted open the conversation surrounding the transgender community. Even the more divisive Love, which has drawn no shortage of criticism for its all-around whiteness, thoroughly engaged me in certain areas. But that's the curse of living in Los Angeles. You still get excited when the fictional characters on your TV stop to banter at your favorite brunch location, or drown their dramedy sorrows at your preferred dive bar.
In general, this all relates back to that old adage, "write what you know." And what, pray tell, do most reasonably well-compensated television creators know? They are (in general) white, middle-aged men who know living in Los Angeles and being part of the Hollywood machine. And that's reflected in the work. Gus from Love works as the on-set tutor for child actors; Gretchen in You're the Worst is a music publicist; Transparent's Josh is a music producer; Alex and Brett from Togetherness work as an actor and post-production sound technician, respectively. That's not to say the lives and struggles of these characters aren't worthy of TV (many of them are), but it becomes disconcerting—in an era of countless networks and awe-inspiring creative talent—that so many divergent programs depict all the same experiences.
Much of these issues with perspective can be traced back to the fact that both women and minorities remain woefully underrepresented in Hollywood. During the development of many of these shows, in fact, the number of jobs held by women and people of color in the industry experienced a major hit. But here's where things get interesting. The experiences of the modern-day minority are not being explored on cable—a place that many a snobby critic and intellectual dubs the most progressive, experimental wing of television—but, rather, have made their way onto the "old dinosaur" that is network TV. ABC, in particular, has spent the last few years branding itself as a hotbed for diversity. Currently, the network plays home to the Orlando-based Huang family of Fresh Off the Boat as well as the Johnson family of black-ish. Granted, the Johnsons live a fairly cushy existence, but—if this season's barn-burner bottle episode "Hope" taught us anything it's that the show can still provide a forum for the complexities of the African-American experience in the United States. The same goes for NBC's The Carmichael Show, which—in a callback to the pioneering works of Norman Lear—actually uses the multi-cam format to help sneak in wide-ranging discussions on institutional racism, gentrification and Bill Cosby. Extending this scope to the hour-long format, ABC has—despite anemic ratings—pushed forward with John Ridley's American Crime, which delves headfirst into the controversial grey areas of racial politics. Elsewhere, on the CW, Jane the Virgin has consistently delivered a fun, yet still emotionally honest take on the Latina experience, while Fox's blockbuster Empire crashes Twitter whenever it airs.
This is also not to say that cable is completely devoid of shows that portray the experiences of a non-white ethnic group. In terms of half-hours, the most noisy is perhaps Netflix's critically lauded Master of None, which bakes star/co-creator Aziz Ansari's experience as an Indian-American into its DNA. There's also Starz's exceptional Survivor's Remorse, a killer comedy about a young athlete's indoctrination into the world of the rich and famous. Boasting parallels to HBO's Entourage, Survivor's Remorse is particularly notable in its ability to balance delightful lifestyle porn with legitimate, character-based conflicts that feels specific to a certain community and milieu (i.e. an African-American family in the sports industry who have just transferred to Atlanta). This is in stark contrast to Entourage, which started its life as a fun, yet unquestionably trashy show with a stellar scene-stealing performance by Jeremy Piven and quickly devolved into the very embodiment of consequence-free, white male privilege.
Moreover, it's not as though cable networks are not trying to push diversity. FX is set to premiere the Donald Glover-produced series Atlanta sometime later this year. As someone who has seen the pilot, but is also not sure how much they're allowed to discuss it, I can—at the very least—confirm that the show offers an insightful and unique look into the Atlanta underground rap scene that is much different from anything I've ever seen on TV before. Indeed, while a compelling drama like WGN's Underground stands as a powerful retelling of an often overlooked narrative in American history, I'm also thankful that creatives are still afforded the space to explore the experiences and struggles that black America faces in today's world. Likewise, I'm carefully tracking the development of the Norman Lear-produced remake of One Day at a Time, which is set to feature an all Latino cast.
It's probably worth noting that, despite my absurdly Jewish last name, my mother's family is actually from Mexico. As such, I was raised in a Hispanic family whose members were doctors, lawyers and artists with interesting and, occasionally, super messy lives. To this day, I'm convinced that if any television writers had been able to eavesdrop on our family dinners, they would have been rewarded with a bevy of material. Moreover, during my formative years spent obsessively absorbing media, I took note of whenever I saw Mexicans on screen who were not gangbangers sent to threaten our white hero, or feisty Latina ladies designed to give advice to our hapless Caucasian female heroine. One of my most vibrant pop culture-related memories, in fact, was discovering a version of DC's Blue Beetle comic wherein a young El Paso, Texas teen named Jaime Reyes served as the titular superhero. After years of reading comics, here was a character who looked like me and who I could relate to. To say it was a revelatory experience would be a major understatement.
The late, great film critic Roger Ebert once postulated that the movies are a machine that generates empathy. The same, I believe, can be said of television. Representation is important—not only for the well-being of those being represented, but for the benefit of those outside the circle. TV has the ability to highlight a different world—a different mindset—and beam this information right into our living rooms, computer screens and iPads. In an environment where a certain leading political candidate continue to sprout blatantly racist or ignorant talking points, it's often entertainment that boasts the capacity to facilitate understanding with those whose shoes we may very well never find ourselves walking in. Having grown up in a smaller town in the South, where everything from politics to pop culture could feel a tad insular, I acquired many facets of my current viewpoints due to the years I spent seeking out movies and TV that were off-the-beaten path, whether it was a drama as immersive as The Wire, or a comedy as farcical as Ang Lee's gay Taiwanese romp, The Wedding Banquet.
Now, I'm not suggesting that Hollywood should stop making half-hour dramedies about white people and their LA-based problems. One, it's unrealistic at this point and, two, if it's the right story with the right creators, I want to see that vision fully realized. What I'm merely suggesting is that casting a person-of-color as the lead in some generic procedural show should not be the final word on diversity. Rather, I implore those in charge to think outside the box and encourage a television landscape that takes us to new places and guides us through new worlds. What does a show like Love look like with African-American leads? What dramedic hijinks can you write about when Togetherness is about a middle-class family from Koreatown? Is there a version of Transparent where the dysfunctional Pfeffermans are the dysfunctional Gonzalezes? Or, why even restrict it to comedies—what would a Frank Underwood with an Indian background look like, or a True Detective with Native American leads? We live in a world that does not strictly consist of middle-class white people dealing with issues. It consists of middle-class black people dealing with issues. It consists of twenty-something Hispanic kids trying to figure their lives out. Heck, it consists of white single women trying desperately to financially scrape by.
All of these people have stories. All of these stories are valid. And all of them, in the right hands, can make for great TV.
---
Mark Rozeman is a Los Angeles-based freelance writer and regular contributor to
Paste
. You can follow him on Twitter.