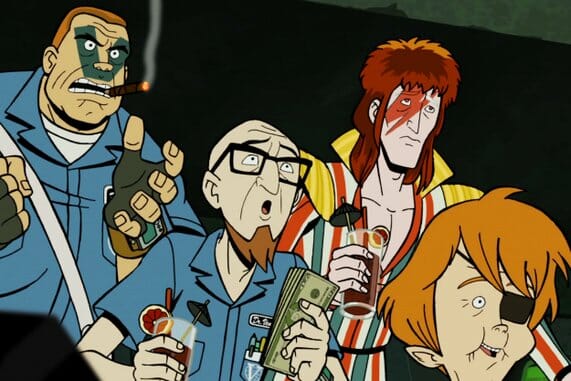 I don't think any show in television history has had scheduling like Venture Bros.. While Futurama's production is certainly stranger, Venture Bros. has the unfortunate problem of being incredibly serial and character-based, despite the long period of time between its seasons. The last proper season of Venture Bros. aired way back in 2010, and while the show has only had four seasons and a smattering of specials, its pilot premiered in 2003. So I can't be the only one who, upon hearing that another episode was airing, headed back to Wikipedia just to catch up on what happened in the show last time.
And moreso than almost any other comedy on television, it's because the past really does matter to Venture Bros. Not only is the show littered with in-jokes, but its storylines and characters make little sense unless you follow every episode. You can't skip from the show's first season to the Halloween special, and unlike the much more random Shallow Gravy episode that aired last year, "A Very Venture Halloween" leads right into next season. It's not just a strange excuse to air a song about pants; it's integral to the show's mythology.
Despite all of this, "Venture Halloween" was a very normal episode. Its three storylines were hardly related, and my favorite was actually the very short throwaway between Rusty and his friends, in which they bet upon whether trick-or-treaters will be able to make it past his lawn's security. It's the type of really strange idea that no other show has, from the disdain the show's main characters have toward Venture extras (presumably many died on their attempts and would later be added to the mass grave) and lack of explanation why so many people tried to make it across the lawn. It was completely Venture material.
Then there was the episode's other relatively low-stakes story, in which Dr. Orpheus invites all of his magic buddies to a pretty lame party. It's filled with wonderful gags and the eventual return of his Master in the shape of Santa Claus. It's just as much a throwaway as Rusty's story, only with more zombies.
Then we have the Venture brothers, including half-brother Dermott, who go to visit a haunted house. Turns out it's not haunted, but the man who lives there helped create the cloning technique used on Hank and Dean. Oh, and his weird monkey creature who likes smelling balls. He goes ahead and tells Dean about the clones, and more importantly, after all of this is done Dean decides to keep this knowledge to himself.
It's a small but defining moment, in some ways the final split between the brothers as they grow increasingly distant from each other. This is well-executed, as is the whole episode, but it's also what makes this episode feel like a prelude to season five rather than a Halloween special in and of itself. Not only was this not a self-contained episode, it sets up a big cliffhanger that we won't see resolved until spring 2013 when the show's fifth season proper makes its way to the air. An excellent episode, which didn't miss a beat, but not really a Halloween classic, despite Orpheus' overblown lecture to the contrary.
Stray observations:
•I didn't mention the opening flashback, but it was amazing and immediately jumped viewers into the Venture sense of humor.
•Rather awesome theme song bit, even for Venture.
•"That is the work of a devil." "That is the work of a teenage girl's sleepover.".
•"Get out of there, we do not smell balls."
•Catsup and bourbon—a hunchback. Also, eww.