New on HBO Now: All the Movies and TV Coming in March
Photos by Michele K. Short/HBO
TV
Features
HBO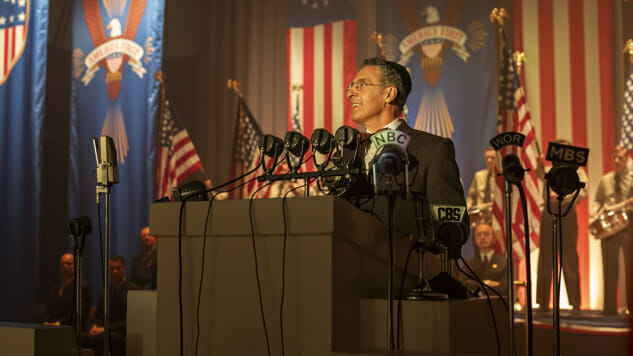 HBO may or may not be TV, depending on who you ask, but it's home to some of the best shows around, regardless, as well as many a worthwhile feature film. March's collection of new titles headed to the HBO Now library is replete with highlights, the highest of which we'll attempt to concisely catalog for you below. Follow along or skip straight to the list—the choice is yours.
HBO Now's March TV offerings easily outshine its incoming feature films, with one title in particular jumping out at us: The Plot Against America (March 16), a new, six-part limited series adaptation of Philip Roth's acclaimed 2004 novel of the same name. Created by The Wire collaborators David Simon and Ed Burns, and starring Zoe Kazan (The Deuce), Winona Ryder (Show Me a Hero), John Turturro (The Night Of) and Morgan Spector (Boardwalk Empire), The Plot Against America "imagines an alternate American history during World War II, told through the eyes of a working-class Jewish family in New Jersey as they endure the political rise of Charles Lindbergh, an aviator-hero and xenophobic populist, who captures the presidency and turns the nation toward fascism," per HBO. That's just the start of HBO's new TV offerings, which also include the Season 3 premiere of prestige sci-fi series Westworld (March 15), the Season 2 premiere of Elena Ferrante adaptation My Brilliant Friend and the Season 3 premiere of news-breaking docuseries Axios. And alongside all those new beginnings, we also have endings (however lasting): Curb Your Enthusiasm (March 22), The Outsider (March 8), The New Pope (March 9), Avenue 5 (March 15) and docuseries McMillion$ (March 9) all have finales slated for the month of March.
On the cinematic side of things, HBO has a relatively quiet month coming up, though there are still a number of blockbusters you may deem worth screening at the ol' Home Box Office. The biggest and baddest is easily Fast & Furious Presents: Hobbs & Shaw (March 14), the Dwayne Johnson- and Jason Statham-starring spinoff of the Fast & Furious franchise that takes its gleefully absurd action-comedy stylings to a new level. Other incoming theatrical premieres include another 2019 franchise entry, X-Men: Dark Phoenix (March 21), starring Sophie Turner of Game of Thrones fame as powerful telepath Jean Gray; Danny Boyle's high-concept dramedy Yesterday (March 7), in which struggling musician Jack (Himesh Patel) discovers that a supernatural occurrence has left him the only person on earth who remembers the music of The Beatles; Andrea Berloff-directed crime drama The Kitchen (March 28), starring Melissa McCarthy, Tiffany Haddish and Elisabeth Moss as Hell's Kitchen housewives forced to pick up the slack after their mobbed-up husbands get pinched; and Bruce Springsteen-inspired coming-of-age musical Blinded by the Light (March 22). Less recent (but no less watchable) titles on the way, all arriving March 1, include Fight Club, My Left Foot, Crimson Peak, Dodgeball: A True Underdog Story, Match Point, Babe (and Babe: Pig in the City), Mr. and Mrs. Smith, Armageddon and Along Came Polly.
Don't get caught napping when it comes to what's leaving HBO in March, either: The Favourite, Robocop (plus Robocop 2 and 3), Black Swan, Can You Ever Forgive Me?, Mortal Engines, Thank You for Smoking, United 93, Hello, Dolly!, The Killing Fields and Truth or Dare, among others, all depart the service on March 31.
See HBO's March sizzle reel and slate below.
Theatrical Premieres:
Hunter Killer, 2019 (3/1)
Johnny English Strikes Again, 2019 (3/1)
The Getaway, 2019 (3/1)
Yesterday, 2019 (3/7)
Fast & Furious Presents: Hobbs & Shaw, 2019 (3/14)
X-Men: Dark Phoenix, 2019 (3/21)
Blinded by the Light, 2019 (3/22)
The Kitchen, 2019 (3/28)
Original Programming:
Foodlore, Season 1 (3/2)
The Shop: Uninterrupted (3/7)
Women of Troy (3/10)
After Truth: Disinformation and the Cost of Fake News (3/19)
Entre Nos Presents: Nick Guerra: Love Me At My Worst (3/20)
Kill Chain: The Cyber War on America's Elections (3/26)
Todxs Nosotrxs, Season 1 (3/27)
The Scheme (3/31)
Series Premieres:
Axios, Season 3 Premiere (3/1)
Westworld, Season 3 Premiere (3/15)
The Plot Against America, Series Premiere (3/16)
My Brilliant Friend, Season 2 Premiere (3/16)
Series Finales:
The Outsider, Season Finale (3/8)
McMillion$, Docuseries Finale (3/9)
The New Pope, Season Finale (3/9)
Avenue 5, Season Finale (3/15)
Curb Your Enthusiasm, Season 10 Finale (3/22)
Estrenos:
The Dishwasher (AKA El Lavaplatos) (3/1)
The Sparring Partner (AKA El Chata) (3/6)
Un 4To De Josue (3/20)
Starting March 1:
The Adjustment Bureau, 2011
Along Came Polly, 2004
Alpha and Omega: Journey to Bear Kingdom, 2017
Alpha and Omega: The Big Fureeze, 2016
Alpha and Omega: The Great Wolf Games, 2014
Armageddon, 1998
Babe, 1995
Babe: Pig in the City, 1998
Battle for Terra (AKA Terra), 2009
Bedazzled, 2000
Big Momma's House 2, 2006
The Bridges of Madison County, 1995
Child's Play 2, 1990
Child's Play 3, 1991
Crimson Peak, 2015
Dodgeball: A True Underdog Story (Extended Version), 2004
Enemy at the Gates, 2001
Fight Club, 1999
Gamer, 2009
Hall Pass (Extended Version), 2011
Happy Feet Two, 2011
In a Valley of Violence, 2016
Johnny English, 2003
LOL, 2012
Match Point, 2005
Mr. and Mrs. Smith (Director's Cut), 2005
My Left Foot, 1989
Pups United, 2015
Rapture-Palooza, 2013
Sinbad: Beyond the Veil of Mists, 2020
They Came Together, 2014
Wings: Sky Force Heroes, 2020
The Zookeeper's Wife, 2017
Ending March 31:
The 33, 2015
American Nightmares, 2018
Beaches, 1988
Black Swan, 2010
Brothers, 2009
Cabin Fever 2: Spring Fever (Extended Version), 2019
Can You Ever Forgive Me?, 2018
Color of Night (Director's Cut), 1994
Doppelganger, 1993
The Favourite, 2018
The Fourth Kind, 2009
Gulliver's Travels, 2010
Hello, Dolly!, 1969
I.Q., 1994
It's Kind of a Funny Story, 2010
The Killing Fields, 1984
The Lucky Ones, 2008
Mortal Engines, 2018
Robocop (Director's Cut), 1987
Robocop 2, 1990
Robocop 3, 1993
Thank You for Smoking, 2006
Truth or Dare (Extended Version), 2018
United 93, 2006
Victor Crowley, 2018
When We Were Kings, 1996
Working Girl, 1988