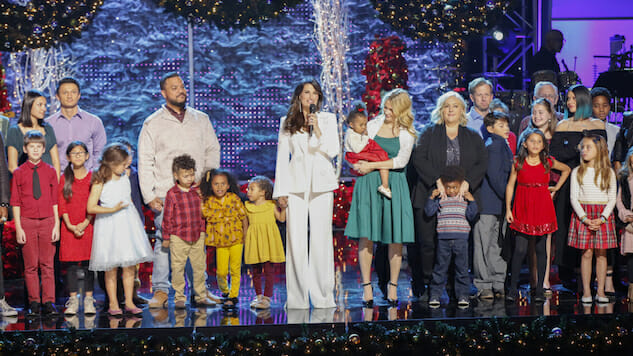 It used to be the holiday season offered up the annual airing of some beloved classic and perhaps a special or two. Now much like the television landscape is deluged with new and returning shows, the month of December has a never-ending sleigh full of holiday programing for you to watch.
So I made a list (and checked it twice!) to come up with the 15 holiday specials you can't miss this season.
1. The Kacey Musgraves Christmas Show
Airdate: Currently streaming on Amazon
The country superstar takes a page from variety specials of the past in this Amazon entry for the holiday season. Musgraves is joined by Fred Armisen on "Silent Night," Leon Bridges on "Present Without A Bow," Camila Cabello on "Rockin' Around The Christmas Tree," James Corden on "Let It Snow," Zooey Deschanel on "Mele Kalikimaka," Lana Del Rey on "I'll Be Home For Christmas," and Troye Sivan on the new song "Glittery." The Rockettes, a high-kicking holiday staple, and Kendall Jenner (sure, why not?) also stop by.
2. DreamWorks Spirit Riding Free: Spirit of Christmas
Airdate: December 6 on Netflix
The popular Netflix series DreamWorks Spirit Riding Free, about a beloved horse that could not be tamed, gets in the holiday spirit (see what I did there?) in this 44-minute special. The episode finds Lucky (the voice of Amber Frank) and her friends meeting their favorite singer favorite singer Sally Jessup (guest voice Katherine McNamara), whose songs uplift stranded train passengers trying to make it home in time for Christmas.
3. Spookly and the Christmas Kittens
Airdate: December 6 at 7 p.m. on Disney Junior
The square pumpkin meets a green kitten in this new Disney Junior special. Spookly and his new pal must find a home for three stray kittens lost in a winter storm. Other Disney Junior specials premiering today include holiday episodes of preschool favorites like Puppy Dog Pals, T.O.T.S., Elena of Avalor and P.J. Mask.
4. Into the Dark
Airdate: December 6 on Hulu
Once you've got the kids squared away, check out this episode of Into the Dark, an anthology series which tackles a different holiday every month, entitled "A Nasty Piece of Work." A disgruntled employee (Kyle Howard) is very upset that he didn't receive his holiday bonus or the promotion he was expecting. Then his boss (Julian Sands) invites him to dinner and makes him an offer he probably should refuse.
5. Christmas at Dollywood
Airdate: December 8 at 8 p.m. on the Hallmark Channel
Danica McKellar stars as event planner Rachel Davis (seriously event planner is one of the most popular Christmas movie professions). Rachel returns home to Tennessee to help Dolly Parton (starring as herself) plan Dollywood's 30th Smoky Mountain Christmas celebration. Rachel must work with cranky operations director operations director Luke Hakman (Niall Matter) to make the magical night truly special. Whatever will happen next? Can you possibly guess?
6. Rudolph the Red-Nosed Reindeer
Airdate: December 14 at 8 p.m. on CBS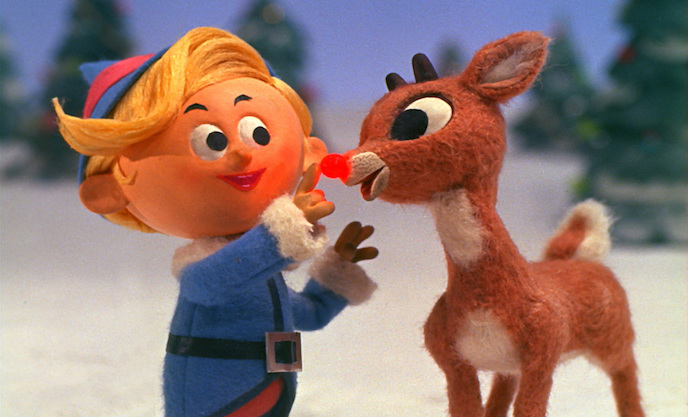 There's a pure joy in watching this 1964 classic. I'll never tire of hearing Rudolph exclaim, "She thinks I'm cute!" or Burt Ives singing "Holly Jolly Christmas." But in the world we live in now, the story of a reindeer who is bullied for being different and realizes the thing that makes him different also makes him great is more important than ever.
7. 42nd Annual Kennedy Center Honors
Airdate: December 15 at 8 p.m. at on CBS
LL Cool J hosts this 42nd celebration of the best in the arts. This year's honorees include Earth, Wind & Fire, Sally Field, Linda Ronstadt, Sesame Street and conductor Michael Tilson Thomas. Sesame Street marks the first time in the honor's history that a television program has received the award. Good on you, Elmo.
8. Good Trouble Holiday Special
Airdate: December 16 at 9 p.m. on Freeform
It's Christmas at the Coterie as the cast from The Fosters (yes even Noah Centineo) reunite to visit Marianna (Cierra Ramirez) and Callie (Maia Mitchell) for the holiday season. While the sisters prepare for a visit from their moms and how Callie will tell them that she quit her clerkship, Alice (Sherry Cola) keeps a big secret from all the Coterie residents and Gael (Tommy Martinez) and Jazmine (Hailie Sahar) struggle with a painful family decision.
9. A Christmas Carol
Airdate: December 19 at 7:30 p.m. on FX
The beloved classic gets the FX treatment in this movie that tells the familiar story of Ebenezer Scrooge (Guy Pearce) who is visited by the Ghost of Christmas Past (Andy Serkis), Present (Charlotte Riley) and Future (Jason Flemyng). This version comes to us from Steven Knight, the man behind Peaky Blinders and the AppleTV+ series See.
10. Battle of the Christmas Movie Stars
Airdate: December 21 at 11 a.m. on Lifetime
There are roughly 1,000 new Christmas made-for-TV movies airing this month. Lifetime is gathering all its stars in a holiday showdown where their stars compete in categories like ugly sweater decorating and wreath making to determine who knows the holidays best. I'll be keeping an eye out for the cast of The Facts of Life who reunited to star in the network's You Light Up My Christmas.
11. Top Elf Season Finale
Airdate: Season finale on December 21 at 8 p.m. on Nickelodeon
Seven children compete for the title of Top Elf in this five-episode reality series which finds Santa (Tommy Snider) and Ms. Jingles (Samantha Turret) challenging the children to build new toys, make gingerbread houses, and design a giant Christmas card.
12. A Home for the Holidays with Indina Menzel
Airdate: December 22 on CBS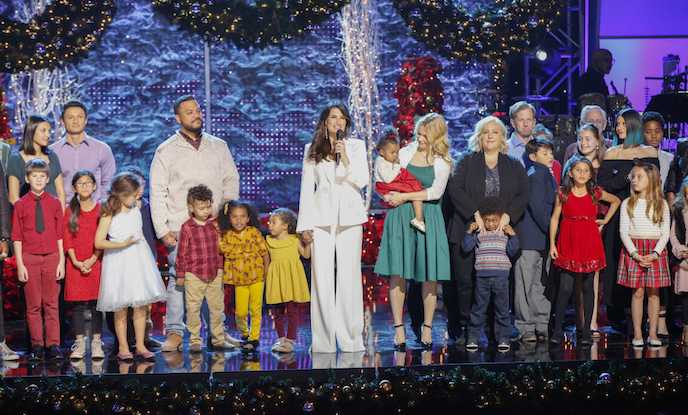 I recently shocked my daughter when I told her the woman she was listening to sing at the Macy's Thanksgiving Day Parade was the voice of Elsa. You can stun your children too when the Tony Award winner performs songs from her new album, Christmas: A Season of Love while focusing on stories about children in the foster care system and the nearly 400,000 children in need. Adam Lambert, NE-YO and Kelly Rowland also perform.
13. The Office Christmas Party
Airdate: December 24 from 9 a.m. to 10 p.m. on Comedy Central
Remember "A Benihana Christmas" on The Office? Even though it aired way back in December 2006, how could you forget? It's a classic. As a special holiday treat for us, Comedy Central is airing all the holiday episodes of The Office on a continuous loop on Christmas Eve. It's the perfect background to wrap presents to. It's all part of Comedy Central's "31 Days of Holiday Survival" hosted by NBA star Blake Griffin.
14. Call the Midwife Holiday Special
Airdate: December 25 at 9 p.m. on PBS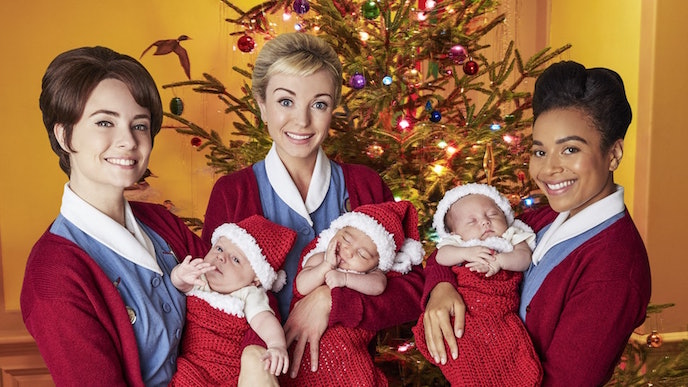 I love the idea of a new episode of TV airing on Christmas Day. After the presents are opened and you can eat no more, save the dishes and the cleaning for another day and spend the evening that with your favorite show. In this new entry to what has become an annual tradition of the beloved PBS drama, Mother Mildred (Miriam Margoyles) and her team respond to a nursing shortage.
15. Doctor Who
Airdate: January 1 at 8 p.m. on BBC America
As per tradition, Doctor Who stars off the new year with an all new season. The Jodie Whittaker kicks off her second season as the Thirteenth Doctor with a two-hour episode entitled "Spyfall." Guest stars this season include Goran Višnji?, Robert Glenister, and Stephen Fry.
---
Amy Amatangelo, the TV Gal®, is a Boston-based freelance writer, a member of the Television Critics Association and the Assistant TV Editor for Paste. She wasn't allowed to watch much TV as a child and now her parents have to live with this as her career. You can follow her on Twitter (@AmyTVGal).
For all the latest TV news, reviews, lists and features, follow @Paste_TV.