Hulu Renews Marvel's Runaways and Future Man for Second Seasons
Photos by Brandon Hickman, Paul Sarkis
TV
News
Hulu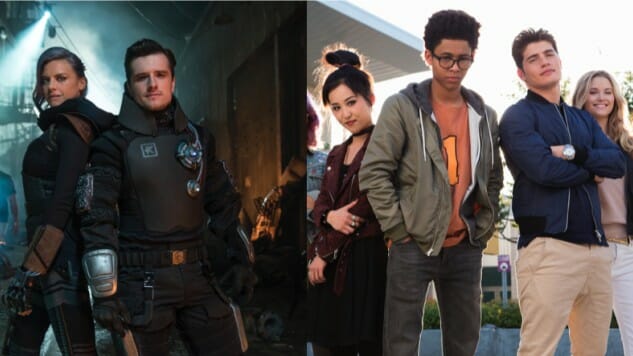 Hulu announced Monday that both Marvel's Runaways and the Josh Hutcherson-led Future Man have been renewed for second seasons.
Runaways follows six diverse teenagers who find out their parents are actually evil. The problem is that they all can't stand each other, but must unite to defeat their common enemy: their parents. The show's season one finale airs tonight, Jan. 9. Paste's Amy Amatangelo wrote in her review of the first four episodes that Runaways is "poised to be the perfect hybrid of adolescent melodrama and the sci-fi/superhero genre." Alexis Gunderson writes today that that evaluation, unfortunately, "remains true: Runaways, despite its A+ casting, dreamy L.A. aesthetics and elite teen soap creative pedigree, is ending its first season still only poised to be the perfect hybrid of teen and superhero television." We'll see if it can realize that potential in season two.
Future Man, from Sony Pictures Television, follows a young man—a janitor by day and intense gamer by night—whose life seems to be going nowhere until two characters from his videogame come to life and recruit him for a mission to save the world after he becomes the only person to beat the game. The series stars The Hunger Games alum Hutcherson as the main character, along with Eliza Coupe (ABC's Happy Endings), Derek Wilson (Preacher) and the late Glenne Headly.
Both shows received a 13-episode season two order. Hulu recently became the next streaming service to win a Golden Globe thanks to The Handmaid's Tale, which won Best Drama Series.