Idris Elba Hid His English Accent from Producers to Land His Role on The Wire
Image via HBO/YouTube
TV
News
Idris Elba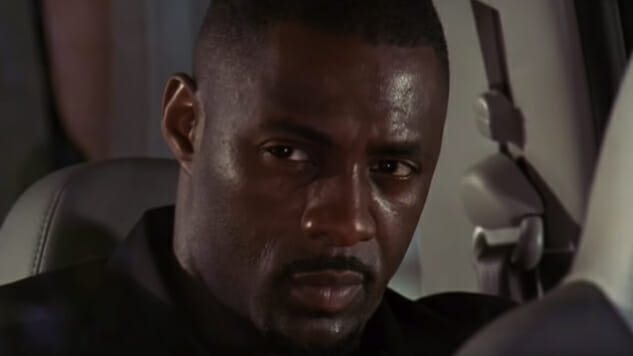 Before you pay money to witness Idris Elba's 'roided-out turn in Fast & Furious Presents: Hobbs and Shaw this weekend, it's imperative that you educate yourself: Long before the actor appeared alongside the likes of Jason Statham and The Rock as Brixton Lore, made hefty commitments to Marvel franchises, and got down and dirty in Pacific Rim, the actor was at the forefront of HBO's The Wire as ice-cold drug kingpin and real estate giant Stringer Bell.
Portraying the character across the acclaimed series' first three seasons completely upended Elba's career, and in the actor's appearance on the latest episode of First We Feast's Hot Ones, he detailed just how far he went to land the role: Elba says he hid his English accent from series creator David Simon to prove he was "American enough" for the part.
"David Simon specifically told Alexa Fogel, who was the casting director, 'Listen, this is about Baltimore. I don't want to see no non-Americans for any of these roles, I need people that can really relate the story I'm trying to tell here'—which is a very fair thing to ask for, considering how observant he is of the culture," Elba explains to host Sean Evans.
When the actor auditioned for Fogel, who was immediately won over by his performance, he was told by the casting director to obscure the fact that he was from East London when he was called back to audition for the producers. Well, it worked—until the fourth audition, when the producers changed their tactic on the actor. One of the producers—who happened to be Irish—asked Elba to talk to him about his childhood, and the actor blanked.
"This was the moment of truth," Elba explained to Evans, "because my parents told me not to lie—you've got to look someone in the eye and be honest. I have lied—it's never worked out for me."
Elba immediately broke down and confessed, confirming that the Irish producer's hunch was correct. Nonetheless, Simon was impressed, and the creator thereafter awarded Elba the role of Stringer Bell and changed the actor's life forever.
Check out the segment below, around the 16:30-minute mark.