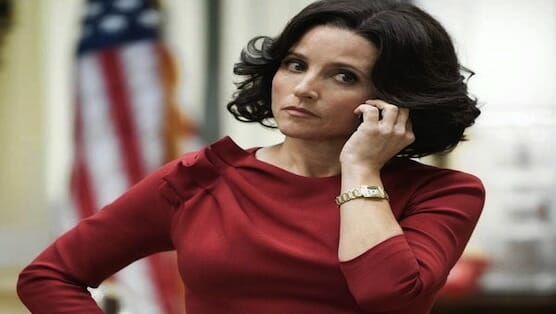 Being one of the most nominated actresses in Emmy history comes with a lot of statuette hardware.
So it's not too inconceivable that Julia Louis-Dreyfus finds herself trying to pawn off one of her Emmys in a promo video spoof released by the Television Academy today. Bryan Cranston and Aaron Paul, both decorated Emmy winners themselves, are back to their Breaking Bad roots as pawn shop owners dealing in "the unique, the unusual and the barely legal."
Enter Louis-Dreyfus—when you've been nominated 18 times for an Emmy and won for four of them—like the Veep star has—perhaps you can part with one for some cold hard cash—especially when you're only netting "cable money" now, as Louis-Dreyfus deadpans.
Louis-Dreyfus ends up keeping her Emmy, after Paul mistakes her for Mary Louise Parker from Weeds and Cranston—a master of drama flexing his comedic chops here—lets her know that statues from the drama categories are where the real money's at.
Check out the video and then find out if either Cranston, Paul, or Louis-Dreyfus can add yet another Emmy to their shelf when the Primetime Emmy Awards air Aug. 25 on NBC.