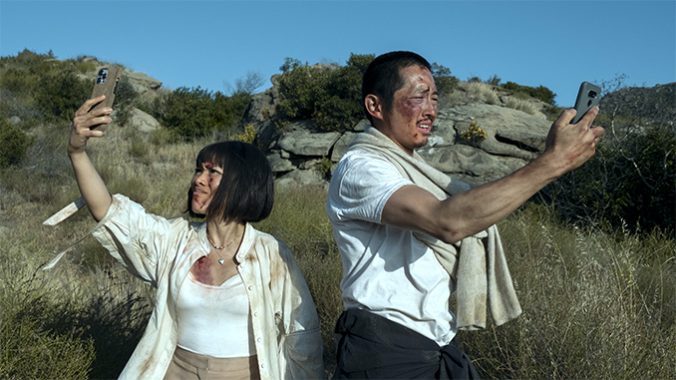 The debate over the best way to consume and watch new television shows—the traditional weekly release schedule versus the popular binge model popularized by Netflix—is never-ending. And while we may never come to an agreement, there's no harm in occasionally spending a weekend devouring a show you've never seen before. The joy that accompanies fresh obsession followed by the satisfaction one gets after finishing a show is a very specific feeling that many of us are constantly chasing.
However, when it comes to crafting a truly bingeable TV show, there's more to it than just carefully constructed cliffhangers or narratives so engrossing they encourage viewers to press play on the next episode as soon as they've finished the last one. Episode length also comes into play (it's much easier to binge a 30-minute show than it is one that regularly tops an hour), as does subject matter. As compelling and well-made as some shows are, it's difficult to binge series that deal with difficult topics (see: the limited series Unbelievable). So we took all of this into account as we compiled our list of the best Netflix shows to binge in a weekend.
A note about our selection process: The list below primarily includes shows that have already concluded their runs. Ongoing series that you can currently binge in a weekend, but likely won't be able to by the time they're over, were not considered.

Bodyguard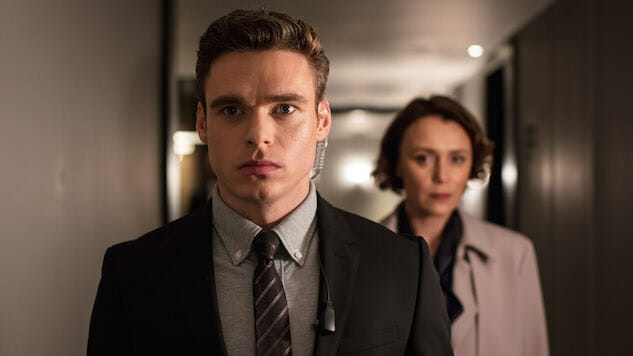 Created by: Jed Mercurio
Stars: Richard Madden, Keeley Hawes, Gina McKee, Sophie Rundle
Number of Episodes: 6
In Jed Mercurio's exquisite actioner, there are no rooftop chases, no ticking clocks, no fisticuffs with the villain's henchmen. Instead, the six-part series finds suspense in watchful camerawork and careful pacing, and it's this thorough control that makes Bodyguard worthy of your next TV obsession: It refuses shortcuts, rejects ellipses, until it approaches the effect of real time. Rather than treat this as a gimmick though, star Richard Madden and directors Thomas Vincent and John Strickland use the technique to create potent echoes of protagonist David Budd's torturous vigilance, and indeed the nation's. A veteran of the war in Afghanistan, David receives an assignment to protect Home Secretary Julia Montague (Keeley Hawes), a rising political star with her eye on 10 Downing Street—and a reputation as a national security hardliner. The result is an ingenious layering of form atop function, all within the context of a taut political thriller: The series is less 24 or House of Cards than Homeland at its most momentous, stripped of all but its hero's ability to see what others miss. —Matt Brennan
---
Teenage Bounty Hunters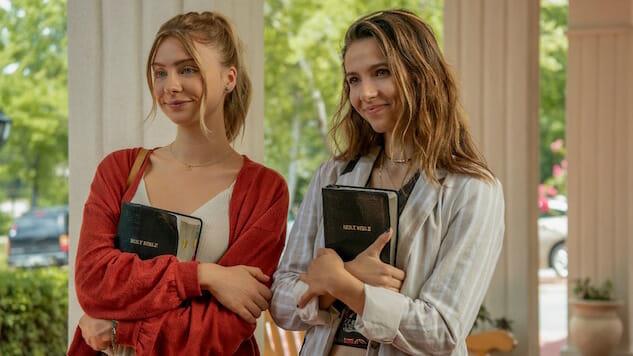 Created by: Kathleen Jordan
Stars: Maddie Phillips, Anjelica Bette Fellini, Kadeem Hardison, Virginia Williams
Number of Episodes: 10
It's a real bummer to put any series on this list that was canceled before its time, but so long as Netflix is going to wield its axe indiscriminately enough that it catches series as critically and popularly beloved as Teenage Bounty Hunters—Kathleen Jordan's darkly comic vision of hormonal teen girls testing the boundaries of their sheltered white lives by taking up a shadow life as, well, teenage bounty hunters—that's the reality we're stuck with. So take this entry in the spirit it's written, as both warning and recommendation: You will develop an immediate crush on badass telepathic Christian school twins Sterling (Maddie Philips) and Blair (Anjelica Bette Fellini) and their equally badass gruff grandpa-mentor Bowser (Kadeem Harrison), and then when you hit the whiplash end-that-shouldn't-have-been-the-end of their bounty hunting/twin legacy story, that crush will, in turn, crush you right back. So, you know, have fun! —Alexis Gunderson
---
Crazyhead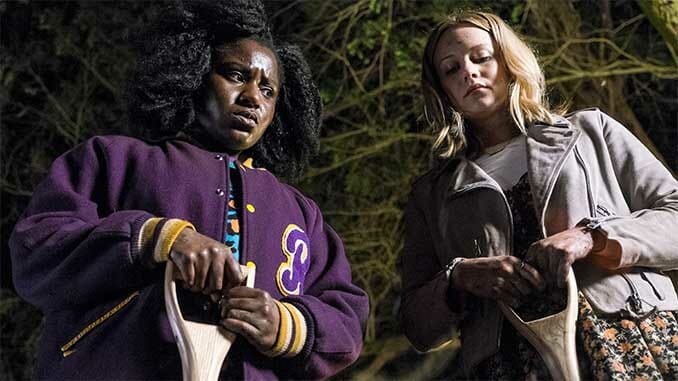 Created by: Howard Overman
Stars: Cara Theobold, Susan Wokoma, Lewis Reeves, Arinze Kene, Riann Steele, Luke Allen-Gale, Tony Curran, Charlie Archer
Number of Episodes: 6
Buried deep within Netflix's library is the one-season gem Crazyhead. Much like Teenage Bounty Hunters, it too was canceled before its time. But the fact that it's so short—just six episodes!—means the horror-comedy from the creator of Misfits is the perfect weekend binge. The show stars Cara Theobold and Susan Wokoma as Amy and Raquel, two strangers with the ability to see demons. They initially band together to help Amy save her roommate, who has become possessed. But they quickly find themselves caught in a much larger battle to save humanity from demons who want to bring about the end of the world. What makes the series stand apart from the rest of the popular save-the-day genre, though, is its high energy, unfiltered sense of humor, and two untrained heroines who barely know what they are doing from one moment to the next. It leads to a viewing experience that is familiar and yet unpredictable, but one that is always full of laughs. —Kaitlin Thomas
---
Feel Good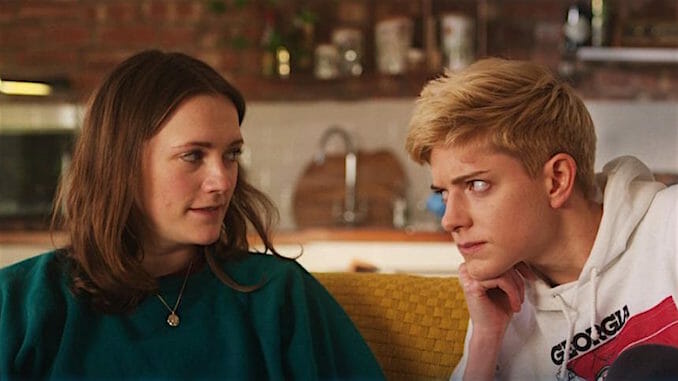 Created by: Mae Martin and Joe Hampson
Stars: Mae Martin, Charlotte Ritchie, Lisa Kudrow, Phil Burgers
Number of Episodes: 12
Few shows are as emotionally affecting or as funny as Netflix's dark romantic comedy Feel Good. Co-created by Mae Martin and Joe Hampson, the semi-autobiographical show depicts the relationship between a fictionalized version of Mae, a comedian and recovering addict, and George (Charlotte Ritchie), a school teacher who's previously only ever dated men. The series' excellent first season details the couple's meet cute and subsequent romance, and it only gets better in Season 2. With just 12 short episodes, Feel Good wastes no minute of its run time as it tells a beautiful story about love and identity while digging into deeply complex issues related to trauma, addiction, recovery, and sexuality. Although it can be heartbreaking to watch Mae slowly and reluctantly peel back the layers of their pain, the show has no shortage of laughs. It's both subtle and not, never shying away from depictions of queer sex or the long-lasting effects of trauma. The result is a show so good you almost can't believe it exists, let alone that we were blessed with two seasons of it. —Kaitlin Thomas
---
Beef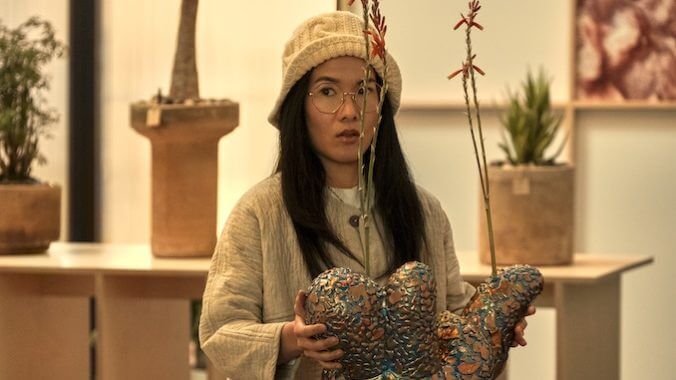 Created by: Lee Sung Jin
Stars: Ali Wong, Steven Yeun, Joseph Lee, Young Mazino, Ashley Park, Maria Bello, Patti Yasutake, David Choe
Number of Episodes: 10
In Beef, the brilliant Ali Wong—playing the well-off boutique entrepreneur Amy Lau—has become engaged in a feud with the suicidal contractor Danny Cho, played by the equally excellent Steven Yeun. It started with an instance of road rage, in which Lau almost kills Cho, and escalates from there. One is rich, and one is poor, but fundamentally they're both prisoners who feel no sense of control of their lives. What this violence against one another shows is that, briefly, they are resuscitated; they need this. It's not healthy, it's going to harm them both, but you know beyond any doubt that they are going to chase this high as long as they can. A raw thrill brought them both back to life, from a chance encounter in a parking lot, and through it they'll even come to depend on each other.
As far as premise-setting, you just can't do it any better, and there's very little that you need to know about the show beyond that. They fight, and fight, and fight, and as the stifling atmosphere of modern lives continues to let them down, to leave them unhappy and confused, they'll seek solace in each other, but that solace will come in the form of violence, because what they both require is the thrumming, hot conflict that can be waged between two people without the restrictions that society and the dual strictures of wealth and poverty have put in place. —Shane Ryan
---
Midnight Mass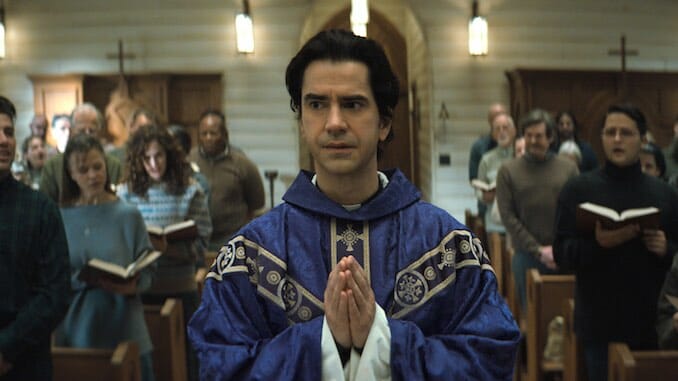 Created by: Mike Flanagan
Stars: Hamish Linklater, Kate Siegel, Zach Gilford, Rahul Kohli, Annabeth Gish
Number of Episodes: 7
On Midnight Mass' Crockett Island, every islander feels rife with misfortune. A recent oil spill nearly annihilated the fish supply, tanking the island's local fishing economy. Their homes splinter and peel in neglect to the ocean's elements. The majority of residents have fled the island for lack of opportunity, leaving a paltry few behind. Only two ferries can take them to the mainland. Hope runs in short supply—and a major storm brews on the horizon.
Everything beyond that for this seven-episode series is a true spoiler, but what can be said is that even with its dabblings in the supernatural, Midnight Mass (created by The Haunting of Hill House and Bly Manor's Mike Flanagan), is a show that burrows inwards instead of outwards. With both the physical claustrophobia of Crockett's setting and the internal suffering of characters placed in center stage, Midnight Mass concerns itself with horrors within: addictive tendencies, secret histories, and questions of forgiveness and belief. At one glance, it's a series that mines Catholic guilt for gold. In another, it's a measured, yet spooky take on group psychology, the need for faith in sorrow, and the ethics of leadership with such vulnerable followers, weighing whether these impulses represent human goodness, evil, or simply nothing at all. —Katherine Smith
---
Derry Girls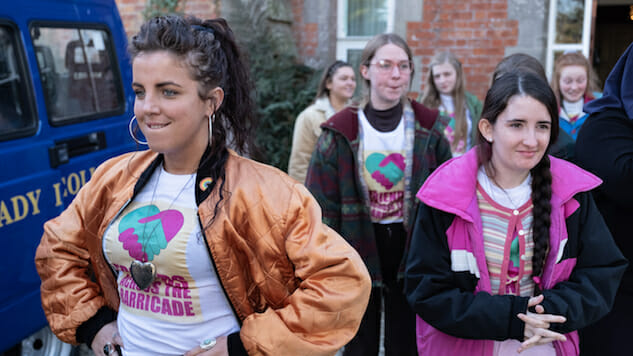 Created by: Lisa McGee
Stars: Saoirse-Monica Jackson, Louisa Harland, Nicola Coughlan, Jamie-Lee O'Donnell, Dylan Llewellyn
Number of Episodes: 19
The lovely, silly, funny, and emotional Derry Girls is a brief series focusing on a group of schoolgirls in Northern Ireland in the 1990s, during the last days of the Troubles. But in Lisa McGee's series, that darkness is relegated to the background. Instead, the more traditional teen conflicts of school life and being boy crazy take center stage, along with lots of incredibly specific language and jokes about both that region and that time (you will definitely want to watch with subtitles on). Derry Girls is a warm and funny time hop carried by a dreamy '90s playlist and the gigantic charisma of its wee leads. —Allison Keene
---
Everything Sucks!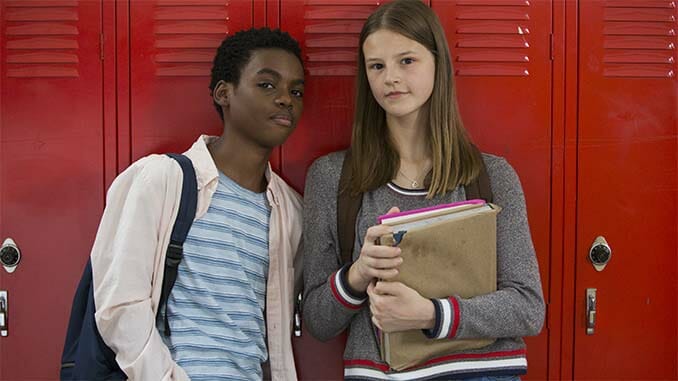 Created by: Ben York Jones and Michael Mohan
Stars: Jahi Di'Allo Winston, Peyton Kennedy, Sydney Sweeney, Patch Darragh, Claudine Mboligikpelani Nako, Quinn Liebling, Elijah Stevenson, Rio Mangini
Number of Episodes: 10
In a perfect world Everything Sucks! wouldn't be on this list, because in a perfect world, Netflix wouldn't have canceled the charming coming-of-age show after just one season. But the world is not perfect, and Netflix did prematurely swing the axe, so the show has a short enough runtime that it's the perfect length to binge in a single weekend. Thus, we simply had to include it.
Set in the town of Boring, Oregon, in 1996, Everything Sucks! follows the members of a high school drama club and AV club coming together to make a short film. Along the way, it offers a compelling look at the familiar highs and lows of adolescence through Luke (Jahi Di'Allo Winston), a freshman whose unrequited crush on classmate Kate (Peyton Kennedy) eventually opens his eyes to a world much larger and richer than the one he'd previously known once Kate begins to come to terms with her own sexuality and accepts herself as she is. While the show can be painfully realistic at times—it is seriously dedicated to authentically portraying what it's like to be a teenager—it's also the type of show that is impossible to look away from, especially for anyone who grew up in the '90s, with the very same songs backing their own coming of age. —Kaitlin Thomas
---
Cowboy Bebop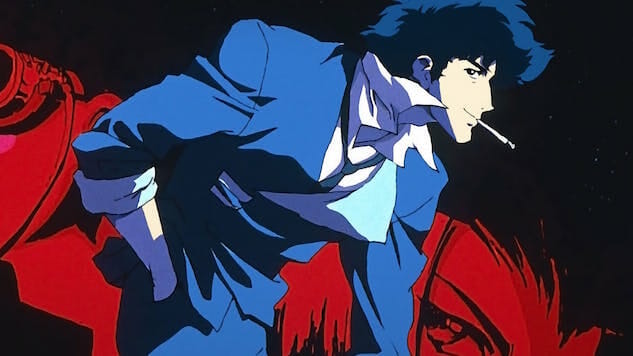 Created by: Hajime Yatate
Stars: Koichi Yamadera, Unsho Ishizuka, Megumi Hayashibara, Aoi Tada
Number of Episodes: 26
Every debate over whether or not Cowboy Bebop—Shinichir? Watanabe's science-fiction masterpiece—is the pinnacle of anime is a semantic one. It is, full stop. Its particular blend of space-based cyberpunk intrigue, Western atmosphere, martial arts action, and noir cool in seinen form is unmatched and widely appealing. Its existential and traumatic themes are universally relatable. Its ragtag group of bounty hunting characters are complex and flawed, yet still ooze cool. The future it presents is ethnically diverse and eerily prescient. Its English dub, boasting some of America's greatest full-time voiceover talents, somehow equals the subtitled Japanese-language original. Its 26-episode run was near-perfect, and episodes that might have been filler in another series are tight, taut, and serve the show's thesis even as they do not distract from its overarching plot, which is compelling but not overbearing. It's accessible to new hands and still rewards old-timers with every repeated watch. Yoko Kanno's magnificent, jazz-heavy soundtrack and score stand on their own. Its opening credits are immaculate. It's an original property, not an adaptation. It feels like a magnum opus produced at the pinnacle of a long career despite being, almost unbelievably, Watanabe's first series as a director. It is a masterwork that should justly rank among the best works of television of all time, let alone anime. —John Maher
---
Lupin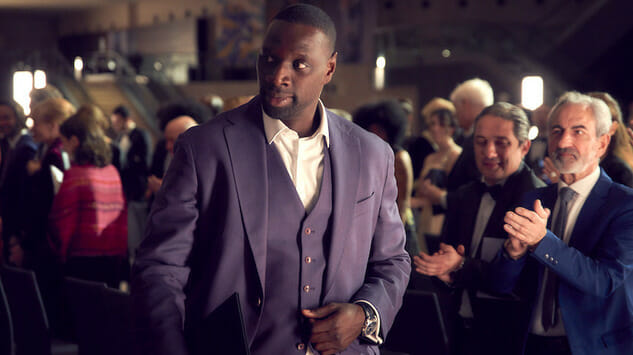 Created by: George Kay, François Uzan
Stars: Omar Sy, Ludivine Sagnier, Etan Simon, Clotilde Hesme, Antoine Gouy, Fargass Assandé, Soufiane Guerrab, Nicole Garcia, Hervé Pierre, Vincent Londez, Shirine Boutella, Vincent Garanger
Number of Episodes: 10
Lupin is a French show about a boy named Assane who becomes a thief, and may have some identity crisis issues in that he seems to believe he is—and I mean "is" in a literal sense—a gentleman thief named Arsene Lupin from a series of stories by the writer Maurice Leblanc. There are some family issues at play; Assane (Omar Sy) and his father were Senegalese immigrants, and the old man was accused of stealing a valuable necklace when Assane was a child, which provided the seed for how his entire life unfolded. From that tragic backstory, a sort of comic book hero emerges, and his superpower is legerdemain: the artistry of the thief.
In style, Lupin bears some similarity to the BBC's Sherlock, at least in the frenetic worship of cleverness that makes an hour-long show feel like 10 jam-packed minutes. Lupin is more outlandish, but Sy is just as charmingly irreverent as Benedict Cumberbatch's bombastic detective. In both shows, though, the viewer is taken into the labyrinth of the mind, where the resolution of a thorny puzzle functions as the pounding impulse behind every plot device. The pleasures of the unraveling mystery are the same—even if the protagonists operate on opposite sides of the law.
While Lupin can strain and often shatters credulity, as Assane coolly manipulates just about everyone he meets in his daily Parisian exploits, it's also a pretty great way to spend an hour (or 10). —Shane Ryan
---
The Queen's Gambit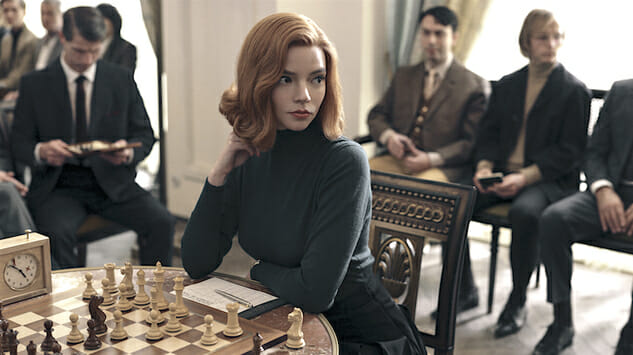 Created by: Scott Frank, Allan Scott
Stars: Anya Taylor-Joy, Bill Camp, Moses Ingram, Marielle Heller, Harry Melling, Thomas Brodie-Sangster
Number of Episodes: 7
Gorgeously shot and lovingly crafted, The Queen's Gambit takes place in the late 1950s and '60s, and focuses on a young chess prodigy, Beth Harmon (Anya Taylor-Joy). Tragedy and fantasy engage in a complicated dance in Scott Frank's scripts, as Beth is fed (and quickly develops an addiction to) tranquilizers as an 8-year-old, something that opens her mind up but (obviously) plagues her throughout her young adult life.
And yet, The Queen's Gambit is secretly a sports story. Chess has never been more kinetically riveting. Deftly edited and full of stylish montages, the moves that come so easily to Beth are not easily explained to viewers. There is a depth of knowledge that defies casual understanding, but it is also never a barrier. Beth is almost supernaturally gifted, brilliant at chess yet hindered by a mind that also finds solace in addictions of various kinds. It's a story usually told about a man, but part of what's so refreshing about The Queen's Gambit is that, despite one or two quick comments, this is really not about Beth being a woman (or more accurately, a girl). The show doesn't need to make a statement.
Because The Queen's Gambit is a work of fiction (that title, by the way, is mentioned 33 minutes into the first episode and then dispatched with), it tells exactly the engrossing character story it wants to, and how. That might sound obvious, but it's no small thing. With excellent pacing and a sure sense of itself out of the gate, The Queen's Gambit is a work of art—riveting, radiant, and simply spellbinding. Like Beth, it triumphs through its devotion to a love of the game. —Allison Keene
---
Lovesick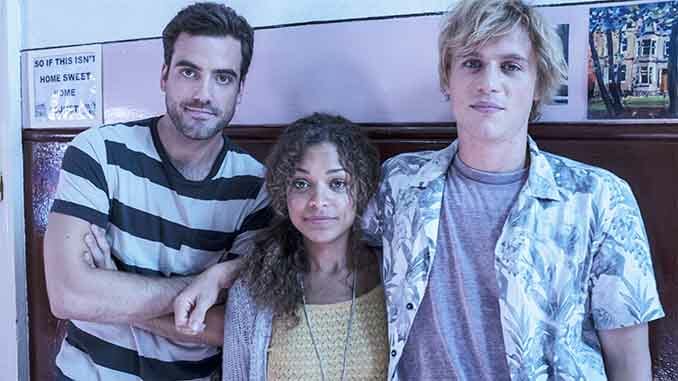 Created by: Tom Edge
Stars: Johnny Flynn, Antonia Thomas, Daniel Ings
Number of Episodes: 22
With an original title like Scrotal Recall, you'd be forgiven if you bypassed this gem of a British comedy before it was renamed and rebranded as Lovesick. But the punny original is quite fitting, as the show follows a twentysomething named Dylan (Johnny Flynn) as he tracks down his former sexual partners in the wake of being diagnosed with chlamydia. It's a setup ripe for comedy and self-reflection as Dylan revisits past relationships and flings through a series of flashbacks. But what ultimately makes the show an addictive watch is the undercurrent of angst and romance running through it as Dylan attempts to come to terms with the fact he might have missed his chance with his best friend Evie (Antonia Thomas). Although she once harbored a crush on Dylan, she is now engaged to someone else. This missed connection, in conjunction with the shallow shenanigans and sexual escapades of the duo's other friend Luke (Daniel Ings), makes for a perfect storm of romantic tension and lowbrow comedy, and you won't be able to stop yourself from pressing play on the next episode to find out what happens next. —Kaitlin Thomas
---
The Society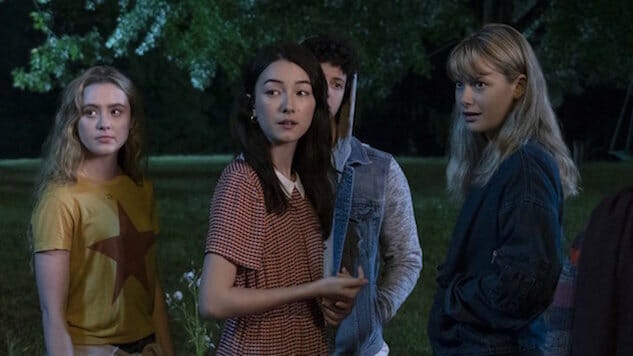 Created by: Christopher Keyser
Stars: Kathryn Newton, Gideon Adlon, Sean Berdy, Natasha Liu Bordizzo, Jacques Colimon, Olivia DeJonge
Number of Episodes: 10
I've watched a lot of television series where nuanced self-possession has sharpened my understanding of what it means to be human, but I genuinely can't remember the last time I came out on the other side of a binge seeing the base tenuousness of the society we've made for ourselves with such terrifying new clarity. The Society, Netflix's high-tech, aged-up take on Lord of the Flies, manages the trick with a simple bus ride. Although teen television has been peddling in intensely dark moral allegories for decades now, it is difficult to articulate just how existentially devastating The Society gets, or how quickly. The show gives its modern, engaged audience a co-ed spread of hormonal high schoolers, left behind by a fleet of school buses that (returning from an aborted end-of-year camping trip) drop them off in the middle of the night in an empty, uncanny double of their idyllic New England hometown. They discover the next day that not only are all satellite and internet connections to the outer world gone, but that all roads out of town end abruptly in impenetrable forest. The Society isn't remotely interested in spending a lot of time on the whys or wheres of the teens' new reality. The only thing it cares about is sinking into the psychological nightmare of a bunch of underprepared kids realizing not only that they're all alone in the universe, but that it's on them to make up and enforce all the boring, hard rules required to sustain a civilized society.—Alexis Gunderson
---
Giri/Haji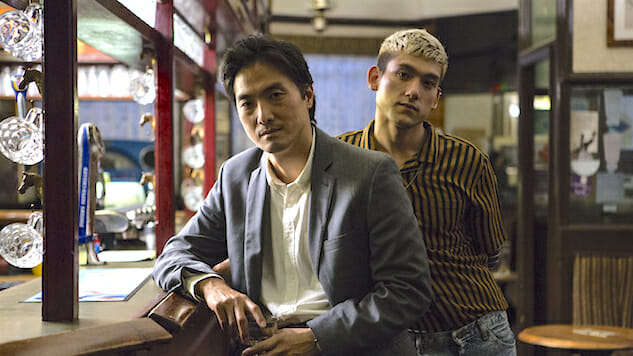 Created by: Joe Barton
Stars: Takehiro Hira, Kelly Macdonald, Yosuke Kubozuka, Will Sharpe
Number of Episodes: 8
International thriller Giri / Haji starts when a Tokyo detective, Kenzo Mori (Takehiro Hira), is tasked by a prominent Yakuza crime family—in conjunction with the police force—to secretly go to London in search of his brother Yuto (Yosuke Kubozuka), who he thought died a year ago. The hope is that bringing Yuto back will stop a sprawling war that he helped kickstart among the Yakuza factions. But like Kenzo's investigation into Yuto's disappearance and faked death, Giri /Haji is full of unexpected twists, not just in its narrative but in its form. It's dark and violent at times, but also funny and full of heart. At the center of the story is the tale of two brothers, yet it's also about forged family and discovering the truth about one's self. The gang war is the framework for the story, which plays out in many ways like Lock, Stock, and Two Smoking Barrels (as far as a variety of different crime bosses all marching toward one another); and yet, one of its most moving scenes takes place during a quiet, makeshift Yom Kippur dinner regarding atonement.
The series is just frankly stunning. And crucially, funny. Though it would be wonderful to spend more time in this world with a second season, there is a palpable and beautiful sense of healing that has ended this one. —Allison Keene
---
Julie and the Phantoms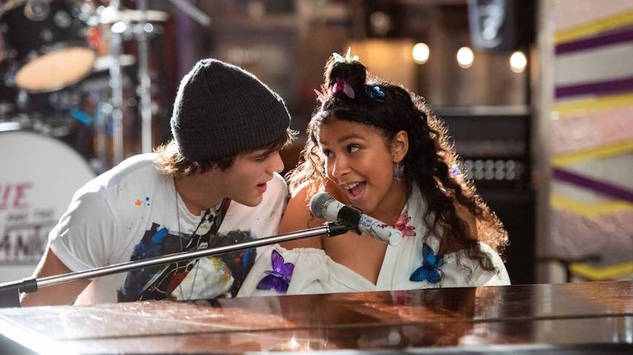 Created by: Dan Cross, David Hoge
Stars: Madison Reyes, Charlie Gillespie, Owen Patrick Joyner, Jeremy Shada
Number of Episodes: 9
Between the sparkling charm exuded by star Madison Reyes, the '90s pop-punk bro-ness of the Phantom boys backing her up, and the Descendants/High School Musical/Hocus Pocus bona fides of marquee EP/choreographer Kenny Ortega, Netflix's half-hour musical series Julie and the Phantoms (based on the 2011 Brazilian series Julie e os Fantasmas) was always destined to be the next big family-friendly thing. Add in a pair of showrunners with decades of Nickelodeon experience, a bevy of stadium-ready pop performances, and Descendants's own Booboo Stewart as an adorable skatebro ghost boyfriend (that Disney's never quite gotten around to giving any of its cute and emotionally available rocker dudes), and you've got legit tween catnip on your hands. But the thing about Julie and the Phantoms is that it's not just appealing to tweens. The original songs are catchy, and the story—about a young woman grieving her mother who finds her voice with the help of an undead trio of musicians—is moving, if a bit silly. That Netflix canceled it after only one season that debuted early in the pandemic is upsetting, to say the least, but it means that you can easily binge the entire series without ever leaving your couch. —Alexis Gunderson and Kaitlin Thomas
---
Warrior Nun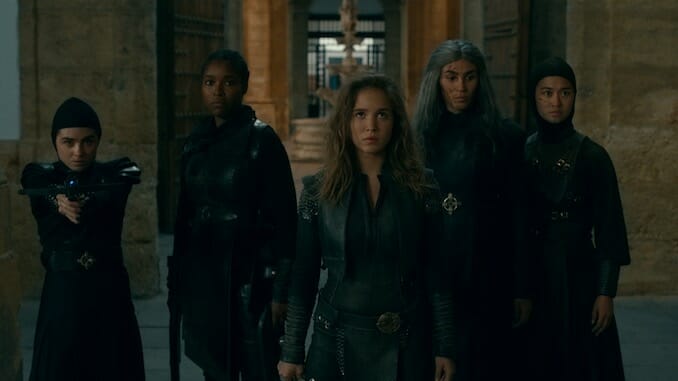 Created by: Simon Barry
Stars: Alba Baptista, Thelka Reuten, Lorena Andrea, Toya Turner, Kristina Tonteri-Young, Tristán Uloa, Sylvia De Fanti, and William Miller
Number of Episodes: 18
Adapted from a graphic novel and brought to the screen by Simon Barry, Netflix's Warrior Nun is about exactly what it sounds like: kickass, Catholic nuns. The series follows quadriplegic Ava (Alba Baptista), whose deceased body was used as a hiding place for a sacred, powerful halo, resulting in her being brought back to life as the superpowered Warrior Nun. Forced into a new role as the new leader of the Order of the Cruciform Sword, Ava contends with her own past, her new connection to the Catholic church, and her opportunity for a second life. Joined by Sister Warriors Beatrice (Kristina Tonteri-Young), Lilith (Lorena Andrea), Camila (Olivia Delcán), and Shotgun Mary (Toya Turner), the OCS investigates a large conspiracy surrounding the Catholic church's hidden secrets, all while trying desperately to turn Ava into the hero they need. Filled with stunning fight sequences, an abundance of heart, and a tasteful amount of sacrilege, Warrior Nun delivers a hell of a good time.—Anna Govert
---
Heartstopper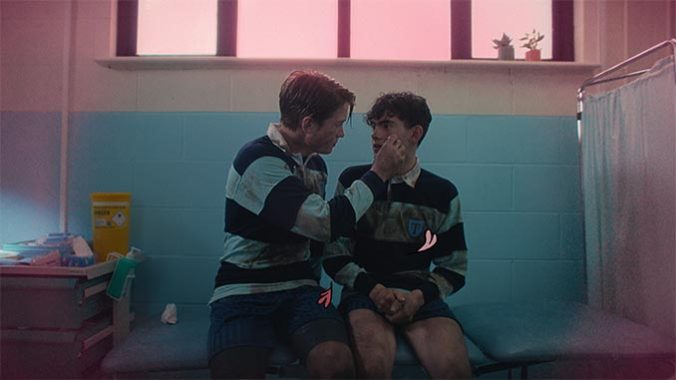 Created by: Alice Oseman
Stars: Kit Connor, Joe Locke, Corinna Brown, Kizzy Edgell, Yasmin Finney, William Gao
Number of Episodes: 8
One of Netflix's biggest hits, Heartstopper is a queer rom-com that follows the love story of outcast Charlie Spring (Joe Locke) and rugby-star Nick Nelson (Kit Connor). The tagline for the series says it all: "Boy meets boy. Boys become friends. Boys fall in love." And fall in love they do, in eight half-hour long episodes across a vast array of classic high school scenarios. Heartstopper has gotten across-the-board praise for its depiction of queer joy and queer heartbreak, especially through its diverse ensemble cast featuring lesbian characters Tara (Corinna Brown) and Darcy (Kizzy Edgell), and trans character Ellie (Yasmin Finney). It has resonated deeply with audiences, too, as its uniquely heartwarming story gives a whole new meaning to feel-good TV. The series, which is based on the Alice Oseman graphic novels of the same name, has been renewed for two more seasons, cementing a commitment to this show and its queer audience (if making it slightly more difficult to binge in a weekend). —Anna Govert
---
For all the latest TV news, reviews, lists and features, follow @Paste_TV.