Netflix Roundup: Premiere Dates Set for Longmire, Aziz Ansari's Master of None, Six New Comedies, More
Photo by Pascal Le Segretain/Getty
TV
News
Netflix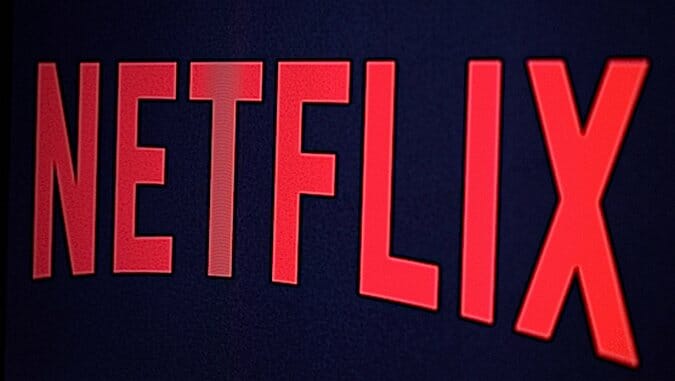 Prepare yourself, streamers: the Netflix news is coming in thick and fast this morning.
The Internet TV network has announced premiere dates for its fall lineup, which will include the fourth season of Longmire, the start of Aziz Ansari's new series Master of None and six original comedy specials. Netflix has also: shared information on a half-dozen other forthcoming originals that are currently sans premiere dates; renewed critically acclaimed animated series Bojack Horseman; and set dates for six new original kids series.
Longmire returns for its fourth season on Thursday, Sept. 10, picking up immediately after Season Three's dramatic conclusion, in which protagonist Walt Longmire (Robert Taylor, Killing Time), having discovered who was behind the murder of his wife, ran off in pursuit of the killer. The 10-episode fourth season stars Taylor, Katee Sackhoff (Riddick), Lou Diamond Phillips (Southland), Bailey Chase (Damages), Cassidy Freeman (Smallville) and Adam Bartley (Justified), plus guest stars Gerald McRaney (House of Cards) and Ally Walker (Sons of Anarchy). International viewers, take note: Longmire's new season will only be available to stream in the US, Canada, Australia and New Zealand.
Master of None, set to premiere on Friday, Nov. 6, could easily be called Aziz: the new, semi-autobiographical series draws from Ansari's comedy and sounds an awful lot like Louie, which is very much a compliment. Netflix describes Master of None as an ambitious, funny and cinematic look into the life of Dev, a 30-year-old actor living in New York. Dev's personal and professional exploits bring him face to face with the plight of the elderly, the immigrant experience and the struggle to find the most delicious pasta for dinner, among other things. Master of None stars series co-creator Ansari, as well as H. Jon Benjamin (Bob's Burgers), Eric Wareheim (Tim and Eric's Bedtime Stories), Lena Waithe (The Comeback), Noel Wells (Comedy Bang! Bang!) and Kelvin Yu (Satisfaction). The show's executive producers include Mike Schur (Parks and Recreation), Dave Becky (Louie)—ahem—and David Miner (Unbreakable Kimmy Schmidt).
Netflix's forthcoming shows that are without premiere dates as of yet include, first and foremost, Chelsea Does, Chelsea Handler's "docu-comedy" miniseries. The four-part series follow Handler as she explores topics that fascinate her, including marriage, racism, technology and drugs. (Handler also has a streaming talk show set to launch on Netflix in 2016.) Netflix's fall slate will also include: With Bob and David, a four-episode sketch comedy series starring Bob Odenkirk (Better Call Saul) and David Cross (Obvious Child); Marvel's Jessica Jones; Sofia Coppola's A Very Murray Christmas, starring Bill Murray (St. Vincent) and more stars than you can shake a candy cane at; the third and final season of Hemlock Grove; and stand-up Bill Burr's animated comedy series F is for Family, featuring the voices of Burr, Laura Dern (Wild) and Justin Long (New Girl). Exact premiere dates for these shows are to be announced later.
That brings us at last to BoJack Horseman, Netflix's quietly excellent dark comedy, which has just been renewed for a third season. Will Arnett (The Lego Movie) voices the animated series' title character, a '90s sitcom star who has since found himself slogging through a morass of self-loathing, liquor and failed relationships. The series' all-star voice cast also includes Aaron Paul (Breaking Bad), Amy Sedaris (Unbreakable Kimmy Schmidt), Alison Brie (Community) and Paul F. Tompkins (Bob's Burgers). BoJack Horseman returns with 12 new episodes in 2016. You can stream Seasons One and Two right here.
On top of everything else, Netflix is making itself at home on the stand-up comedy stage. The streamer has announced premiere dates for six new original comedy specials, listed below:
—Demetri Martin: Live (At the Time) – Premieres Friday, Aug. 14
—Anjelah Johnson: Not Fancy – Premieres Friday, Oct. 2
—Anthony Jeselnik: Thoughts and Prayers – Premieres Friday, Oct. 16
—John Mulaney: The Comeback Kid – Premieres Friday, Nov. 13
—Brent Morin: (Title TBA) – Premieres Tuesday, Dec. 1
—Mike Epps: After Dark – Premieres Friday, Dec. 18
And despite this dizzying outflow of information, don't you forget: Netflix is for the children, too. The streamer has set dates for its fall lineup of new original series for families, which includes:
—Project Mc2 – Friday, Aug. 7
—Dinotrux – Friday, Aug. 14
—Ever After High with Way Too Wonderland – Friday, Aug. 14
—Puffin Rock – Tuesday, Sept. 1
—Popples – November
—Care Bears and Cousins – December
It's safe to conclude that Netflix won't be running short of material anytime soon. Better free up a couple of weekends, streamers, and prepare to get awfully well-acquainted with your couch.