The Bloody Journey of One Dollar Comes to CBS All Access
Images via Patrick Harbron/CBS, CBS Interactive, Inc.
TV
News
One Dollar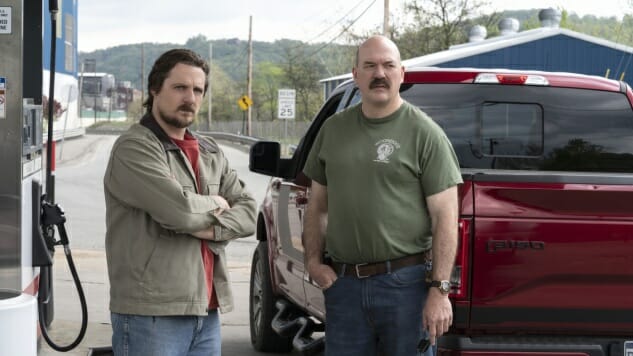 Ever regret spending your cash? Wonder where it goes after it leaves your hands? Well, at the end of this month, One Dollar will let you know all about that, assuming it ends up with someone involved in a murder. Exclusively on CBS All Access, the series will premiere on Aug. 30.
Set in the post-recession Rust Belt, One Dollar follows the path of a dollar bill whose passage connects a group of people involved with a multiple murder—one character even says in the teaser trailer, "the money makes this town." The mystery/drama asks, "How much does it cost to bury the truth?" and the answer seems to be more than dollar bills—the video is soaked in blood, from dripping off gloves to smeared on the pavement. Do as the trailer says and "Follow the money" to see the secrets of a small town come to light, and reveal with them the class and cultural divides it harbors.
One Dollar features John Carroll Lynch (Private Life, Fargo) and Nathaniel Martello-White (Daphne, Collateral) in leading roles. Also among the cast are Greg Germann (Grey's Anatomy), Leslie Odom Jr. (Hamilton) and Sturgill Simpson. Yes, the country artist Sturgill Simpson (Paste called his record Metamodern Sounds in Country Music one of the 50 best alt-country albums).
Simpson, however, is not behind the teaser trailer's blistering soundtrack. "I'm Gonna Get What's Mine" by Graffiti Ghosts backs the teaser, and the song, much of whose beat come from clapping and stomping, gives the video a Wild West-ish, lawless feel.
Watch the teaser trailer for One Dollar below and listen to a performance by Sturgill Simpson from the Paste archives further down.