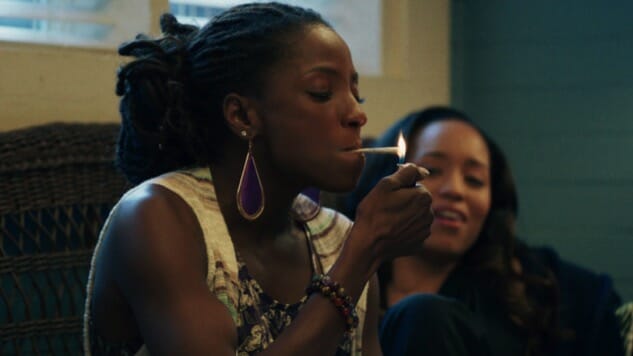 Everybody has that one auntie, right? Granted, we never sparked up together, but when I was 15 and my two friends from Boston were visiting me in Cleveland, my Aunt Grace pierced Karen's nose, old school style (lots of ice and blood), while we listened to a Reggae mix she'd made for me. When I was 17 and on punishment for a boyfriend-related fiasco, she told my Uncle (her brother, my guardian) that she was taking me out for my birthday, but she'd actually gone and picked up my boyfriend for me, so we could spend the entire day together. (If you've ever been 17 with a significant other who you were totally going to marry in like four years, you can imagine how much this meant to me.) When I was 18 and I got my first apartment, and those same two friends came back to visit, she bought us more liquor than should have been legal (and yeah, it was illegal, Aunt Grace), and then taught me how to sober up my very drunk friend the next day. If my mother, her twin, had been living, she probably wouldn't have gotten away with these things—or maybe she would have and they would've just been our little secrets.
My Aunt Grace is gone now too, but thankfully, I caught a flash of her on the latest episode of Ava DuVernay's Queen Sugar. A scene that showed Aunt Vi (the great Tina Lifford) smoking a joint and cutting up (and cracking up) with her nieces Nova (Rutina Wesley) and Charley (Dawn-Lyen Gardner) reminded me of how much my survival has been dependent on having the kind of family and friends who will smoke or drink with you, laugh with you and be completely inappropriate, during those times when you need it most. This short scene is a testament to the wonderful things that can happen when you put a camera on a group of black women—varying in ages and personality—and let them be, momentarily, carefree.
Queen Sugar isn't meant to be a good-time, feel-good show. Its themes are heavy and intense, and of course socially important. In "By Any Chance," we're still dealing with Charley's trying to manage her husband's rape case, which made for a powerful storyline—especially as we met his accuser for the first time. Nova is fighting to be a voice for the voiceless young black kids in her neighborhood and Ralph Angel is realizing that legal money for an ex-convict is slow and full of disappointments. And Aunt Vi, clearly one of the sharpest characters on the show, is forced to work for a petulant child, the manager at the restaurant where she waitresses.
I'd never want to suggest that we've seen enough of the burdens black women bear on TV and in film. There are always more stories to tell, but there is definitely danger in depicting black women as merely superheroes capable of overcoming anything, or merely people struggling to get by. The carefree black woman is still a rare (and troubling, for many) sight, and so I couldn't help but rejoice at a TV scene featuring three black women just sitting in a room together, puffing, passing and laughing their heads off.
It's also important to note that Aunt Vi is such an important character to see, and so thoroughly entertaining to watch. Much in the same way that Jill Soloway's Transparent has worked to present the sexual experiences of people over the age of 50, and Survivor's Remorse has worked to give Tichina Arnold's Cassie Calloway plenty to do in the way of sexuality and relationships, Queen Sugar insists on giving Aunt Vi a romantic storyline that a character like hers wouldn't get on another show. The aunt who dates a young (but committed and sincere) man named Hollywood? The aunt who will also light up a joint with you after a long and trying day? Who will also go on to talk about how she's going to whoop her boss's ass, and how her man knows how to put it down ("He is so big, and so strong and he knows exactly what to do!")? How is it possible that this scene feels so bold and surprising? How is it possible that, in all my years watching TV, this is one of the first times I've seen my Aunt Grace (or some variation thereof) on TV?
The good news is that the times and the tides are changing. Black women gathered together (a distinctive type of gathering that I've been thinking about since Lemonade's release)—enjoying and supporting each other—will no longer be a rare delight on TV. We have Queen Sugar, which I hope will give us more of these lovely scenes, amidst all the drama that pushes the Bordelon saga forward. We have Insecure, which hilariously tackles friendship in its premiere episode. And Survivor's Remorse is another show where black women can be seen laughing—because yes, even laughter (like self-care) can be understood as an act of political warfare.
And even as we celebrate these great series, it must be acknowledged that we're going to need many more shows that offer up such images for black women like me, in search of our mother's and our auntie's gardens, in search of black women laughing—and then again, looking mean and impressive—in every medium we encounter.
---
Shannon M. Houston is a Staff Writer and the TV Editor for
Paste
, as well as a Script Consultant on Season Three of
Transparent
. This New York-based writer probably has more babies than you, but that's okay; you can still be friends. She welcomes almost all follows on Twitter.